male chastity
Discover how a man can be lovingly led by the balls with our books about male chastity and orgasm denial:
a guide to getting started with male chastity
Our helpful handbook provides practical advice to couples considering male chastity in the bedroom and beyond, explaining the hows and whys of this most exciting form of sexual submission. From exploring the erotic benefits of orgasm denial to addressing the more mundane implications of keeping a man's pride and joy under lock and key, it's the perfect place to start if you're wondering how to make male chastity a reality in your own relationship. Moreover, you can read this step-by-step guide to male chastity in its entirety online, completely free of charge!

stories about male chastity
Our titillating tales of male chastity are sure to tickle your fancy if you're fond of intimate frustration and erotic teasing. Locked up with love, these men surrender their sex willingly to their wives and girlfriends, wearing chastity belts and cages in order to appreciate just how special an orgasm should be. You'll find following these couples' adventures in enforced abstinence to be just as pleasurable as the keyholders and their chaste companions do!

stories about male chastity and feminization
If you've a taste for all things feminine, you'll love these tales about men made to wear lingerie and ladies' things in order to earn relief! The heroes of these male chastity stories are persuaded into panties and beg to wear bras to free themselves from the fiery frustration locked within their loins, but their feminization only fans the flames of desire still higher. Loving couples, locked cocks and lots of luscious lingerie - what more could you ask for?
guides
taming the caged beast: an introduction to male chastity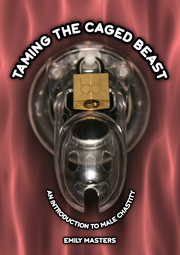 Do you despair of your man succumbing to selfish desires or wish he wasn't led so much by the bulge between his legs? Believe it or not, there's a way to get his balls on your side, harnessing the mighty power of a man's libido to make your husband or boyfriend a more caring and considerate lover. There's no need to nag or scold when his testicles are telling him to do what's right, but the benefits of male chastity go far beyond simply stopping your man taking you for granted, ensuring he satisfies your needs as much as his own.
Showing how orgasm denial can not only spice up your sex life but rekindle the romance in your relationship, taming the caged beast explores the practical and psychological aspects of locking his cock up and keeping the key! Explaining everything you need to know to get started with a modern male chastity device, this book will let you take control of the animal that lies at the heart of your man and have it perform for your mutual pleasure!
Male chastity can have such a positive effect on a couple's love life that we couldn't possibly keep it to ourselves. As such, we're literally giving this guide away, allowing you and your loved one to read every last word of taming the caged beast right here, completely free of charge! It's also published in paperback and electronic formats too.
stories
his lock her key: tales of male chastity
When a man's wife is also his keyholder, you can be sure he'll do as he's told! Surrendering his sex is only the start of his submission, as the husbands in these male chastity stories are about to discover. From learning to make love just the way their wives like it to making up for misdemeanours in the most intimate of ways, follow them as they find out just how far they'll go to obtain relief in his lock her key.
Orgasm denial is a distinctly one-sided affair for these couples, but that doesn't make these teasing tales any less erotic. Locked in chastity belts and cages, these men are powerless to prevent their wives withholding sexual relief on a whim, finding themselves so thoroughly frustrated they'll do almost anything to come. Expected to satisfy her needs even as they're denied their own, each of these chaste husbands learns a new respect for the woman who keeps his cock under lock and key, teased and trained as part of a loving relationship in which she makes the rules.
surrendered to steel: men wearing chastity belts for better bedroom behaviour
Plastic chastity devices can only go so far to prevent a man from playing with himself - to stop him masturbating once and for all, the security of steel is called for! There's nothing medieval about the modern-day metalwork these men have to wear, surrendering their sex completely to chastity belts that ensure they stay true to the women who hold the keys! Subject to teasing and denial at the whim of their wives, there's no escape from the cruel contraptions that keep their cocks under control - only frustration aplenty amidst their girdled groins.
The fun doesn't stop there when a keyholder is feeling frisky, as the couples in these stories about men wearing chastity belts demonstrate when they fool around between the sheets - with him still locked up between the legs! With no chance of an orgasm without her say-so, you can be sure these submissive husbands will do their utmost to please, playing along with all manner of male chastity games as part of being surrendered to steel.
chaste and chastised: these crimes against chastity won't go unpunished!
The men in these female led relationships know they shouldn't try to cheat their chastity belts, but sometimes temptation gets the better of them and they try to break the rules. Whether they attempt to achieve an unauthorised orgasm, disrespect their keyholder's decisions or simply fail to do as they are told, the outcome's sure to be the same - a punishment that'll put them in their place, teaching them that male chastity requires mental commitment beyond merely suffering cold steel.
When his cock's locked up, there's no excuse for a man not to obey the wishes of the woman who holds the key - especially when she isn't afraid to employ psychological discipline and physical discomfort to help him learn his lesson. Surrender, submission and self-control become the watchwords for these humbled husbands and belted boyfriends, finding no relief but plenty of frustration as they pay the price for their crimes. Follow their fortunes as they come to terms with being chaste and chastised.
no match for metal: even the strongest of muscles must concede to a chastity belt
A woman doesn't have to be physically stronger than her man in order to have the upper hand in their relationship - not when she holds the keys to his chastity belt, turning the power of his body to her advantage. Whether she dreams of him developing his muscles to a devastating degree, or simply enjoys seeing him sweat for her, you can be sure a dominant woman will get what she wants when she keeps her man denied - because he's no match for metal!
There's nothing weak or wimpy about the muscular hunks in these stories about male chastity, but even the most brawny of brutes must submit when his passions are stifled by steel - indeed, the stronger his body, the more a belted man must strive to impress his keyholder. Seeking to demonstrate he deserves her through difficulties and indignities, he'll surely suffer at her whim - yet the woman who holds his manhood hostage had better take care how she chooses to release him, lest his locked up lust be too much for her to handle!
stories featuring feminization
from belt to bra: when male chastity leads to feminization
Imagine the predicament of a man who is told that the only way he can earn release from his chastity belt is by wearing a bra for as long as amuses his keyholder. Perhaps she fancies making him wear panties too, or perhaps skirts and stockings are the order of the day as far as his feminization is concerned. Of course, the choice is his, but unless he does what he's told, there'll be no escape from the steel penis prison which emasculates him just as much as the feminine attire he'll soon find himself wearing - like it or not!
Whether donning all the lingerie a woman would is so arousing as to only add to his sexual frustration or just the thought of doing so is acutely embarrassing, one thing's the same - a chastity belt is sure to provide all the motivation a man needs to feminize himself for his keyholder's pleasure. from belt to bra follows four such men through their adventures in male chastity and feminization as they dress like women in order to perform as a man.
feminized and frustrated: these guys have to get girly to obtain relief!
The incessant frustration of being locked in chastity can drive a man to almost any lengths for an orgasm. The longer his cock is kept in a cage, the more submissive he becomes, until eventually he's begging to do whatever his keyholder asks him - even if that involves feminization! Kept from touching himself without the key that hangs around her neck, he'll happily wear women's underwear and more if that's the cost of a climax, accepting such humiliation as the price that must be paid for both punishment and pleasure.
From wearing high heels and foundation wear to working as her fully dressed maid, these feminized husbands have surrendered their sex in more ways than one, submitting to the whim of their wives without question when it comes to dressing up like a lady. There's orgasm denial aplenty as they're teased beyond belief before being put back in their chastity belts and cages, with chaste males turned female for the amusement of those who keep them feminized and frustrated.
padlocked, pantied and pegged: four men frustrated, feminized and filled by the women they love
Is it more emasculating for a man to be prevented from enjoying an erection, to be put in panties, or to be penetrated like a woman? The helpless husbands in these stories about sexual surrender don't get to choose when their dominant wives bring together all three for a singularly submissive experience. Blending erotic feminization, male chastity and strap-on sex, it's clear who's in charge when men are padlocked, pantied and pegged!
Just because a man's cock is locked away doesn't mean a couple can't play with something stiff, but when her dildo replaces his dick, you can be sure his wife will have the upper hand! The tables are turned in these tales of role reversal, each with the woman leading the lovemaking as her husband gets taken like a girl, dressed in sexy lingerie and denied any chance of an orgasm. Whether sucking her strap-on in stockings or bending over to be banged in a bra, he'll feel his frustration all the more for being feminized as he's filled for her pleasure!
cocks, locks and lingerie: strap-on submission in satin and steel
Put yourself in the place of a man wearing lacy lingerie, his penis made powerless by an intimate prison. Turned on by his sexy underwear yet thwarted by the chastity device locked around his cock, it's only natural for him to let his wife take the lead - even if she wants to emasculate him still more! If he's unable to penetrate her, then she'll just have to do it to him - strapping on a dildo to deliver a bedroom banging that'll soon have him begging to come in his bra and stockings!
The submissive husbands and boyfriends in these stories about strap-on sex have their panties pulled down for pegging, wearing what a woman would while their wives and girlfriends have their wicked way. Drilled by dominant women who delight in combining feminization and frustration with a good hard filling, these men will never be as stiff as the silicone shafts they're impaled upon, but they're sure to enjoy the experience as cocks, locks and lingerie come together in the most delicious of ways!