loads to swallow
these feminized men face more than a mouthful of milk!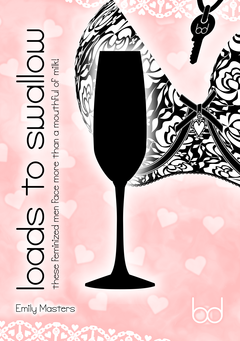 Buy your copy now!
A submissive sissy must always swallow his seed, but the men in these stories about crossdressers eating their own cum do far more than take an occasional squirt in their mouths. Made to produce as much as possible by methodical milking, they'll ultimately be expected to drink every last drop - not little by little, but loads at a time! Their wives and girlfriends insist on saving up their semen for a very special show of submission, with these dominant women wanting to see sissies slurp up sperm and gargle mouthfuls of goo.
Locked in chastity and having to wear lingerie, a man is soon aching to please when he's wickedly teased about what he'll have to do. Despite regular release, there's frustration aplenty for these feminized husbands and boyfriends, each seizing the chance to come even though he knows exactly where his ejaculate will go. Draining a glass will be difficult, but there are watching women to delight - women who have given them the privilege of loads to swallow.
Chelsea is leaving nothing to chance as she trains her boyfriend for the cum consumption competition, refusing to be beaten by her rival again - no matter what it takes! That sees Aaron having to pretend that he's playing with more than just custard as he gargles and gulps, with this submissive man subject to a rigorous milking regime in which he's made to squirt into the very same glass that he'll have to drink from. Donning an outrageous bridal outfit for the big day, he can't afford to pull a face when his girlfriend's pride is on the line, instead expected to prove himself by enjoying his ejaculate - a huge glass of it! Will his efforts be enough to earn him the crown? Find out in Custard.

When his girlfriend taunts him with the contents of the condom after sex, Paul desperately pleads to be spared having to swallow his sperm, but being allowed to shirk his duty comes at quite a price! He knows the debt he incurs is one he'll have to pay off sooner or later, with the anticipation proving unbearable for a man whose saved loads are destined for his lips. Coming home for lunch, he finds himself compelled to check the freezer, only to be caught in the act and made to make an extra payment! A plate of semen awaits him, but not before he's dressed for the occasion, wearing a corset as well as his chastity cage when Tina wants him to settle in full. Follow his fortunes in The Debt.

Being in a meeting is no excuse for not doing what his wife wants, with Jeremy having to pay a penalty when he keeps her waiting. Pulling down his trousers to expose his panties, he has no choice but to suffer his chastity device as Victoria extracts the most embarrassing of confessions about him wanting to eat his cum. This submissive husband faces further teasing when he comes home, made to watch videos of women playing with sperm as his wife milks him into a bowl. It's all to fulfil her fantasy of seeing him with a mouth full of his own fluids, Victoria capturing his climaxes until her husband can hold enough to satisfy her desires. Discover how he does in Her Cum-Loving Husband.

Serving his wife's friends tea in a frilly maid's outfit, Philip can't escape being teased about his chastity belt, remaining the centre of attention when the conversation turns to making men swallow their own sperm. Much to this male maid's discomfort, the women's wicked fantasies give his wife plenty of food for thought, with Katrina suggesting he should drink more than a dribble as she masturbates him into a measuring jug. The output of his orgasm joins the trays of frozen semen she keeps for when her maid needs motivating, but it isn't long before Philip is having to defrost the lot. Unlike his wife's friends, he won't be sipping champagne, instead having a very different drink in A Special Party.
Knowing that everything he emits must in due course be eaten puts a man in a most provocative predicament, especially when he's made even more desperate by being dressed as a woman. In these delicious daydreams about sissies having to drink their own sperm, submissive men are challenged with copious volumes of cum - not just a couple of climaxes, but thirty, sixty or even ninety loads, all having to be consumed for the pleasure of the women who saved it up specially. Milked solely so they can fill their mouths with their sexual fluids, these men must show their submission in the most unforgettable of ways, demonstrating the depth of their devotion when presented with loads to swallow.
Buy your copy now!
loads to swallow is available in the following formats: (which should I buy?)
By buying a copy of this book, you do more than merely get yourself an arousing read! As well as encouraging the author, sales support the brassièred website, helping to promote the positive aspects of lingerie discipline, male chastity and men as maids in loving female led relationships.