strictly the way she wants
male chastity means masturbation must be on her terms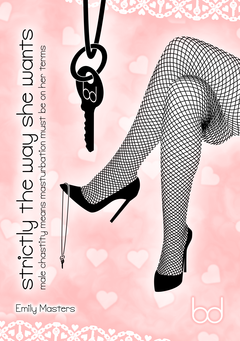 Buy your copy now!
When a husband agrees to stay chaste, he must abandon any ideas of masturbating alone, forsaking selfish satisfaction no matter how frustrating that may be. Whether he's prevented from playing with himself by a plastic contraption, a proper chastity belt, or simply a promise to his wife, the pleasures of his hand are off-limits - unless she wants him to watch him do it, her way!
In these stories about supervised masturbation, the submissive men have to wear lingerie before they're allowed to shoot their load, but surrendering to panties and bras is only part of the price they must pay. What their wives love most is to make them lick up their mess afterwards, expecting every last drop to be eaten for their entertainment. With dildos and strap-ons making such emasculation even more exciting, the humiliated husbands won't be the only ones coming before they're locked in chastity again - indeed, a man's satisfaction is secondary when his wife makes him do it strictly the way she wants.
When Ralph's wife tells him he can jerk off whenever he wants, he soon discovers there's a catch, with his chastity device ensuring he can only do so on her terms - starting with having to wear a bra to show he's truly desperate. Not content with stopping her husband from masturbating by physical methods, Lynn wants to train him out of wanting to touch himself at all, delighting in finding disgraceful of ways for him to do it. Whether she makes him come in the toilet, has him hold his sperm in his hand, or simply ruins his orgasm while he sits on her strap-on, she never wastes an opportunity to make it shameful - but will that prove counter-productive? Learn for yourself in Bra-wearing Jerk-off.

Did Julie really believe her husband could withstand temptation without a chastity device, or was she simply setting him up for a humiliating punishment when she had him wear a bra and panties for a week instead? That's what Brian finds himself wondering when his wife instructs him to come for her, with this lingerie-wearing husband having to masturbate onto a spoon for her amusement. He must take his climax in his mouth when it confirms he has cheated, suffering the taste of sperm as Julie first locks up his cock, then gives him a shameful over-the-knee spanking to teach him he mustn't masturbate without her say-so. His penance concludes with a pegging, as you'll discover in Paying the Price.

The hen night that Alison is hosting sees her submissive husband banished to the bedroom, with Jack expecting to spend the evening sucking a dildo while his wife and her friends party downstairs. When she wants him to perform for them, however, he finds himself having to hurriedly pull on clothes over his chastity belt and basque, fearing that his suit and tie won't shield the steel and satin for long as he's forced to take centre stage. Before he knows it, he's putting on an impromptu striptease, but the cheers he receives as he reveals how his wife controls his cock are only the start when he's offered the key. He'll come in a glass and drink it too, as you'll read in Entertaining the Girls.

Calvin can't resist the lure of his girlfriend's legs - not when she's wearing such sexy stockings, their seductive sheer nylon seeing him beg to be allowed to come all over them. Having the final say thanks to how she holds the key to his chastity device, Isobel makes him agree to strict terms before granting him relief, requiring him not only to pay his tribute kneeling and naked, but to suck up his sperm from her legs afterwards. Despite his best efforts, Calvin finds himself having to wear her stockings when they're not clean enough, the semen-stained hosiery joined by a bra and panties as she makes him perform for her again - and again! Find out how far he'll go in His Love of Her Legs.
A man denied will do anything for release, willingly wearing women's underwear if that's what it takes to be spared sexual frustration. If his wife wants him to swallow what he shoots as well, then that's a price he'll just have to pay - no matter how reluctant he may be about licking up his load once the moment has passed. There's certainly no doubt about who's in charge in these supervised masturbation stories, with submissive men having to perform for the pleasure of their keyholders. No matter how much they humiliate themselves in the process, however, you can be sure it'll be strictly the way she wants.
Buy your copy now!
strictly the way she wants is available in the following formats: (which should I buy?)
Paperback - for those who love real books

PDF - for immediate download and enjoyment on your computer

EPUB - for most e-readers

iTunes - for iPads, iPods and iPhones

nook - for Barnes & Noble e-readers

Kindle

- for all Amazon devices
By buying a copy of this book, you do more than merely get yourself an arousing read! As well as encouraging the author, sales support the brassièred website, helping to promote the positive aspects of lingerie discipline, male chastity and men as maids in loving female led relationships.