not without her permission
extra locks help keep these husbands chaste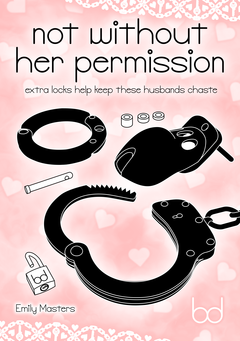 Buy your copy now!
A man can't do anything his wife doesn't want with his cock when she keeps it under lock and key, but to really make sure their husbands behave, the women in these stories about male chastity like to employ a little more in the way of restraints. Each knows her man will do exactly as she asks for the chance of a climax, seeing him surrendering still further for her pleasure. A second lock makes a significant difference, allowing her to frustrate him even when his chastity device comes off. Of course, she'll be satisfied - even if he isn't!
Whether she cuffs his hands to the bed, chains his collar to the wall, or simply makes him wear a mask so that he can't see his stiffness, it doesn't take much to render a man deliciously helpless - exactly how these wives want things for their own enjoyment. No matter what means they use to assert their authority, however, you can be sure that their submissive husbands understand there'll be no unauthorised orgasms - not without her permission!
When Brian wakes up with an erection, he tells himself it's okay to give in to temptation, seeing him creep out of bed to watch dirty videos while his wife is asleep. There's no hiding his crime from Lisa, however, who makes no secret of her displeasure when she discovers his limpness. He'll need to lock his cock in a chastity device if he's to get back into her good books, then make things up to her with his mouth, but that's only the start! After punishing him with the same pornography, Lisa tells her humbled husband that he doesn't deserve even to see his manhood, making him wear a mask as she gives him a cold shower. Follow this submissive man's misadventures in Starting the Day the Wrong Way.

Paul also wakes up stiff, but there's no chance of him getting up to anything he shouldn't - his wife has cuffed his hands to the bed, making it impossible for him to do more than lie there and look forward to going back in his chastity belt. Julie's strict regime ensures that he stays denied even when he isn't locked in steel, but that doesn't mean she won't have some fun with him first! Treating her husband to a maddening tease, she brings him to the edge again and again, then makes him beg to be allowed to make love to her like a man. It's such a shame that he's been belted by then, requiring him to use a strap-on if he's to satisfy her - as you'll read in Starting the Day the Right Way.

If Ben wants to do anything with his cock, he needs to lock a collar around his neck, then chain himself to the wall. That's the only way that Tina will give him the keys to his chastity device, and only then so that he can clean himself - although they both know what else he does once her back is turned, Tina turning a blind eye so long as he eats his mess. To make his predicament even more provocative, his wife has him undress her before leaving him with a pair of her panties to play with, but she's not going to let him come straight away - a key frozen in ice will see to that, ensuring that Ben remains frustrated long after she goes out. Find out how he fares in An Evening Alone.

Ross has been denied for so long that his cock aches in his chastity device, its frustrated flesh longing to feel more than the plastic that prevents him from ever touching it. A trip to the toilet only stresses his submission to his wife while he's at work, but things don't get any easier for this chaste husband when he comes home - Beth wants to see how he's suffering, having him strip for an intimate inspection, then wickedly assessing his frustration with her fingers. He'll find himself pleading to kiss her pussy while his penis stays padlocked, satisfying her in the most selfless of ways, but will he be allowed any relief? Learn for yourself in An Evening Together.
Is it more frustrating for a man to be able to tug at his chastity device, as futile as that is, or to find it impossible to take advantage of its absence when his wife deigns to remove it? The submissive husbands in these male chastity stories don't get much choice, never free from one lock or another when the women with the keys want to keep them denied. A loving couple can have a lot of fun with restraints, even if the satisfaction is rather one-sided, but it's for the best that a man doesn't get to empty his balls - at least, not without her permission.
Buy your copy now!
not without her permission is available in the following formats: (which should I buy?)
By buying a copy of this book, you do more than merely get yourself an arousing read! As well as encouraging the author, sales support the brassièred website, helping to promote the positive aspects of lingerie discipline, male chastity and men as maids in loving female led relationships.