predicaments in pink
pastels and padlocks put these men in a pretty pickle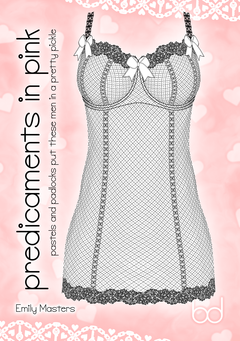 Buy your copy now!
A man knows his place when his wife makes him wear panties and a chastity device, but if she wants to be sure he won't forget his submission, then both should be pink! Feminine frills and locked pastel plastic will prevent his manhood from asserting itself too much even without her imposing more, but the women in these stories about emasculated men delight in dressing their husbands up in exquisitely girly lingerie. From lacy bras and stockings to skimpy nightdresses and matching high heels, all stress a man's helplessness, guaranteeing that his pretty underwear will be wet with sexual frustration!
Pink can make sure a man stays in, if his wife wants to enjoy a naughty evening together. Equally, it can keep a submissive husband on his toes should he have to hide it in public, there being no way to explain this most unmanly of colours! Either way, a punishingly tight chastity device will ensure he won't enjoy his plight, instead making him suffer predicaments in pink.
When his wife's friend comes round for dinner, Steve finds himself with only a curtain to hide his humiliating plight, having to hope he won't be noticed as he stands there next to naked. The big pink bow his wife has tied around his padlocked penis is merely the start of his shame, with this helpless husband condemned to a similarly coloured ball gag and buttplug even as he has to stay balanced on supremely girly stilettos! With the slightest movement risking his disgrace being discovered, he has a hard time on his hands when the two women's conversation takes a challenging turn, it soon becoming clear Diana wants to share his secret with her friend. Find out how he fares in The Man Behind the Curtain.

With his hands cuffed to the bed, Jason has no choice but to wait for his girlfriend to come and play with him, conscious of the pink panties and bra he had to put on for a chance of being let out of his chastity device. The lacy lingerie is far from the last emasculation he must accept, however, with this feminized man having to beg to wear pastel lipstick before Kelly will unlock him. Further humiliation awaits when she tells him he'll be spurting on his own face, but only after he's agreed that he needs an even smaller contraption to keep his cock in check - one that's pink like the bra and panties he ends up promising to wear to work! Read about his submission in Lacy Pink Lingerie.

The size of Alex's false breasts sees him having to beg his girlfriend for a bra, but the lacy pink push-up that Julia produces is only the start of her provocative plans for him. After requiring her boyfriend to wear a clingy croptop that does nothing to conceal his cleavage, she tells him he has to shave - not only his legs, but his crotch as well! Locked in a pink chastity device throughout, things don't get any easier when he discovers what else his girlfriend expects him to entertain her with - a pleated skirt, panties and a very challenging plug! It's all so he can empathise with the cheerleaders in the scary movie they'll be watching, as you'll read in Girls' Night In.

The frilly pink babydoll that Scott finds on the bed suggests that he won't be accompanying his wife to the dinner party, with the crotchless panties and beribboned stockings that accompany it instead promising a long, frustrating evening thanks to how Tina keeps him locked in chastity. After having to watch his wife dress, however, this feminized husband is shocked to be told that he needs to don a suit and tie, Scott still struggling to hide his shame as he finds himself greeting his wife's friends. Is he the only man sweltering in pastel pink lingerie? One thing's for sure - he won't be coming any time soon, no matter how much he might leak! Follow his fortunes in Party in Pink.
There can be no doubt about the femininity of frilly underwear when it's the most girly of colours, but in these stories about frustrated men, pink isn't limited to the lingerie they have to wear! When it comes to putting a man in his place, a pastel coloured chastity device makes a perfect addition to a pair of pretty pink panties and a lacy bra, its locked plastic leaving him at the mercy of the woman who holds the keys. Whether she amuses herself with his plight in private, or prefers to see him squirm more publicly, he has little choice to play along, knowing her pleasure comes from his predicaments in pink.
Buy your copy now!
predicaments in pink is available in the following formats: (which should I buy?)
By buying a copy of this book, you do more than merely get yourself an arousing read! As well as encouraging the author, sales support the brassièred website, helping to promote the positive aspects of lingerie discipline, male chastity and men as maids in loving female led relationships.