open wide for your wife!
chastity, crossdressing and oral obedience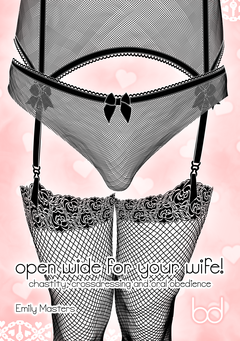 Buy your copy now!
There are many ways a man can amuse his wife with his mouth, but sucking and swallowing are surely the most submissive! When he's locked in chastity, he must satisfy such whims if he wants to shoot his load, worshipping her dildo while wearing lingerie if that's what it takes to enjoy an erection himself. Only when he's demonstrated his devotion to her cock will he be allowed to come, but his submission doesn't stop there - every last drop must be licked up for her entertainment, his bra and stockings making the experience even more emasculating as he finishes by swallowing his sperm.
Whether she straps on the stiffness before having him go down on her, or simply locks it between his lips and leaves it there, the submissive husbands in these stories about sissy oral training will have to work for their orgasms as they lick and suck their way towards the taste of their own semen. Denied if they don't, you can be sure they'll obey when instructed to "open wide for your wife!".
Sitting at the back of the cinema, Justin can only hope no-one will notice his bra as his girlfriend devilishly undresses him, but that's only the start of her games. Soon Brittany's holding a dildo in her lap, expecting him to bob his head up and down on her hardness before she returns the favour - yet only he will have cum in his stomach when she's done. We next meet the couple in a deserted quarry, with Justin not only wearing a chastity device, but about to don a little black dress as well. The strap-on his girlfriend sports is sure to make a mess of his lipstick, but he won't just be sucking her off outside, as much as she enjoys making him take it. Read how he has to swallow afterwards in Reciprocation.

Dressed in raunchy red lingerie, Greg finds himself in a provocative predicament, having to wait for a cube of frozen sperm to thaw so he can swallow it for his wife's pleasure. His scarlet heels and stockings conspire with his chastity device to keep him frustrated as he paces the kitchen, then clambers onto the counter when his cum is ready to be consumed. With his hands tied behind his back, he can only watch as his wife produces a dildo, Cheryl pouring his semen down its silicone before commanding him to suck. That won't be the only load he eats for her enjoyment - as she milks him into a bowl, a second cube ensures he can't forget the flavour of his own fluids. Follow his adventures in Two Cube Treat.

Richard is in no doubt that he's in disgrace as he kneels in front of the mirror, with the penis gag that his wife has locked in his mouth making him drool onto a croptop bulging with false breasts. Forced to suck a simulated cock even as his own stays confined to a tiny chastity device, he knows his only way out is to show Meredith that he's sorry, something that will see him fellating her dildo while she watches the television. Held down when she doesn't think he's trying hard enough, he struggles not to gag even before his wife makes him swallow a load, Richard suffering further punishment for not smiling. Discover how he gets sperm on his face in Misbehaviour Medicine.

Serving as his wife's maid, Dylan remains chaste as he does the dishes, but he can't help thinking about catching his cum in the cutlery he's washing up. The choice of which spoon, if any, he might eventually be slurping his semen from will be entirely down to a woman who never wastes an opportunity to tease her feminized husband, with Audrey threatening to take even his teaspoon privileges away unless he does as she says. He'll have to devote himself to one of her dildos to earn his reward, but there's a special treat on the table for this sissy maid when he's finished his fellation - spurting all over the silicone that he'll subsequently have to lick clean. Share the experience in Spoons.
The dominant women in these stories about sissies sucking sex toys love to see a man's lips wrapped around a dildo, licking their own with delight as they look down on mouths surrendered to silicone. Such submission is profoundly arousing for their husbands and boyfriends too, men who must subsequently choose between extended chastity and eating their own ejaculate - not that there's much choice when they've been worked up into a frenzy of frustration. Whether their sperm has been saved for them to swallow or freshly squirted, they'll do more than just taste it when told to "open wide for your wife!".
Buy your copy now!
open wide for your wife! is available in the following formats: (which should I buy?)
Paperback - for those who love real books

PDF - for immediate download and enjoyment on your computer

EPUB - for most e-readers (including Apple and Nook)

Kindle

- for all Amazon devices
By buying a copy of this book, you do more than merely get yourself an arousing read! As well as encouraging the author, sales support the brassièred website, helping to promote the positive aspects of lingerie discipline, male chastity and men as maids in loving female led relationships.