his lock her key
tales of male chastity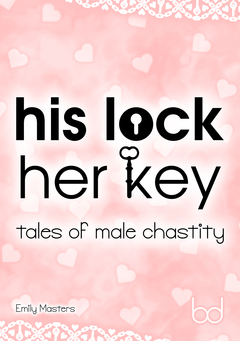 Buy your copy now!
When a man's wife is also his keyholder, you can be sure he'll do as he's told! Surrendering his sex is only the start of his submission, as the husbands in these male chastity stories are about to discover. From learning to make love just the way their wives like it to making up for misdemeanours in the most intimate of ways, follow them as they find out just how far they'll go to obtain relief in his lock her key.
Orgasm denial is a distinctly one-sided affair for these couples, but that doesn't make these teasing tales any less erotic. Locked in chastity belts and cages, these men are powerless to prevent their wives withholding sexual relief on a whim, finding themselves so thoroughly frustrated they'll do almost anything to come. Expected to satisfy her needs even as they're denied their own, each of these chaste husbands learns a new respect for the woman who keeps his cock under lock and key, teased and trained as part of a loving relationship in which she makes the rules.
Siobhan takes her husband to task for his gutter language, teaching him how to use his tongue in an altogether different kind of way - one that's singularly submissive! Oral pleasure takes on a new meaning for Jason when his wife brings out her toys, but he's going to have to swallow more than just his pride if he wants her to return the favour. Locked in a chastity cage, this man's about to learn a lesson in lovemaking that he won't forget. Watching his Tongue is a story of sexual submission that's sure to make you lick your lips!

Ian lets his wife down at the restaurant, but he soon regrets not finishing his plate. With his male chastity device giving Sandra the upper hand, he's in for more than a mouthful of trouble when she decides to teach her husband table manners, taking advantage of his hunger for her body along the way! He'll find himself eating out of more than just the palm of her hand before she treats him to dessert, but will this reluctant husband become accustomed to his new diet or has he bitten off more than he can chew? Find out how chastity training can give a man a new appetite in Olives.

Damien finds it difficult to resist selfishly satisfying himself on the sly, his unwholesome habit in danger of damaging his relationship with his wife until a marriage counsellor suggests a surprising solution - male chastity! Laura certainly appreciates the effects of keeping her husband under lock and key, his chastity cage not only stopping him from masturbating but rekindling his passion for her in the process. Unable to touch himself, Damien is forced to devote his sexual energies solely to his wife, but will the spectacular results last? Follow this couple's journey into ever deeper chastity in A Helping Hand.

Ben has to work hard in order to be let out of his chastity belt, denied any hope of an orgasm until he's earned the required number of points for release. Jessica isn't going to make life easy for her submissive boyfriend, expecting him to prove himself worthy of her body in the most humiliating of ways - but only because she knows just how much that turns him on! Even when he's on his hands and knees naked, Ben's only too happy to play his part in their chastity games, but will his efforts be enough to meet his girlfriend's exacting target? Discover how a dominant woman can direct her man's desires to their mutual pleasure in Points mean Prizes.
There's nothing cruel about these keyholders, but that doesn't mean they won't take advantage of having a caged cock at their command! Whether they're lovingly leading their man by the balls into becoming a better husband or milking every last drop of pleasure from his imprisoned penis, these women certainly know how to make orgasm denial work for them! If you're searching for credible chastity stories featuring caring couples having a whole load of frustrating fun, look no further than his lock her key!
Buy your copy now!
his lock her key is available in the following formats: (which should I buy?)
Paperback - for those who love real books

PDF - for immediate download and enjoyment on your computer

EPUB - for most e-readers (including Apple and Nook)

Kindle

- for all Amazon devices
By buying a copy of this book, you do more than merely get yourself an arousing read! As well as encouraging the author, sales support the brassièred website, helping to promote the positive aspects of lingerie discipline, male chastity and men as maids in loving female led relationships.