men as maids
Find out how a man can be put to work around the house in a pretty uniform with our books about men serving as maids:
a guide for men who want to be maids
Are you searching for a woman to serve or unsure about how to tell your wife or girlfriend about your desire to wear an apron? Our no nonsense guide offers the help you need to overcome such hurdles, showing how best to share a love of cleaning, clothing and chores with a would-be mistress. Packed with practical advice, psychological insights and personal experience, it's a must for any man wondering how to become a maid!

stories about men as maids
Our stories about men wearing maid's uniforms while they work for their wives are more than just exciting and erotic - they set a good example too! From husbands who take care of the household chores all dolled up in sexy maid's outfits to guys who get turned into their girlfriends' maids and learn to love domestic duties, they all find their place is to serve. Share the secrets of such special relationships with these tales of very well trained men!

stories about male maids being punished
If you're passionate about punishment, you're sure to delight in these tales of discipline delivered with love. The maids in these punishment stories may have let their mistresses down, but you won't be disappointed with how they learn their lesson, put in their place by women who are firm but fair when it comes to administering appropriate correction. There's inspiration in abundance and arousal aplenty in these accounts of punished maids!
guides
so you want to be a maid?: the definitive guide for men looking to serve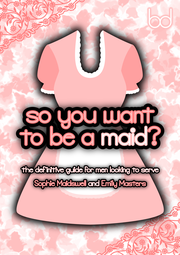 Do you long to be of service to a lady, satisfying her every whim as befits a humble housemaid? Whether you fantasise about being at a woman's beck and call, all dolled up in a pretty uniform, or desire to get down on your hands and knees while your mistress puts her feet up, your dreams of domestic duty could be closer than you think! Many women would love to have their chores taken care of, gladly accepting a male maid if only they were to be approached in the right way - and this book will show you how!
Packed with practical advice, psychological insights and personal experience, so you want to be a maid? will tell you everything you need to know about overcoming the most difficult challenge for a would-be male maid - how to persuade a potential mistress to employ your services. With chapters devoted to tried and tested techniques for winning over wives and girlfriends, dominatrices and even the woman next door, it's full of tips and tricks to get you started serving!
sewing for sissy maids: how to make a maid's uniform
Do you want to dress for domestic service, but have difficulty finding a maid's uniform that fits both your body and your budget? If you're tired of compromising when it comes to what to wear for the chores, then it's time to learn to sew! Making your own maid's outfits is more straightforward than you might think, such that you can have a whole wardrobe of frilly little numbers for the most modest of costs - but the rewards of dressmaking don't stop there! It's a satisfying hobby in its own right, immersing you in a womanly world as you work with material and machine in a manner becoming of a maid.
In sewing for sissy maids, you'll find everything you need to know to make a complete maid's uniform, from how to buy fabric and get started with a sewing machine to more advanced details of adapting a dress's design. With over five hundred photographs and diagrams illustrating the process step-by-step, it's the perfect introduction to a skill every maid should be proficient at.
At brassièred, we believe that every maid should know how to sew - so much so that we've made the whole of sewing for sissy maids available for you to read online, completely free of charge. If you'd rather have something that can sit next to your sewing machine, you can also buy this book in physical and electronic formats.
stories
my husband my maid: tales of men as maids and the women they serve
It's every woman's dream to have their very own maid at their beck and call, taking care of the chores as well as waiting on them hand and foot. The ladies in these stories are no exception, but rather than hiring help, they've trained their husbands to do the housework! Whether they wear frilly French maid's uniforms or just an apron while they work, these men have learnt how to wash, cook and clean as expected of a maid - all so their wives don't have to!
No matter how exacting these mistresses may be when it comes to their maids' domestic duties, there's no denying the love they have for their submissive husbands - even when they're dishing out discipline! Cleaning the bathroom, doing the laundry and entertaining guests are all in a day's work for these men, knowing that their place is to serve the lady of the house with the duty and devotion that befits a feminized maid. my husband my maid shows how a man can be both spouse and servant, making his mistress proud in the process!
his wife his mistress: tales of men as maids and the women they serve
There are few things more satisfying for a woman than knowing she needn't trouble herself with the chores, having a maid on hand to take care of all the jobs she hates. When the maid in question is also her man, serving his mistress dressed in the most feminine of uniforms, things get very interesting indeed - as the stories in his wife his mistress show. From a husband who takes on the role of a housewife to a boyfriend crossdressed for a costume party, these men know their place is to love, honour and obey the lady of the house in a way that only a maid can - much to the delight of the women they serve!
There's no doubt that the mistresses in these tales are demanding, expecting nothing short of absolute obedience from their submissive spouses, but that doesn't mean they love them any the less. Whether serving tea, scrubbing floors or satisfying more intimate needs, you can be sure these male maids will be doing exactly as they're told, surrendering to service in satin and lace!
pretty maids put to work: housemaid husbands all dressed up and doing the cleaning
Sissy maids dream of domestic duty all dressed up in satin and lace, but what a mistress really wants is a submissive servant who'll scrub her floors and sort out her laundry while she sits back and relaxes. A frilly French maid's uniform may be fine for fantasies, but when a man has to take care of the chores wearing such an outfit in reality, he soon discovers how difficult it is to stay looking his best without compromising on the cleaning!
Sheer stockings, bulging bras and puffed out petticoats are just some of the challenges that these male maids have to contend with as they set about their duties around the house, knowing they mustn't let mistress down when it comes to their domestic service. The husbands and boyfriends in these stories about men as maids have more on their minds than merely mincing about in the most delicious of dresses, expected to look as immaculate as the houses they clean for their wives and girlfriends - after all, they're pretty maids put to work!
making mistress proud: male maids putting the lady of the house first
Dressing the part is only the start of a man's domestic duties when he serves as his wife's maid. It takes much more to show his submission than just wearing satin and lace, however frilly his maid's uniform may be! Housework is by far the best way to make his mistress happy, taking care of the chores so that she doesn't have to trouble herself with mundane matters. Whether that's washing her lingerie, sweeping the floor or cleaning the toilet, he'll need to know his place if he's to please, embracing his role as a servant.
In these stories about male maids, it's not enough for a submissive man to merely go through the motions. The dominant women who delight in having their every whim catered for want to see a singular demonstration of devotion, one which will show that their husbands truly understand whose needs come first. Each may have to put his masculine pride on the line in the process, but that's a price a maid must pay if he wants to stand a chance of making mistress proud.
stories featuring punishment
when mistress knows best: four male maids put in their place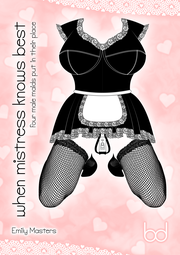 Every woman deserves to have the housework done for her, but maids, especially male maids, can be all too unreliable sometimes. It's easy for a submissive crossdresser to get lost in the satin and lace of his maid's uniform and forget that the foremost duty of a domestic servant is to attend to his mistress's needs - not pleasure himself or otherwise let her down. Sometimes sissy maids get above their station and need to be reminded of their position, which is where an appropriate correction is called for - when mistress knows best.
Whether they impose discipline by means of physical discomfort or prefer more psychological punishment, the ladies in these stories know exactly how to put a man in his place, leaving him in no doubt as to who's the maid and who's the mistress! With tools such as chastity belts, corsets, buttplugs and strap-ons at their wives' disposal, these housemaid husbands are about to learn a lesson in submission they'll never forget!
disobedience, discipline and duty: male maids making up for misbehaviour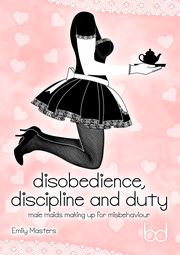 Punishment is the lot of a male maid who misbehaves, as the submissive husbands in these stories discover to their cost when they disappoint their mistresses. Faced with a disobedient domestic, their dominant wives know there's only one way to keep a housemaid husband from falling into bad habits - discipline, and plenty of it! Knowing exactly how to teach a man his place, these women won't stop until they receive the devotion they deserve, employing psychological humiliation along with physical chastisement to make sure he learns his lesson.
Cleaning and chores should stay at the forefront of every male maid's mind, sparing no effort when it comes to domestic service no matter how distracted he may be by a sexy uniform. When a feminized husband is caught fooling around in frillies, he has no choice but to face the consequences of his crimes - however humiliating that may be! Follow the misadventures of four sissy maids as they find out all about disobedience, discipline and duty.
better to be busy: housemaid husbands bound for bad behaviour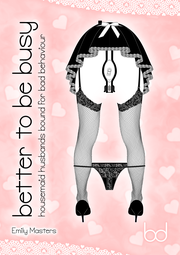 When a woman employs her husband as a housemaid, she expects him to serve her to the best of his abilities, not stand around and slack off. A sissy maid who doesn't take his domestic duties seriously deserves to be disciplined, whether he's reluctant to do all the chores his mistress has asked or simply fails to show his wife and her friends the respect a submissive man should. You can be sure he'll be sorry for such slapdash efforts after suffering the discomfort and disgrace of strict bondage, soon learning that it's better to be busy.
Whether forced to work on his hands and knees or being taught the error of his ways while tied up, a misbehaving maid has no choice but to be contrite when his mistress puts him in a punishing position, using physical restraints and psychological shame to ensure her servant understands just who's in charge. Caged, chained and cuffed, these feminized men swiftly fall into line, finding out first-hand why a male maid is meant to do more!