men as maids
Find out how a man can be put to work around the house in a pretty uniform with our books about men serving as maids:
guides
he's the maid: how an apron helps your husband do the housework
Do you ever wish you didn't have worry about the housework? Trying to keep on top of the chores can often seem like running only to stand still, but it's not possible to neglect the dusting, vacuuming or laundry for long if you don't want to end up living in squalor. Maybe you've thought about hiring a maid to take care of those tasks you struggle to find time, energy or enthusiasm to tackle, but you don't like the idea of having a stranger look after your house, let alone what you'd have to pay. If only there was a way you could get your husband to lend a hand, if not have him take the whole load off your shoulders!
In he's the maid, you'll discover a very different approach to dividing domestic responsibilities in your relationship - one which will not only see your man doing his fair share, but bring him surprising benefits too. Cleaning need no longer be a chore when he dresses the part, an apron and a bit of role-play all it takes to make the housework anything but boring!
Many men would make great maids if only they were to give it a go! That's why we've made all of he's the maid available for you to read online, entirely free of charge! Of course, you can also purchase a paperback to peruse if you prefer, or opt for a digital edition to enjoy on your e-reader.
so you want to be a maid?: the definitive guide for men looking to serve
Do you long to be of service to a lady, satisfying her every whim as befits a humble housemaid? Whether you fantasise about being at a woman's beck and call, all dolled up in a pretty uniform, or desire to get down on your hands and knees while your mistress puts her feet up, your dreams of domestic duty could be closer than you think! Many women would love to have their chores taken care of, gladly accepting a male maid if only they were to be approached in the right way - and this book will show you how!
Packed with practical advice, psychological insights and personal experience, so you want to be a maid? will tell you everything you need to know about overcoming the most difficult challenge for a would-be male maid - how to persuade a potential mistress to employ your services. With chapters devoted to tried and tested techniques for winning over wives and girlfriends, dominatrices and even the woman next door, it's full of tips and tricks to get you started serving!
sewing for sissy maids: how to make a maid's uniform
Do you want to dress for domestic service, but have difficulty finding a maid's uniform that fits both your body and your budget? If you're tired of compromising when it comes to what to wear for the chores, then it's time to learn to sew! Making your own maid's outfits is more straightforward than you might think, such that you can have a whole wardrobe of frilly little numbers for the most modest of costs - but the rewards of dressmaking don't stop there! It's a satisfying hobby in its own right, immersing you in a womanly world as you work with material and machine in a manner becoming of a maid.
In sewing for sissy maids, you'll find everything you need to know to make a complete maid's uniform, from how to buy fabric and get started with a sewing machine to more advanced details of adapting a dress's design. With over five hundred photographs and diagrams illustrating the process step-by-step, it's the perfect introduction to a skill every maid should be proficient at.
At brassièred, we believe that every maid should know how to sew - so much so that we've made the whole of sewing for sissy maids available for you to read online, completely free of charge. If you'd rather have something that can sit next to your sewing machine, you can also buy this book in physical and electronic formats.
en français, Fifi!: essential French for sissy maids and secretaries
en français, Fifi! is a course in basic French for the submissive crossdresser. It is intended to give the student an understanding of the language sufficient to permit him to perform the functions of a maid or secretary without any need to resort to English. Putting a solid emphasis on grammar, this textbook for sissies teaches all the vocabulary that a feminized servant or subordinate should know, using exaggerated examples that will prove as memorable as they are provocative. The would-be speaker will find himself immersed in a world where men wear bras and chastity belts as they seek to please their female superiors with selfless submission, forever fearing shameful punishment.
Ideal for adult role-play, this book can be used as a serious course of study, requiring the reader to make a real effort to master it. Each of the forty nine lessons includes exercises to test the understanding, swiftly separating those willing to put in the work from those who think they can shirk!
If you're wanting make your role-play more real, or prefer to study with a proper textbook, en français, Fifi! is available as a paperback with over three hundred pages, but if you'd rather learn French online, you can read all forty-nine lessons on our website, entirely free of charge!
stories about male maids
my husband my maid: tales of men as maids and the women they serve
It's every woman's dream to have their very own maid at their beck and call, taking care of the chores as well as waiting on them hand and foot. The ladies in these stories are no exception, but rather than hiring help, they've trained their husbands to do the housework! Whether they wear frilly French maid's uniforms or just an apron while they work, these men have learnt how to wash, cook and clean as expected of a maid - all so their wives don't have to!
No matter how exacting these mistresses may be when it comes to their maids' domestic duties, there's no denying the love they have for their submissive husbands - even when they're dishing out discipline! Cleaning the bathroom, doing the laundry and entertaining guests are all in a day's work for these men, knowing that their place is to serve the lady of the house with the duty and devotion that befits a feminized maid. my husband my maid shows how a man can be both spouse and servant, making his mistress proud in the process!
his wife his mistress: tales of men as maids and the women they serve
There are few things more satisfying for a woman than knowing she needn't trouble herself with the chores, having a maid on hand to take care of all the jobs she hates. When the maid in question is also her man, serving his mistress dressed in the most feminine of uniforms, things get very interesting indeed - as the stories in his wife his mistress show. From a husband who takes on the role of a housewife to a boyfriend crossdressed for a costume party, these men know their place is to love, honour and obey the lady of the house in a way that only a maid can - much to the delight of the women they serve!
There's no doubt that the mistresses in these tales are demanding, expecting nothing short of absolute obedience from their submissive spouses, but that doesn't mean they love them any the less. Whether serving tea, scrubbing floors or satisfying more intimate needs, you can be sure these male maids will be doing exactly as they're told, surrendering to service in satin and lace!
pretty maids put to work: housemaid husbands all dressed up and doing the cleaning
Sissy maids dream of domestic duty all dressed up in satin and lace, but what a mistress really wants is a submissive servant who'll scrub her floors and sort out her laundry while she sits back and relaxes. A frilly French maid's uniform may be fine for fantasies, but when a man has to take care of the chores wearing such an outfit in reality, he soon discovers how difficult it is to stay looking his best without compromising on the cleaning!
Sheer stockings, bulging bras and puffed out petticoats are just some of the challenges that these male maids have to contend with as they set about their duties around the house, knowing they mustn't let mistress down when it comes to their domestic service. The husbands and boyfriends in these stories about men as maids have more on their minds than merely mincing about in the most delicious of dresses, expected to look as immaculate as the houses they clean for their wives and girlfriends - after all, they're pretty maids put to work!
making mistress proud: male maids putting the lady of the house first
Dressing the part is only the start of a man's domestic duties when he serves as his wife's maid. It takes much more to show his submission than just wearing satin and lace, however frilly his maid's uniform may be! Housework is by far the best way to make his mistress happy, taking care of the chores so that she doesn't have to trouble herself with mundane matters. Whether that's washing her lingerie, sweeping the floor or cleaning the toilet, he'll need to know his place if he's to please, embracing his role as a servant.
In these stories about male maids, it's not enough for a submissive man to merely go through the motions. The dominant women who delight in having their every whim catered for want to see a singular demonstration of devotion, one which will show that their husbands truly understand whose needs come first. Each may have to put his masculine pride on the line in the process, but that's a price a maid must pay if he wants to stand a chance of making mistress proud.
becoming her maid: you'll do her cleaning so she doesn't have to
My friend is tired of cleaning her apartment, but I have just the answer for her! There's no need for any woman to trouble herself with tedious chores when there are men like you who long to take care of everything, desperate for the chance to serve. We'll sit back and relax while you do all the work, but don't think that we'll go easy on you just because you're keen to wear an apron! It will take more than dressing the part to please your new mistress, as you'll discover from the very start.
In these four stories about serving as a maid, you're the maid, and you'll learn that you need to do everything the right way. There can be no cutting corners, nor considering your own comfort, not when you work for a woman whose needs you must always put first. Whether you're doing her ironing while we keep an eye on you, or sent away to scrub the bathtub all by yourself, you'll have to forget about your own desires, thinking only of what she wants if you're serious about becoming her maid.
hired out for housework: sissies working for women to pay their way
Being a maid means more than flouncing around with a feather duster, requiring a man to really sweat if he's to satisfy the woman he works for. It's even more emasculating when he's paid a pittance for his efforts, reducing him to the role of hired help for the pleasure of his mistress. His only reward will be to give her his meagre income in exchange for the privilege of serving, otherwise looking forward to long hours of thankless chores as he tries to pay his way.
In these erotic stories about men working as maids, submissive sissies are required to take on second jobs, doing other women's cleaning because that's what their mistresses have decided. Ensnared by their own desires, they have little choice but to accept the most humble of positions, locked in chastity to ensure they remain focused on what they're employed to do. Wearing lingerie even when not in aprons and dresses, all will learn that hard work and humiliation go hand in hand when a man is hired out for housework.
stories about male maids being punished
when mistress knows best: four male maids put in their place
Every woman deserves to have the housework done for her, but maids, especially male maids, can be all too unreliable sometimes. It's easy for a submissive crossdresser to get lost in the satin and lace of his maid's uniform and forget that the foremost duty of a domestic servant is to attend to his mistress's needs - not pleasure himself or otherwise let her down. Sometimes sissy maids get above their station and need to be reminded of their position, which is where an appropriate correction is called for - when mistress knows best.
Whether they impose discipline by means of physical discomfort or prefer more psychological punishment, the ladies in these stories know exactly how to put a man in his place, leaving him in no doubt as to who's the maid and who's the mistress! With tools such as chastity belts, corsets, buttplugs and strap-ons at their wives' disposal, these housemaid husbands are about to learn a lesson in submission they'll never forget!
disobedience, discipline and duty: male maids making up for misbehaviour
Punishment is the lot of a male maid who misbehaves, as the submissive husbands in these stories discover to their cost when they disappoint their mistresses. Faced with a disobedient domestic, their dominant wives know there's only one way to keep a housemaid husband from falling into bad habits - discipline, and plenty of it! Knowing exactly how to teach a man his place, these women won't stop until they receive the devotion they deserve, employing psychological humiliation along with physical chastisement to make sure he learns his lesson.
Cleaning and chores should stay at the forefront of every male maid's mind, sparing no effort when it comes to domestic service no matter how distracted he may be by a sexy uniform. When a feminized husband is caught fooling around in frillies, he has no choice but to face the consequences of his crimes - however humiliating that may be! Follow the misadventures of four sissy maids as they find out all about disobedience, discipline and duty.
better to be busy: housemaid husbands bound for bad behaviour
When a woman employs her husband as a housemaid, she expects him to serve her to the best of his abilities, not stand around and slack off. A sissy maid who doesn't take his domestic duties seriously deserves to be disciplined, whether he's reluctant to do all the chores his mistress has asked or simply fails to show his wife and her friends the respect a submissive man should. You can be sure he'll be sorry for such slapdash efforts after suffering the discomfort and disgrace of strict bondage, soon learning that it's better to be busy.
Whether forced to work on his hands and knees or being taught the error of his ways while tied up, a misbehaving maid has no choice but to be contrite when his mistress puts him in a punishing position, using physical restraints and psychological shame to ensure her servant understands just who's in charge. Caged, chained and cuffed, these feminized men swiftly fall into line, finding out first-hand why a male maid is meant to do more!
punished for her pleasure: this maid's mistress is impossible to please!
It's not easy being the maid of a demanding mistress - especially when a man is expected to wear an emasculating uniform to show his submission to his superior. For one sissy maid, however, a frilly apron and dress are only the start of his troubles, with even the simplest of chores being fraught with difficulty. Is it because the woman he works for is impossible to please, or because his mistress takes a wicked delight in disciplining him? Either way, it seems that this sissy can do nothing right, forever finding himself in trouble no matter how hard he tries! If only his mistress weren't so cruelly inventive!
In these erotic stories about a male maid struggling to satisfy his mistress, the lady of the house wastes no opportunity to oppress her domestic servant, making his already menial work all the more demeaning for him. It doesn't take much to put a man in his place when he's dressed as a maid, but he'll feel humbled and humiliated when he's punished for her pleasure.
vintage texts
bygone maids: vintage manuals for maids and mistresses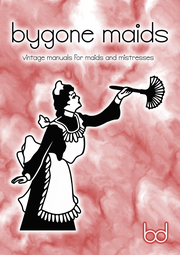 A modern maid may grumble about having his hands full with the housework, but the duties of even the most devoted of domestics pale in comparison to those the servants of the past were expected to undertake. Without the assistance of any of the labour-saving devices so easily taken for granted today, generations of girls slaved away to keep their superiors in the comfort they were accustomed to, knowing that long days of menial drudgery were their lot for life.
bygone maids presents a selection of genuine books from previous centuries, transcribed and formatted for your reading pleasure. These vintage maid manuals not only offer a fascinating historical insight into the forgotten lives of female servants and those they answered to, but can also serve as a means of instilling an appropriately submissive mindset in today's male maid. Whether you're looking for serious material for a housemaid husband to copy, recite or just read, you'll find plenty of austere words here.
interactive tools
sissy maid contract: spell out exactly how you expect him to serve
Whether you're considering employing a submissive man to do your cleaning, or are thinking about formalising the domestic arrangements in a female-led relationship, it's useful to put what you want into words. Our sissy maid contract provides ready-made text that you can customise to your requirements, allowing you to spell out exactly how you expect him to serve. The structured agreement covers rights in addition to responsibilities, reassuring both maid and mistress with its practical considerations.
As well as being invaluable for setting boundaries with a would-be servant who has yet to earn your trust, a formal maid's contract is great for couples wanting to take their role-play to the next level, allowing a housemaid husband to make a real commitment to the chores. With a choice of realistic, no-nonsense options, this easy-to-use online tool lets you quickly create a contract to suit your situation, no matter what kind of man will be working for you.
punishment and reward picker: delegate his fate to a random roll
It's bad enough when a maid lets his mistress down, without him adding the burden of making her decide how he should be punished. Why should the lady of the house have to waste her time thinking about correcting an errant servant, when he's supposed to be there to spare her tedious chores? The same is true for keeping a submissive man busy, whether he's completed all the housework, or has so much to do that he doesn't know where to start! All that's before considering what, if any, reward a maid might deserve for his service - hardly something that can be delegated to him, no matter how dutiful he may be!
Our punishment and reward picker offers an answer to these questions, allowing you to leave the decision entirely to chance. You don't need to do anything more than tell your man to do what it says, but you can make him suffer a maddening wait while the possibilities roll around - a punishment in itself, even if the picker finally decides that he should be permitted pleasure!
consequence chooser: make him pick his punishment
Should a disobedient sissy be allowed to decide how he is disciplined? You might think not, but having to choose can be worse than having no choice at all - especially when a submissive man can't see what he's condemning himself to! Perhaps he's hoping to avoid his least favourite punishment, or perhaps his chance of a reward rests on him making the right choice. How awful it would be for him to choose wrongly, knowing how different things could have been, if only he had picked another option! Once he's made his decision, it'll be too late to change his mind, nor can he complain when he has only himself to blame!
Our consequence chooser allows you to put your submissive in just such a predicament, requiring him to decide his fate in the most devilish of ways! You can customise the choices it offers, or even stack the odds against him if you're feeling unfair. Regardless of whether you make the decision beforehand or leave it to him, he's sure to find choosing surprisingly challenging!
sissy reaction test: train him to respond to the ring of a bell
When a woman calls for attention, a submissive man must stop what he is doing and see what she wants, no matter how busy he might be. Quick reactions and endless patience are qualities that are required of both male maids and secretaries, with a sissy who dares to make his mistress or boss wait asking to be punished! Whether she snaps her fingers or rings a bell, he should always be ready to respond - not just once, but as often as it might amuse her to summon him, perhaps for no other reason than to send him away again.
Our sissy reaction test allows you to assess a man's abilities in these crucial areas, or else to teach him of their importance, without having to go out of your way yourself. You can choose a rapid-fire test of reactions, or a slower, yet no less demanding patience challenge, each of which is completely configurable. There's also a game that can be played even by single sissies, requiring them to cultivate their skills in order to progress the story.