feminized and frustrated
these guys have to get girly to obtain relief!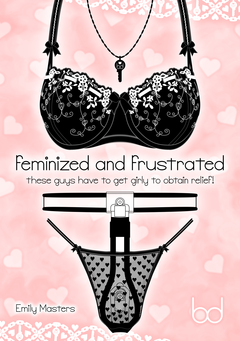 Buy your copy now!
The incessant frustration of being locked in chastity can drive a man to almost any lengths for an orgasm. The longer his cock is kept in a cage, the more submissive he becomes, until eventually he's begging to do whatever his keyholder asks him - even if that involves feminization! Kept from touching himself without the key that hangs around her neck, he'll happily wear women's underwear and more if that's the cost of a climax, accepting such humiliation as the price that must be paid for both punishment and pleasure.
From wearing high heels and foundation wear to working as her fully dressed maid, these feminized husbands have surrendered their sex in more ways than one, submitting to the whim of their wives without question when it comes to dressing up like a lady. There's orgasm denial aplenty as they're teased beyond belief before being put back in their chastity belts and cages, with chaste males turned female for the amusement of those who keep them feminized and frustrated.
John's chastity belt has to come off for cleaning, but his wife's regular inspection of his imprisoned penis is anything but an impersonal affair when Bella has him tied to the bed, teasing her husband to the very edge of orgasm before locking him right back up again! He'll have to perform humiliating forfeits for her before she'll consider relieving his frustration, emasculating himself with bra and buttplug if he wants to be let out for more pleasurable purposes. The couple's chastity games make them both hot and horny, but unlike her husband, Bella doesn't have to put her dignity on the line in order to come, making sure her man shows her appropriate attention throughout his intimate ordeal! Find out how John gets on in The Bag of Forfeits.

Greg gets caught trying to come in his chastity device, even though he knows the cage locked around his cock will never let him climax without his wife's permission. Diana is just as stern as the stainless steel when it comes to keeping her husband chaste, which means it comes as something of a surprise when she suggests unlocking him after he's let her down. Any hope of an orgasm is short-lived, however, with his wife simply wanting to swap his chastity cage for something equally as effective at stopping him masturbating - old-fashioned foundation wear! Sent to work sewn into control panties, two girdles and a longline brassière, he's soon reminded that his wife has total power over his penis! Learn his fate in Greg's Chastity Girdles.

Stuart shows scant interest in his wife's new shoes, wanting Carol to wear sexy stilettos rather than the cute casual footwear that she's come home from the shops with. Persuaded to put on his male chastity device after she changes into a pair of patent leather pumps, he soon finds the cage locked around his cock correcting him of his earlier chauvinism when his wife sets out to teach her husband a thing or two about feminine fashions. Shopping for shoes takes on a new meaning for a man made to buy his very own high heels, but he'll have to learn to strut like a hooker in stockings and suspenders before Carol considers letting him have sex in stilettos. Join him as he walks on the wild side in Hostage to Heels.

Adrian's chastity belt teaches him an unlikely lesson in erotic economics as he comes to terms with having to pay whatever his wife demands as a cum tax in order to climax. Her ever increasing levy sees her husband earning his orgasms by treating her to whatever she fancies, but when Sue decides she wants her man feminized, Adrian has no choice but to start buying lingerie for both of them! Slowly graduating from presenting himself in panties to having to wear women's underwear all the time as a tribute to his keyholder, it isn't long before his wife is asking even more of her man - expecting him to work as her maid in exchange for her intimate attentions. Follow him into feminization in Paying His Dues.
Feminization and male chastity go hand in hand when it comes to showing a man who's in charge, as the wives in these stories about submission and discipline are only too happy to demonstrate. When a man's penis is trapped behind both padlock and panties, you can be sure he'll do exactly as he's told, wearing a bra like a girl even before his keyholder starts teasing him! If you're looking for erotic fiction where husbands are kept horny in hosiery and heels, you'll find feminized and frustrated offers four arousing tales of thwarted men lovingly locked in lingerie.
Buy your copy now!
feminized and frustrated is available in the following formats: (which should I buy?)
Paperback - for those who love real books

PDF - for immediate download and enjoyment on your computer

EPUB - for most e-readers

iTunes - for iPads, iPods and iPhones

nook - for Barnes & Noble e-readers

Kindle

- for all Amazon devices
By buying a copy of this book, you do more than merely get yourself an arousing read! As well as encouraging the author, sales support the brassièred website, helping to promote the positive aspects of lingerie discipline, male chastity and men as maids in loving female led relationships.