guides
enchasté: an introduction to modern female chastity belts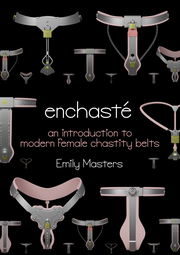 Have you ever wondered what it would be like to wear a chastity belt? If the idea of padlocked panties appeals, you'll be pleased to know they're more than just a medieval myth, with modern designs capable of making your dreams come true. Whether you delight in submission and denial, want to show commitment to someone special, or are simply looking to spice things up between the sheets, surrendering your body to steel needn't be difficult - however sexy it may be!
enchasté is a comprehensive guide to modern female chastity belts, in which you'll find everything you need to know about these fascinating instruments of frustration - from the reasons why so many women are attracted to them to the practicalities of wearing one for real. As well as learning what to look for when buying, you'll find a host of tips on how to make a chastity belt work for you and your relationship - no matter whether you're longing to stay locked or want to inflame passions so much as to dash for the keys!
Because we believe no submissive woman should be without the information she needs, we've made all of enchasté available for you to read online, entirely free of charge! Of course, you can also purchase a paperback to peruse if you prefer, or opt for a digital edition to enjoy on your e-reader.
stories about female chastity belts
padlocked until playtime: submissive women frustrated by female chastity belts
When a woman is stopped from having sex, she wants it all the more! It's hard for a girl in heat to think of anything else when she's hot to trot, with her predicament made all the more agonising when she's prevented even from playing with herself. No matter how hungry she might be for something stiff inside her, however, a chastity belt will make sure she stays unsatisfied, saving even the most promiscuous of women's passions solely for the man who keeps her key.
Whether aroused at the office or feeling horny at home, there's no doubt that the four heroines in these stories about female chastity will remain denied and deprived, each becoming desperate for dick because of the device locked around her body. Forced to endure the frustration of steel after being made to wear a chastity belt by her husband, a submissive wife learns that a good girl does as she is told and lets her master take the lead, having no choice but to stay chaste when her pussy is padlocked until playtime.
laced, locked and lusting: her corset and chastity belt mean her body belongs to him
When it comes to driving a woman to distraction beneath her clothes, which is most disconcerting for her: the maddening metal of a female chastity belt or the stiff steel bones of a tightly laced corset? The submissive wives in these stories about sexual frustration don't get to choose, instead forced to suffer both as they try to go about their business. Whether shown off or in secret, such a predicament permits a woman no pleasure, but her denied desire will see her dripping wet by the time her dominant husband deigns to release her.
After all, the combination of corset and chastity belt is unbeatable when it comes to enforcing a man's control over his wife's body, no matter whether he wants to be entertained by her plight or is content with just leaving her to her own devices in such devilish attire. Heavily corseted and helpless to satisfy her own hunger, she'll have to hope her man will show mercy, knowing that only he can decide how long she'll stay laced, locked and lusting.
busy guys, belted girls: female chastity belts mean these submissive women will just have to wait!
When a man locks his wife in a chastity belt, he doesn't have to worry about her getting up to any mischief behind his back, able to go about his business safe in the knowledge that his most treasured possession will remain properly protected. If only she could forget the frustrating steel as easily, instead of having to contend with its constant presence no matter how busy her husband may be! The impenetrable metal will make sure he stays at the forefront of her mind even when he's ignoring her, but matters could be much worse - as the submissive women in these stories about female chastity belts soon find out!
Unable to slake the fires of sexual desire stoked by being so devilishly dominated, these belted wives find themselves driven to distraction by having to wait for an overdue orgasm, yet their passions are only further provoked by the predicaments their husbands put them in. busy guys, belted girls - it's an exciting combination that's sure to end in explosive release!
his belted pet: pet girls playing in chastity belts and collars
A collar symbolises submission in a way that a woman can never forget, the leather buckled around her neck making a chastity belt all the more frustrating when its wearer is turned on by being controlled. Stripped of her clothes, she'll soon be dripping wet, the steel that stops her touching herself leaving her only her mouth to satisfy her master. Whether she's kept on a very short leash or locked in a cage, she'll be eager to suck and swallow, accepting her place as a pet by doing what she's told - no matter where her owner might take her!
In these stories about pet girls wearing chastity belts, submissive wives and girlfriends must perform for the pleasure of their men - some surrendering their bodies in private, others finding themselves taken out in public, but all collared as their masters take the lead. Cuffs, gags and cute accessories add to the excitement for these women turned cats and dogs, each knowing her place when she's locked in leather and metal as his belted pet.