surrendered to steel
men wearing chastity belts for better bedroom behaviour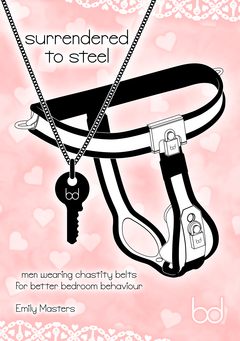 Buy your copy now!
Plastic chastity devices can only go so far to prevent a man from playing with himself - to stop him masturbating once and for all, the security of steel is called for! There's nothing medieval about the modern-day metalwork these men have to wear, surrendering their sex completely to chastity belts that ensure they stay true to the women who hold the keys! Subject to teasing and denial at the whim of their wives, there's no escape from the cruel contraptions that keep their cocks under control - only frustration aplenty amidst their girdled groins.
The fun doesn't stop there when a keyholder is feeling frisky, as the couples in these stories about men wearing chastity belts demonstrate when they fool around between the sheets - with him still locked up between the legs! With no chance of an orgasm without her say-so, you can be sure these submissive husbands will do their utmost to please, playing along with all manner of male chastity games as part of being surrendered to steel.
Rick can't stop sticking his hands down his pants, but all that's about to change thanks to a chance conversation! When his girlfriend learns about male chastity, she's determined to see her boyfriend belted - even if that requires donning a naughty nurse's uniform on her part to see that her patient's penis is properly protected! Fulfilling each other's fantasies is a whole lot of fun for this kinky couple, but their bedroom games will see Eva gaining the upper hand as she sets about teaching her unsuspecting man some self-control. Learn how he finds himself in a chastity belt for the very first time when you read Belting Her Boyfriend.

It may be just another ordinary day for Gareth, but that doesn't mean he isn't going to pull out all the stops to make his wife's birthday a very special one. A man locked in steel needs no reminder that it's the little things that make all the difference, as this tale of everyday chastity will tell you, following the fortunes of a devoted spouse for whom frustration is all too familiar. Wielding the key to her husband's chastity belt, Andrea doesn't need to go too far out of her way to tease, dressing up for a date together all it takes to drive him to distraction. Locked up yet loved, will Gareth get lucky at the end of the night? Find out in Birthday Girl.

Tony has no choice but to spend Saturday morning between the sheets when he wakes up to find his chastity belt chained to the bed, his wife restricting his movements even more than usual as she imposes an enforced sleep in upon her man. After making him beg for his breakfast, Jane is no hurry to take advantage of her sex slave, leisurely going about her morning make-up routine in just her lingerie while her helpless husband looks on. Worse is to come when Tony's left to his own devices with only a book for lovers to distract him, his wife apparently having forgotten his plight in favour of a visiting friend. Will there be something more appetising in store for him when a surprise parcel arrives? Read for yourself in Chained Under the Covers.

Luke doesn't get to choose when he comes any more, instead only able to roll a dice to determine whether he might be allowed out of his belt for an orgasm. When his wife suggests changing his chastity rules, he knows he'll have to go along with her new game if he's to stand any chance of sexual relief - even if that means being handcuffed helplessly to the bed while she leaves his fate to the luck of the draw. The odds aren't in his favour as Natalie plays with her prisoner, teasing him to the very edge of climax before letting the dice decide his fate. Will fortune be on her husband's side or will he be further frustrated? Discover how he gets on in The Roll of the Dice.
Cold steel may effortlessly thwart any erection, but if you love tales of enforced orgasm denial, you'll find these stories about men who wear chastity belts for their wives to be a real turn on. There's more than just metal keeping these men in their place, locked up with love by ladies who lead the way in relationships made all the more passionate by penises imprisoned behind inescapable belts. Featuring caring couples for whom male chastity is a way of life, surrendered to steel shows there need be no compromise when it comes to keeping cocks under control!
Buy your copy now!
surrendered to steel is available in the following formats: (which should I buy?)
Paperback - for those who love real books

PDF - for immediate download and enjoyment on your computer

EPUB - for most e-readers (including Apple and Nook)

Kindle

- for all Amazon devices
By buying a copy of this book, you do more than merely get yourself an arousing read! As well as encouraging the author, sales support the brassièred website, helping to promote the positive aspects of lingerie discipline, male chastity and men as maids in loving female led relationships.