a hard time at her hands
men so desperate they'll wear anything to be teased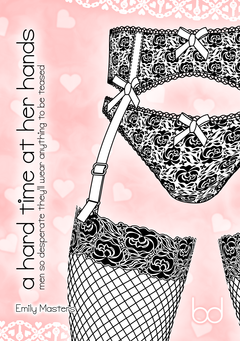 Buy your copy now!
Why do men have penises? For their wives and girlfriends to play with, of course! To be toyed with, to be teased or even tormented, perhaps occasionally treated to a little more if the mood takes her, or else to be locked away until the next time she chooses to amuse herself with his manhood. There's no reason to let him make a mess, not when it's so much fun to keep him frustrated, but that doesn't mean he won't desperately beg for relief, going so far as to wear stockings and a bra in the hope of her sparing him the ache between his legs.
In these stories about teasing and chastity, submissive men are unable to touch themselves, prevented from selfish pleasures by devices that keep them devilishly denied. Surrendering to lingerie is only the start of entertaining the women that love to emasculate them, being told to pull down their panties offering no guarantee of enjoying even an erection. Each will obey all the same, a part of him longing to suffer a hard time at her hands.
James knows that he needs to dress up if he wants his girlfriend to unlock his chastity device, Laura expecting him to surrender to lingerie before she'll even consider using her key. The cupless bra and crotchless panties with which he seeks to please her serve no purpose except to emasculate him, their hot pink satin making him feel even more helpless as he presents himself with his hands and ankles cuffed. It's too bad that his girlfriend is more interested in playing with her phone than with him, still ignoring the plight of his penis as she goes on to paint her nails. If he wants to enjoy any pleasure from her hand, James will have to agree to do the same, as you'll read in A Higher Price.

Scott returns home early from his night out, but he has good reason not to want to stay in the strip club with his friends - locked in a chastity device, this submissive husband can't enjoy an erection, instead suffering whenever he gets stiff! His wife isn't satisfied with him proving that he's still wearing the panties she sent him out in, however, insisting that he put on a bra in order to give her a private performance of her own! Scott will have to show Tina what he's learned about teasing with lingerie, but this couple's fun won't stop there - he'll end up tied to the bed as she reciprocates, his wife extracting emasculating promises from him. Find out what he agrees to in Stripteases.

Jacob is teased with talk of corsets when his girlfriend leads him into the lingerie department, but he doesn't escape embarrassment even after Nicole fails to find anything she likes. He'll have to buy stockings before she takes him home to play, needing to wear his new hosiery once he's laced himself into a tried and tested foundation garment. Nicole wants to see her boyfriend's hands cuffed to his corset long before she'll consider unlocking his chastity device, frustrating him further by fondling his nylons in between modelling her new clothes. There can be no doubt about who's in charge when he's wearing a bra for her as well, the only question being whether this denied boyfriend will ever get to come! Follow his fortunes in Teapot.

Aaron can't stop himself from stiffening in his panties, even when his girlfriend isn't teasing him in person. That's because of how Kaitlyn has trained him, it only taking the sound of her ringtone for this submissive boyfriend to get hard! Before she'll free him from his frustrating chastity device, however, he'll have to surrender to a bra as well, donning a pastel pink croptop and pleated skirt to show that his manhood is merely her toy. Once he's helplessly bound, there'll be no escape from his girlfriend's wicked fingers, but bringing him to the edge again and again isn't the only way Kaitlyn will be teaching his organ to obey. Discover what happens when she says His Very Special Word.
In these teasing and denial stories, men must endure more than just their chastity devices, having to wear lingerie if they want the women who control their cocks to use the keys. Even being unlocked is no guarantee that they'll get to enjoy anything more, however, with fondling fingers more often than not leaving these helpless husbands and boyfriends still more frustrated. Despite only one being allowed to shoot his load, all will provide immense pleasure to their keyholders with their protests about suffering a hard time at her hands.
Buy your copy now!
a hard time at her hands is available in the following formats: (which should I buy?)
By buying a copy of this book, you do more than merely get yourself an arousing read! As well as encouraging the author, sales support the brassièred website, helping to promote the positive aspects of lingerie discipline, male chastity and men as maids in loving female led relationships.