chaste and chastised
these crimes against chastity won't go unpunished!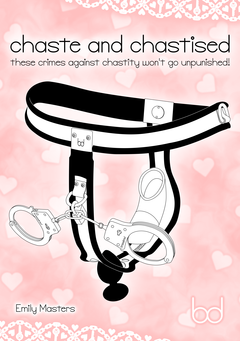 Buy your copy now!
The men in these female led relationships know they shouldn't try to cheat their chastity belts, but sometimes temptation gets the better of them and they try to break the rules. Whether they attempt to achieve an unauthorised orgasm, disrespect their keyholder's decisions or simply fail to do as they are told, the outcome's sure to be the same - a punishment that'll put them in their place, teaching them that male chastity requires mental commitment beyond merely suffering cold steel.
When his cock's locked up, there's no excuse for a man not to obey the wishes of the woman who holds the key - especially when she isn't afraid to employ psychological discipline and physical discomfort to help him learn his lesson. Surrender, submission and self-control become the watchwords for these humbled husbands and belted boyfriends, finding no relief but plenty of frustration as they pay the price for their crimes. Follow their fortunes as they come to terms with being chaste and chastised.
In Doing it Apart, Fergus somehow manages to slip out of his chastity device, succumbing to temptation in the toilet before realising he can't put his penis back into its plastic prison. That leaves him with more than a little explaining to do later on, with Chloe taking a very dim view of her husband's antics as she locks his cock back up whilst warning that male masturbation won't be tolerated in their marriage. The female kind is quite a different matter, however, as Fergus discovers when he's forced to watch his wife play with herself from an unlikely vantage point of inside the wardrobe - handcuffed helplessly out of reach as Chloe's hands and toys stand in for his imprisoned organ, his wife turning the tables to teach him the selfishness of his ways.

Matt begs to be released from his chastity belt once too often, his efforts only earning him the addition of a buttplug to his sexual submission. Quite apart from the humiliation of having to insert such an intimate intruder all on his own, he finds himself on the horns of another dilemma when his girlfriend proposes a game that will see him suffer in silence if he wants to have sex. His predicament is made all the more punishing for knowing that he can end it at any time - but only by giving up any chance of an orgasm! Paula plays with her boyfriend in more ways than one, ultimately locking his plug in place when he lets her down. Learn how he gets on in Paula's Plugged Puppy.

Despite wearing a chastity belt, Tony still has some way to go before he's properly trained, as his disappointing endurance in an erotic encounter and reluctance to eat his girlfriend out afterwards demonstrate all too clearly. Allowed nothing but ruined orgasms until he can show Hannah he's learnt the error of his ways, this submissive boyfriend soon comes to appreciate that sperm is an acquired taste when he's tied up and teased. Practice makes perfect for a man put through a punishing training regime, but will Tony's cock ever be able to stay the course or will he always succumb to his keyholder's efforts to feed him his own cum? Find out when you read Recycling.

Harry is so desperate to come that he's prepared to go to almost any lengths to get off - even so far as playing with his wife's toys while she's out! The implacable steel of his chastity belt wins hands down despite his best efforts to outwit it, but Megan's vibrator only adds to his troubles later on when she finds out what her husband's been up to behind her back. Made to watch as his wife shows him just what a dildo is capable of doing, Harry discovers that his is not the only cock that's capable of bringing her off. How will this submissive husband fare when his thwarted erection is turned down in favour of a plastic phallus? Discover for yourself in The Temptation of Her Toy.
Employing punishment for positive purposes, the loving ladies in these stories about men being disciplined by their wives and girlfriends while in chastity have only their other half's best interests at heart, knowing that sometimes a keyholder has to be cruel to be kind when it comes to keeping a cock locked away. Combining male chastity with correction that's firm but fair, both parties in these female led relationships benefit when bad boys get their just deserts while denied thanks to being chaste and chastised!
Buy your copy now!
chaste and chastised is available in the following formats: (which should I buy?)
Paperback - for those who love real books

PDF - for immediate download and enjoyment on your computer

EPUB - for most e-readers (including Apple and Nook)

Kindle

- for all Amazon devices
By buying a copy of this book, you do more than merely get yourself an arousing read! As well as encouraging the author, sales support the brassièred website, helping to promote the positive aspects of lingerie discipline, male chastity and men as maids in loving female led relationships.