cocks, locks and lingerie
strap-on submission in satin and steel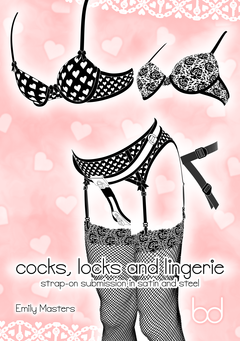 Buy your copy now!
Put yourself in the place of a man wearing lacy lingerie, his penis made powerless by an intimate prison. Turned on by his sexy underwear yet thwarted by the chastity device locked around his cock, it's only natural for him to let his wife take the lead - even if she wants to emasculate him still more! If he's unable to penetrate her, then she'll just have to do it to him - strapping on a dildo to deliver a bedroom banging that'll soon have him begging to come in his bra and stockings!
The submissive husbands and boyfriends in these stories about strap-on sex have their panties pulled down for pegging, wearing what a woman would while their wives and girlfriends have their wicked way. Drilled by dominant women who delight in combining feminization and frustration with a good hard filling, these men will never be as stiff as the silicone shafts they're impaled upon, but they're sure to enjoy the experience as cocks, locks and lingerie come together in the most delicious of ways!
Mitch doesn't really need panties because of how his girlfriend makes him wear a chastity belt, but he dons them all the same as he dresses for their dinner date. By the time he departs for her place, he's not only wearing stockings but a bra as well - yet still Alice isn't satisfied with his submission! Before she lets her boyfriend eat, she insists he slips into a little black dress and stiletto heels, seeing Mitch suitably dressed for an indecent dessert! Sucking chocolate sauce off his girlfriend's cock is a sweet treat for the feminized man, but Alice sees it as no more than a starter - pressing him up against the window of her penthouse apartment prior to penetrating him. Read how he fares in Dressed for Dinner.

Dana wants her husband's first time to be special, dressing him up in the luxurious lingerie of a blushing bride as the couple prepare to play with her strap-on cock. The silky satin underwear only serves to emphasise the plight of Jerry's penis as he helps his wife into one of her own, his chastity device conspiring with the stiff silicone to leave him feeling supremely submissive. Eased into enjoying the plastic phallus, Jerry learns what it's like to give a blowjob, but it isn't long before he's surrendering to his wife's strap-on even more intimately - still locked up as he lets Dana make love to him like a woman. Will he get to come himself? Find out in His First Time.

Amy loves to tease her boyfriend, lying around in lacy black lingerie while she has him massage her stocking clad feet. Wearing nothing but panties over his ever-present penis prison, Alex finds his dominant girlfriend disregarding his discomfort in favour of her phone, but all that's about to change! A simple text message is enough to see this submissive man having to put in a buttplug, with Amy adding stockings and suspenders before she takes her boyfriend along to a party. Before the night is over, Alex will also be wearing a bra, Amy bending him over a washbasin as she bangs him in the bathroom of a stranger's house. Follow their adventures in Pegged at the Party.

Careless words have left Marcus facing a difficult challenge - that of coming from his wife's cock without touching his own. Determined to keep her husband in chastity until he can do it, Kelly only lets him out to be impaled, but the thought of shooting sperm all over his face holds the frustrated man back as he's bent double in a basque and stockings. Finding fresh ideas from an erotic movie, the couple are soon trying again - this time with Marcus bouncing up and down on his wife's lap in a frilly pink bra, then getting down on all fours to suck a dildo while Kelly takes him from behind. Will emulating the onscreen antics see him finally climax? Discover for yourself in Sorority Girl.
The exciting emasculation these men enjoy makes them horribly hard as they bend over and take it, but there'll be no end to their frustration while they remain locked up and in lingerie for the pleasure of the women penetrating them. The loving couples in these sexy strap-on stories are as passionate about chastity as they are about pegging, bringing together silicone, satin and steel for the most amorous of anal adventures. If you love tales of helpless husbands and boyfriends on the bottom, you'll want to read cocks, locks and lingerie - what more could a submissive man want?
Buy your copy now!
cocks, locks and lingerie is available in the following formats: (which should I buy?)
Paperback - for those who love real books

PDF - for immediate download and enjoyment on your computer

EPUB - for most e-readers (including Apple and Nook)

Kindle

- for all Amazon devices
By buying a copy of this book, you do more than merely get yourself an arousing read! As well as encouraging the author, sales support the brassièred website, helping to promote the positive aspects of lingerie discipline, male chastity and men as maids in loving female led relationships.