from belt to bra
when male chastity leads to feminization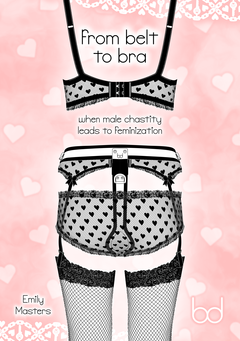 Buy your copy now!
Imagine the predicament of a man who is told that the only way he can earn release from his chastity belt is by wearing a bra for as long as amuses his keyholder. Perhaps she fancies making him wear panties too, or perhaps skirts and stockings are the order of the day as far as his feminization is concerned. Of course, the choice is his, but unless he does what he's told, there'll be no escape from the steel penis prison which emasculates him just as much as the feminine attire he'll soon find himself wearing - like it or not!
Whether donning all the lingerie a woman would is so arousing as to only add to his sexual frustration or just the thought of doing so is acutely embarrassing, one thing's the same - a chastity belt is sure to provide all the motivation a man needs to feminize himself for his keyholder's pleasure. from belt to bra follows four such men through their adventures in male chastity and feminization as they dress like women in order to perform as a man.
Bruce is being trained to wear a bra by his wife. Lucy makes no secret of the fact that she ultimately wants to see her husband brassièred all the time, and with the keys to his chastity device at hand to help persuade him, it's only a matter of time before she'll get what she wants. However terrifying the prospect of wearing a bra to work might be, Bruce knows that doing as he's told is the only way to earn enough points to be released from his ever increasing frustration - yet his wife is hungry for more! Find out what happens to this lingerie wearing man in Bruce's Bra Training.

When Stella wants to play dress up with her husband, Keith finds that he has no choice but to comply - that is, if he wants to be let out of his chastity device any time soon! Allowing his wife to treat him like a living doll seems like a small price to pay for an early release from his intimate incarceration, but by the time Stella is finished with him, Keith will find himself becoming even hornier. Feminized for his wife's amusement, her plaything will take on all the trappings of a busty bimbo in the process, as you'll discover when you read Playing Dress Up.

Adam finds himself locked up for longer than he might like when his girlfriend loses the keys to his chastity belt. Thankfully Naomi knows exactly where she's left them, but that won't stop her boyfriend having to spend the weekend in enforced chastity. If only she hadn't made him wear steel leg restraints as well, he'd at least be able to wear men's clothing for the duration of his ordeal - as it is, Adam's about to become thoroughly feminized as well as emasculated! Follow his fortunes in female attire in Shackled.

With Valentine's Day fast approaching, Chris's girlfriend has left him in no doubt that she wants him dressed for the occasion - and that means lingerie! Although he's no stranger to dressing up in the bedroom, Chris has never been shopping for sexy underwear by himself before now, but Susan is insistent that he surprise her. Finding his chastity belt becoming increasingly frustrating as the big day approaches, Chris knows that he'll need to do something special if he's to win her heart and his release, but how will he fare on his own in the lingerie store? Learn for yourself in The Valentine's Day Gift.
There's no denying the power of male chastity to tame a man, but when combined with the magic of women's underwear in a loving relationship, the effect is sure to be explosive! No matter whether he's feminized for some fun in the bedroom or expected to don such intimate attire for the purposes of discipline, there are few things more frustrating for a man than having to wear feminine frillies whilst his masculine needs are utterly denied. If you love stories where male chastity and erotic feminization are combined, then from belt to bra is the book for you!
Buy your copy now!
from belt to bra is available in the following formats: (which should I buy?)
Paperback - for those who love real books

PDF - for immediate download and enjoyment on your computer

EPUB - for most e-readers

iTunes - for iPads, iPods and iPhones

nook - for Barnes & Noble e-readers

Kindle

- for all Amazon devices
By buying a copy of this book, you do more than merely get yourself an arousing read! As well as encouraging the author, sales support the brassièred website, helping to promote the positive aspects of lingerie discipline, male chastity and men as maids in loving female led relationships.