male chastity contract
put his promises to please you on paper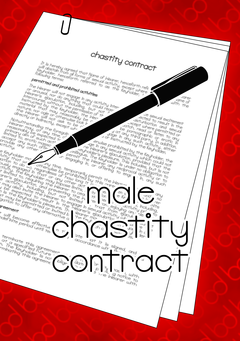 Male chastity needn't be complicated - you can just lock up his cock and tell him that he needs to please if he wants you to use the keys! Sometimes, however, it's useful to formalise his frustration, spelling out exactly what your man will be committing himself to when he surrenders his sex to you. Signing a chastity contract is a great way for him to show that he's serious about selfless submission, putting his promises on paper in a way that can't be denied later.
Our male chastity contract provides ready-made text that you can customise to your requirements, putting the focus on practical considerations rather than pandering to fantasies, yet capable of adding plenty of spice to a female-led relationship. With a choice of realistic, no-nonsense options, this easy-to-use online tool lets you quickly create a contract to suit your situation, whether you merely want your man to stop masturbating and pay more attention or expect him to wear panties to show that he knows just who's in charge!
The contract is deliberately rather one-sided, giving the keyholder rights rather than burdening her with responsibilities - after all, when a man wears a chastity device for a woman, it's her desires that should come first! If you're still unsure whether male chastity is right for your relationship, you'll find it offers plenty of possibilities without excessive obligations. allowing you to direct a man's enthusiasm for denial to your advantage. Conversely, if he baulks at such terms, he may be more interested in his own pleasure than yours, setting the stage for a discussion about what a wearing a chastity device is supposed to achieve.
how to create a contract
Start by considering how you want your man to show his submission, and choose one of the two options below. If you won't be requiring him to wear more than just a chastity device to control his desires, select the no nonsense male chastity contract, which allows you to take charge of how and when he's permitted sexual pleasure. If you'd like to combine his chastity with lingerie discipline, opt for the sissy chastity contract, which gives you the right to make him wear women's underwear as well. Your choice will change the contract accordingly, removing clauses that are irrelevant to your circumstances and rewriting others to be more appropriate.
Next, choose how each party will be referred to. Do you see yourself as simply "the Keyholder" and "the Wearer", or would you rather be "the Wife" and "the Husband"? If you'd prefer your chastity contract to be more personal, why not have your man sign something written in the first person, or else reduce him to being "you" while you take centre stage throughout? Will he be wearing a "chastity device" or a "chastity belt"? You don't have to limit yourself to the presented options, but can experiment with whatever takes your fancy, with the text updating as soon as you make a change. You could have your man agree to wearing a "male protector" for "my queen" in addition to being a first person "I" himself, have the contract refer to you as "you" and "your devoted servant", or even use pet names should that please you more.
You can choose between various options for certain sections using the buttons that appear in them - for instance, to add a trial period or to make the contract more one-sided by having only your man sign it. As well as editing any part of the text, you can also make complete sections of the contract disappear simply by clicking on their headings. When you're happy with the contract, use the "printable version" button at the bottom of the page to leave only the text that you want. You can then print this out for your man to sign, or copy and paste it into a word processor as you prefer.
disclaimer
No lawyers were harmed in the writing of this contract, nor were any involved in any way. Nothing here should be construed as legal advice or the provision of legal services. We can accept no responsibility for how anyone may choose to use any contract, or for anything else they may do.