padlocked, pantied and pegged
four men frustrated, feminized and filled by the women they love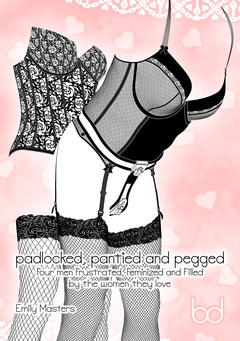 Buy your copy now!
Is it more emasculating for a man to be prevented from enjoying an erection, to be put in panties, or to be penetrated like a woman? The helpless husbands in these stories about sexual surrender don't get to choose when their dominant wives bring together all three for a singularly submissive experience. Blending erotic feminization, male chastity and strap-on sex, it's clear who's in charge when men are padlocked, pantied and pegged!
Just because a man's cock is locked away doesn't mean a couple can't play with something stiff, but when her dildo replaces his dick, you can be sure his wife will have the upper hand! The tables are turned in these tales of role reversal, each with the woman leading the lovemaking as her husband gets taken like a girl, dressed in sexy lingerie and denied any chance of an orgasm. Whether sucking her strap-on in stockings or bending over to be banged in a bra, he'll feel his frustration all the more for being feminized as he's filled for her pleasure!
Sharon fancies having a little fun with her feminized husband, but when she suggests fulfilling his sissy fantasies by taking him out dressed as a busty bimbo, Frank finds himself going further in his fishnets than he ever could have imagined! He knows he's in for a night to remember when his wife insists they stop off at a sex shop along the way, but it isn't long before he's bent over the bonnet of their car, finding his miniskirt hitched up as she treats him like a hooker. Driven to distraction by his chastity device, his dirtiest of dreams come true as he takes a strap-on cock like a whore while deepening his trust in the woman he loves. Follow his adventures in A Bimbo's Night Out.

When Tina wants to do more than merely clean her husband's chastity belt together, selflessly satisfying his wife in the shower marks only the start of a very special night for Todd. The stainless steel shield that surrounds his sex isn't the only thing that's spotless as he dons snow white bridal lingerie, Todd taking on all the trappings of a newly wed woman when he dresses for his deflowering. With only a veil to hide his blushes, this virgin husband remains chaste even as he submits to his wife's strap-on in the most emasculating of ways, discovering that not every bride enjoys an orgasm when they have sex for the very first time. Find out how he fares in The Blushing Bridegroom.

Even a high-powered businesswoman needs time to unwind, such that when Monica's work takes her to a hotel for a weekend conference, it's only natural that her husband should come along to keep her company. She isn't the only one wearing lingerie under her suit, however, with Terry expected to dress to impress as he accompanies her to dinner. He soon finds himself waiting for his wife wearing nothing but women's underwear when Monica locks his clothes away, schmoozing with clients safe in the knowledge that her husband's chastity device will keep him thinking only of her until she returns. As assertive in the bedroom as she is in the boardroom, it isn't long before this dominant wife is getting down to business with a strap-on - as you'll discover when you read Room Service.

Despite knowing that his wife's friends are coming round for the evening, Craig is so desperate for relief that he begs to be allowed to masturbate before they arrive. Pestering her for premature release from his chastity device comes at a high price, however, when Jenny tells her husband that every second he spends selfishly satisfying himself is going to cost him an hour locked in a bra. Soon Craig has sentenced himself to several days in D cups, with the feminized man having to resign himself to serving his time until his wife suggests they play another game. Will showing his devotion to her strap-on dildo orally be enough to earn his freedom from a bulging bust, or will Craig have to submit to his wife's cock even more intimately? Read for yourself in Seconds, Minutes, Hours.
Submissive men pull down their panties for penetration in these stories about strap-ons and sissies, lying back in lingerie as they let their wives take more than just the lead! There's no doubt as to who'll get to come and who won't when these dominant women forget what's locked in chastity in favour of cocks of their own, keeping their husbands helpless and horny while they have their wicked way with them! Featuring caring couples whose loving relationships are made even more passionate thanks to dildos and denial, padlocked, pantied and pegged shows just how exciting such erotic emasculation can be!
Buy your copy now!
padlocked, pantied and pegged is available in the following formats: (which should I buy?)
Paperback - for those who love real books

PDF - for immediate download and enjoyment on your computer

EPUB - for most e-readers

iTunes - for iPads, iPods and iPhones

nook - for Barnes & Noble e-readers

Kindle

- for all Amazon devices
By buying a copy of this book, you do more than merely get yourself an arousing read! As well as encouraging the author, sales support the brassièred website, helping to promote the positive aspects of lingerie discipline, male chastity and men as maids in loving female led relationships.