no match for metal
even the strongest of muscles must concede to a chastity belt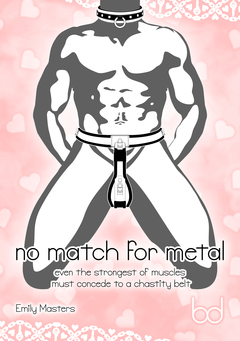 Buy your copy now!
A woman doesn't have to be physically stronger than her man in order to have the upper hand in their relationship - not when she holds the keys to his chastity belt, turning the power of his body to her advantage. Whether she dreams of him developing his muscles to a devastating degree, or simply enjoys seeing him sweat for her, you can be sure a dominant woman will get what she wants when she keeps her man denied - because he's no match for metal!
There's nothing weak or wimpy about the muscular hunks in these stories about male chastity, but even the most brawny of brutes must submit when his passions are stifled by steel - indeed, the stronger his body, the more a belted man must strive to impress his keyholder. Seeking to demonstrate he deserves her through difficulties and indignities, he'll surely suffer at her whim - yet the woman who holds his manhood hostage had better take care how she chooses to release him, lest his locked up lust be too much for her to handle!
A final set of pull-ups is all that stands between Gavin and his sexual desires, but he still struggles to find the strength to lift his chin over the bar. With his wife dressed for a hot date as she watches him work his muscles, he has all the motivation a man needs, knowing that failing to make the grade will see him condemned to his chastity belt for another whole week. If he can't satisfy Julia with a sufficient show of strength, he'll have to please her with his tongue, reduced to making love like a lesbian while she taunts him about being weak. Will he be able to prove himself as a man? Read how male chastity made him abandon the couch for a demanding training regime in Pushing his Limits.

Despite his powerful physique, Clint disappoints a horny housewife by failing to fulfil her pornographic fantasies, the steel that secures his sex saving this plumber from an adulterous encounter as he installs a shower. His muscles are reserved for only one woman, but his chastity belt isn't the only means by which his wife has him show his submission - as soon as he returns home, he's s locking a metal collar around his neck. Otherwise naked as he lifts weights in the cellar, he'll have to give Tessa his all if he's not to suffer at her hands, his wife taking advantage of his exhaustion as she asserts her authority. Discover if she does more than merely tease him in Showers.

Scarlett's favourite game is that of princess and prisoner, making her boyfriend wear a collar to remind him of his place in their relationship even when he's ravishing her. Despite his muscles, Paul doesn't always get to have his way with his girlfriend's body, becoming her plaything when she ties him to the bed and teases him. The price of a climax is putting on a chastity device for her, with Paul discovering just how cruel such a contraption can be when Scarlett has him show her how it stops him masturbating - yet still she wants more! It won't be long before he's swapping leather around his neck for metal, surrendering to an even stronger collar as his girlfriend makes him a Slave to Steel.

Being built like a brick outhouse means that working a warehouse is a walk in the park for Grant, but this strapping stacker is still at the mercy of his chastity belt as he heaves heavy boxes about. Held in thrall to his girlfriend by the steel that secures his sex, he no sooner arrives at her apartment than he's stripping off his clothes, swapping them for the leather mask that will make him Lisa's pet. Locking cuffs around his wrists and ankles, he accepts the role of the basest of animals, remaining denied even as he's put through his paces in the most gruelling of games. His frustration reaches fever pitch when he's forgotten after being fondled - but how will he fare in the stockade? Find out in Beast.
No matter how muscular the hulking husbands and burly boyfriends in these male chastity stories may be, they're still powerless to escape the metal that imprisons their manhood. Forced to endure frustration as they seek to prove their physical prowess, these belted men will just have to tough out the torments of being trapped in steel - yet they can't help being turned on by submitting to the whims of their wives and girlfriends, doing whatever is required to be rewarded with relief. Weakness won't get them anywhere, yet even the strongest of men is sure to be in for a struggle, soon learning that his body is no match for metal.
Buy your copy now!
no match for metal is available in the following formats: (which should I buy?)
Paperback - for those who love real books

PDF - for immediate download and enjoyment on your computer

EPUB - for most e-readers (including Apple and Nook)

Kindle

- for all Amazon devices
By buying a copy of this book, you do more than merely get yourself an arousing read! As well as encouraging the author, sales support the brassièred website, helping to promote the positive aspects of lingerie discipline, male chastity and men as maids in loving female led relationships.