my husband my maid
tales of men as maids and the women they serve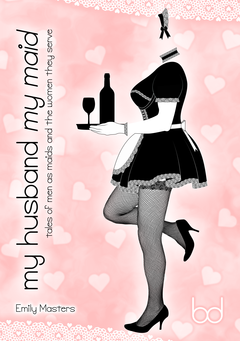 Buy your copy now!
It's every woman's dream to have their very own maid at their beck and call, taking care of the chores as well as waiting on them hand and foot. The ladies in these stories are no exception, but rather than hiring help, they've trained their husbands to do the housework! Whether they wear frilly French maid's uniforms or just an apron while they work, these men have learnt how to wash, cook and clean as expected of a maid - all so their wives don't have to!
No matter how exacting these mistresses may be when it comes to their maids' domestic duties, there's no denying the love they have for their submissive husbands - even when they're dishing out discipline! Cleaning the bathroom, doing the laundry and entertaining guests are all in a day's work for these men, knowing that their place is to serve the lady of the house with the duty and devotion that befits a feminized maid. my husband my maid shows how a man can be both spouse and servant, making his mistress proud in the process!
Relegated to the maid's room overnight, Peter is feminized from the moment he awakes. While Fiona enjoys a leisurely lie-in, her husband's chastity cage ensures he's up bright and early, giving him just enough time to put on his maid's uniform before getting down to work in the kitchen. All dolled up in satin and lace, he slaves away while his wife sleeps, wanting to help start her day in a very special way - but will Fiona's domestic servant be ready when she calls? Follow the fortunes of this male maid both downstairs and upstairs in Breakfast in Bed.

Carl is also occupied in the kitchen, but he has rather more in the way of culinary preparations to attend to - not to mention the small matter of his wife's friends to cater for, all of whom know about his secret alter-ego! Serving a three course meal isn't easy at the best of times, but with five female guests intent on making his life more difficult, this submissive maid has got his work cut out for him. Will his efforts at the table meet his wife's exacting standards, let alone those of the other diners? Find out how this humble husband gets on in The Dinner Party.

For a man who's never helped out around the house, it comes as quite a shock to Paul to find himself set to work doing the laundry, learning far more than he ever wanted to know about washing his wife's clothes in the process. Under Anita's guidance, wearing an apron soon becomes second nature to this unlikely household helper, but how will he cope with her lingerie? In The Reluctant Washerwoman, you'll read how one woman sets out to train her husband in the ways of the washing machine, only to succeed beyond her wildest dreams when it comes to making him her maid.

The eponymous hero of Philip's Predicament has a real problem on his hands - or should that be around his waist? Even the simplest of chores becomes a nightmare for this male maid when his wife makes him wear a corset as a punishment, but despite being laced up in such fearsome foundation wear, he still has to clean the bathroom to her exacting standards - or run the risk of being disciplined further! Clare certainly knows how to motivate her housemaid husband to do his very best for her, but can he win back her favour and be "punished" in a manner they'll both enjoy instead?
Each of these exciting stories explores what it really means to serve as a submissive male maid, following four husbands who do the housework in loving relationships led by their wives. While a pretty uniform is no excuse for not getting the chores done, it certainly makes life a lot more interesting for these men, expected to dress the part as they do as they are told. Whether in the kitchen, the bathroom or the bedroom, each of them soon learns that a humble maid must obey his mistress in all matters domestic - especially when she's his wife! Follow their adventures yourself in my husband my maid.
Buy your copy now!
my husband my maid is available in the following formats: (which should I buy?)
Paperback - for those who love real books

PDF - for immediate download and enjoyment on your computer

EPUB - for most e-readers (including Apple and Nook)

Kindle

- for all Amazon devices
By buying a copy of this book, you do more than merely get yourself an arousing read! As well as encouraging the author, sales support the brassièred website, helping to promote the positive aspects of lingerie discipline, male chastity and men as maids in loving female led relationships.