disobedience, discipline and duty
male maids making up for misbehaviour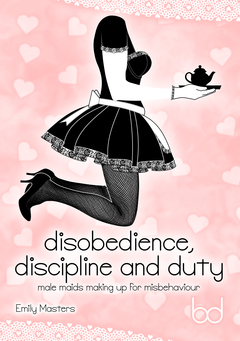 Buy your copy now!
Punishment is the lot of a male maid who misbehaves, as the submissive husbands in these stories discover to their cost when they disappoint their mistresses. Faced with a disobedient domestic, their dominant wives know there's only one way to keep a housemaid husband from falling into bad habits - discipline, and plenty of it! Knowing exactly how to teach a man his place, these women won't stop until they receive the devotion they deserve, employing psychological humiliation along with physical chastisement to make sure he learns his lesson.
Cleaning and chores should stay at the forefront of every male maid's mind, sparing no effort when it comes to domestic service no matter how distracted he may be by a sexy uniform. When a feminized husband is caught fooling around in frillies, he has no choice but to face the consequences of his crimes - however humiliating that may be! Follow the misadventures of four sissy maids as they find out all about disobedience, discipline and duty.
Forced to endure the tight embrace of old-fashioned foundation wear while he washes his wife's sexy lingerie, Kevin soon finds himself in an uncomfortable situation when one of Lauren's bras makes him become hard in his girdle. His efforts to sort himself out only get this male maid into even hotter water when his wife catches him with his hands where they shouldn't be, insisting that her housemaid husband humble himself by keeping them on his head henceforth. That turns into the most humiliating of punishments when he's expected to wait upon her friends later on, suffering the shameful taunts of three women who can't help noticing his disgrace while he's serving them tea. Discover how Kevin gets on in Keeping His Hands to Himself.

Max has other things on his mind as he half-heartedly does the housework, longing to leave his domestic duties behind in favour of watching the match with his friends. With his lacy uniform locked in place, he knows he'll first have to finish a long list of chores, but worse is in store for this reluctant sissy maid when he keeps his wife waiting while cleaning the toilet. Earning himself a shameful spanking for forgetting that a maid must put his mistress's needs before his own, Max finds himself falling even further behind when Amber insists he redo his work - this time with a painfully paddled posterior! Will this humiliated husband ever be free to leave the house? Find out in The List.

There's nothing Alice likes more than to tease her husband while he slaves away as her sissy maid, taking the opportunity of Oliver being up to his elbows in soapy water to slip her hands up his petticoats and inside his panties. Alas, the embarrassing admissions she extracts from her submissive servant while playing with his penis prove too exciting for him, with Oliver powerless to prevent himself from making a mess all over her hands - much to his wife's annoyance! A cold shower and a chastity belt are the least of his concerns when she makes him clean up his own cum, with the feminized man forced to attend to the extra washing wearing only the clothes he hasn't sullied with sperm - outside as well as in! Read for yourself in Silly Frilly Sissy Maid.

After a long morning on his feet, Justin can't wait to kick off his heels and relax, even going so far as to slip his bra straps down his shoulders while he savours a sandwich slovenly slouched in front of the television. Unfortunately, that means the male maid is far from ready for his mistress's surprise return, instead being caught by Katie in a disgraceful state of disarray. Nevertheless, his wife seems to go easy on him, proposing that if her housemaid husband has nothing else to do, he should simply sit and read women's magazines with her. If only it weren't for the dildo she's stuck to his stool, forcing Justin to sit bolt upright as he learns it's better for a sissy maid to stay busy. Learn just how his wife punishes him in Sitting Down on the Job.
The ladies in these female led relationships are firm but fair when it comes to delivering discipline, with these mistresses making the punishment fit the crime as they ensure their housemaid husbands won't be tempted to let them down again. Indeed, however much the men in question might hate such humiliation at the time, you can be sure they'll have learnt their lesson when they've finally made up for their misbehaviour. If you're looking for stories about sissy maids suffering creative chastisement to spur them to do the chores with the effort a mistress expects, you'll love disobedience, discipline and duty.
Buy your copy now!
disobedience, discipline and duty is available in the following formats: (which should I buy?)
Paperback - for those who love real books

PDF - for immediate download and enjoyment on your computer

EPUB - for most e-readers (including Apple and Nook)

Kindle

- for all Amazon devices
By buying a copy of this book, you do more than merely get yourself an arousing read! As well as encouraging the author, sales support the brassièred website, helping to promote the positive aspects of lingerie discipline, male chastity and men as maids in loving female led relationships.