better to be busy
housemaid husbands bound for bad behaviour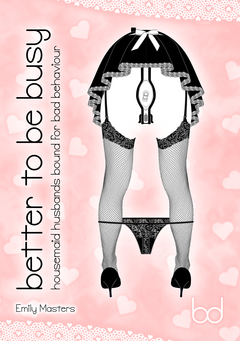 Buy your copy now!
When a woman employs her husband as a housemaid, she expects him to serve her to the best of his abilities, not stand around and slack off. A sissy maid who doesn't take his domestic duties seriously deserves to be disciplined, whether he's reluctant to do all the chores his mistress has asked or simply fails to show his wife and her friends the respect a submissive man should. You can be sure he'll be sorry for such slapdash efforts after suffering the discomfort and disgrace of strict bondage, soon learning that it's better to be busy.
Whether forced to work on his hands and knees or being taught the error of his ways while tied up, a misbehaving maid has no choice but to be contrite when his mistress puts him in a punishing position, using physical restraints and psychological shame to ensure her servant understands just who's in charge. Caged, chained and cuffed, these feminized men swiftly fall into line, finding out first-hand why a male maid is meant to do more!
Failing to curtsey to the lady of the house sees Dean forced to grovel when Nicole decides to teach the male maid to mind his manners, making her husband's chastity cage more than just a nuisance by hanging a heavy burden from his balls. Having no choice but to bend his knee as he goes about the housework, even such a simple chore as cleaning the kitchen floor becomes an ordeal for this emasculated man, finding himself becoming far more intimately acquainted with a dustpan and brush than he ever has before! Worse is to come when his mistress handcuffs Dean's hands behind his back, having her helpless husband show his submission to her shoes before making him worship her feet to prove he knows his place. Follow his misfortunes in Where He Belongs.

Standing around when he should be working sees Eric being locked in the stocks, the sissy maid suffering the shame of having a humiliating sign hung around his neck to remind him exactly what he has done to earn his mistress's disfavour. That's only the start of his pillory punishment, however, as the helpless man soon discovers when his wife imposes the indignity of a vibrator inside his chastity belt before leaving him to reflect upon his failings. Eric's pretty pink maid's uniform won't be all that's feminizing him by the time he's released, with Sara returning only to use her husband as a make-up model. Powerless to prevent his wife and her friends having their way with him, will this lazy maid finally learn his lesson? Find out in A Pretty Predicament.

It's not the dirt that puts Roger off cleaning the windows, but rather the thought of having to go outside dressed as a maid, his frilly satin uniform something the feminized man certainly doesn't want his neighbours to see. Melinda is adamant that he should perform his outdoor chores all the same, seeing to it that her housemaid husband learns his lesson when he answers back one too many times. Sentenced to spend the morning locked in a cage like an animal, Roger has no choice but to confront his deepest fears, forced to suffer the sniggers and stares of his wife's visiting friend stuck out on the patio. Even when Melinda allows him back inside, Roger's shame isn't over - a snagged stocking sees this disgraced domestic forced to strip down to his foundation wear in front of the two women. Read about his humiliation in Saharan Sand.

Blindfolded, buttplugged and ballgagged, James is entirely at the mercy of his mistress, his body stretched uncomfortably between his stilettos and the cuffs that keep his hands chained to the ceiling. Put on display as a punishment, his predicament becomes all the more perilous when his panties are pulled down for a paddling, with Tanya being perfectly prepared to spank her maid until he cries if that what it takes to adjust his inappropriate attitude. Soon her humiliated husband becomes the centre of attention when visitors call round, leaving James suffering their laughter before his wife allows one of her friends to experiment at his expense. The male maid gets punished by another woman as Tanya teaches Gina how to keep a man under control, but can he somehow win her sympathy? Learn for yourself in Seen and Not Heard.
Submissive husbands make great maids, but sometimes a man needs reminding of who rules the relationship - and what better way for a dominant woman to do that than to render him helpless with restraints? There's no question of the sissies in these sexy stories doing anything they shouldn't once they're bound for bad behaviour, these disgraced domestics soon discovering that there are worse things than working when their wives can effortlessly exert complete control over their movements. better to be busy is an arousing read for anyone who loves the thought of submission and service, featuring four erotic tales of feminized maids utterly unable to escape their thoroughly deserved punishment.
Buy your copy now!
better to be busy is available in the following formats: (which should I buy?)
Paperback - for those who love real books

PDF - for immediate download and enjoyment on your computer

EPUB - for most e-readers (including Apple and Nook)

Kindle

- for all Amazon devices
By buying a copy of this book, you do more than merely get yourself an arousing read! As well as encouraging the author, sales support the brassièred website, helping to promote the positive aspects of lingerie discipline, male chastity and men as maids in loving female led relationships.