making mistress proud
male maids putting the lady of the house first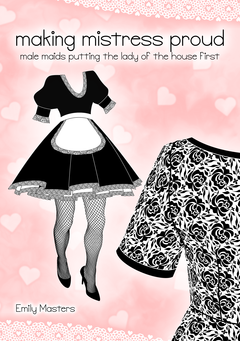 Buy your copy now!
Dressing the part is only the start of a man's domestic duties when he serves as his wife's maid. It takes much more to show his submission than just wearing satin and lace, however frilly his maid's uniform may be! Housework is by far the best way to make his mistress happy, taking care of the chores so that she doesn't have to trouble herself with mundane matters. Whether that's washing her lingerie, sweeping the floor or cleaning the toilet, he'll need to know his place if he's to please, embracing his role as a servant.
In these stories about male maids, it's not enough for a submissive man to merely go through the motions. The dominant women who delight in having their every whim catered for want to see a singular demonstration of devotion, one which will show that their husbands truly understand whose needs come first. Each may have to put his masculine pride on the line in the process, but that's a price a maid must pay if he wants to stand a chance of making mistress proud.
With its pastel pink satin puffed out by petticoats, Julian's maid's outfit is already quite a confection, but his wife wants to feast upon far more than just his feminized figure! His first time in the kitchen sees him scurrying about on his stilettos while Carrie sits back and watches, with this sissy maid having to follow not only the recipe, but also his wife's instructions as he seeks to satisfy her sweet tooth. Mixing ingredients is challenging enough for a man who can't afford to make a mess, but his cake isn't done even when it comes out of the oven, needing to be decorated with jam and whipped cream before being served. Will Carrie allow him a slice as a reward? Find out in Baking with Mistress.

As he cleans his girlfriend's apartment, Jordan must concentrate on what he is doing, with the chain that Anya has locked to his chastity device reminding him of his submission even when she's not there to watch him work. His high heels make pushing the heavy vacuum cleaner around even more punishing, seeing him desperate to be spared its burden when he finally presents himself to his mistress - only to be spurned in favour of her phone! Chatting with her friends doesn't stop Anya from commanding him to sweep the floor, however, nor from using her own shoes to tease him as he grovels at her feet. Will his efforts be enough to entertain her? Read for yourself in Chained to the Cleaner.

Trevor's day as a maid starts before dawn, with his chastity device denying him even a sleep in. Instead, he has to swap his nightdress for an old-fashioned maid's uniform, adopting both the attire and attitude of a domestic servant. Plain panties and a practical bra are all that he's permitted in the way of underwear, his wife of the opinion that a maid doesn't require anything more. When Ruth tells him she's going out, he knows he must look after the house, putting him in quite a predicament when a delivery driver calls! His other chores will count for nothing if he doesn't answer the door, but will he have the courage to sign for his wife's parcel? Discover how he fares in Just a Maid.

Howard's weekend routine requires him to change the bed before going on to wash his wife's bras, but Jill doesn't make life easy for her submissive husband, tantalising him with her body as he tries to sort the sheets. She leaves him alone to do the laundry, but this feminized man has enough to contend with in the form of her lingerie, having to worship every item of intimate attire as he hand-washes it. He can't forget his own padded bra as he pays his respects to his wife's underwear, dropping down on his knees until the washing is ready to be hung out to dry. No sooner has Howard pegged out all the panties, however, than he finds himself facing a fresh problem - as you'll learn in Laundry Maid.
No matter whether she wants to savour him slaving away or would rather he kept himself out of sight while attending to matters that shouldn't concern her, a submissive man must do what it takes to please his mistress. In these stories about men as maids, the husbands learn that selfless service is the order of the day, seeking to satisfy their wives with their tireless work around the house. Despite being deliciously dressed for duty, each of these sissies knows that it's chores rather than clothing that really make a man a maid, however emasculating their outfits may be as they set about making mistress proud.
Buy your copy now!
making mistress proud is available in the following formats: (which should I buy?)
Paperback - for those who love real books

PDF - for immediate download and enjoyment on your computer

EPUB - for most e-readers (including Apple and Nook)

Kindle

- for all Amazon devices
By buying a copy of this book, you do more than merely get yourself an arousing read! As well as encouraging the author, sales support the brassièred website, helping to promote the positive aspects of lingerie discipline, male chastity and men as maids in loving female led relationships.