so you want to be a maid?
the definitive guide for men looking to serve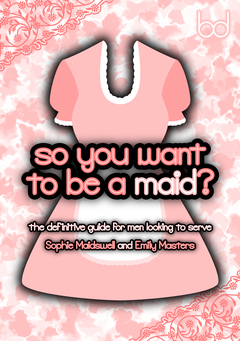 Buy your copy now!
Read a sample
Do you long to be of service to a lady, satisfying her every whim as befits a humble housemaid? Whether you fantasise about being at a woman's beck and call, all dolled up in a pretty uniform, or desire to get down on your hands and knees while your mistress puts her feet up, your dreams of domestic duty could be closer than you think! Many women would love to have their chores taken care of, gladly accepting a male maid if only they were to be approached in the right way - and this book will show you how!
Packed with practical advice, psychological insights and personal experience, so you want to be a maid? will tell you everything you need to know about overcoming the most difficult challenge for a would-be male maid - how to persuade a potential mistress to employ your services. With chapters devoted to tried and tested techniques for winning over wives and girlfriends, dominatrices and even the woman next door, it's full of tips and tricks to get you started serving!
Unlike other works that purport to be manuals for maids, so you want to be a maid? gets right to the heart of the matter, focusing on what motivates a woman to want her husband or boyfriend to be her maid, as well as looking at how to attract a mistress online - whether she be a dominatrix or merely a woman wanting her chores done. Impractical fantasies and irrelevant details are pulled apart and then thrown aside in favour of hard hitting, no nonsense advice that addresses the real problems faced by men wanting to be maids, providing pragmatic answers to thorny questions such as:
how do I tell my wife that I want to be her maid?

how do I persuade my girlfriend to let me do her chores?

how do I introduce a new partner to my desire to wear an apron?

how do I find a mistress who'll make me do her cleaning?

how do I become a male maid for the woman next door?

how do I avoid making mistakes that might ruin my chances of being a maid?

how do I write a personal advert that women will respond to?

how do I stay safe and successful as a male maid, both online and in person?

how do I ensure I'll be invited back to serve as a maid again and again?
Sophie Maidswell has served as a male maid for many mistresses over the years, learning the hard way what works and what doesn't when it comes to catching a woman's attention. Throughout so you want to be a maid?, he shares his first-hand experiences of serving in a variety of situations, presenting a step-by-step approach for each that will help get your own career as a submissive maid off to a flying start! Detailing techniques that have worked successfully for him, as well as discussing what can go wrong and how best to avoid such problems, Sophie's expertise in this area is second to none. His perspective is complemented by that of Emily Masters, who shares her wisdom about how women feel about men who want to be maids, together bringing you a book that contains everything you need to know about finding a mistress.
Buy your copy now!
so you want to be a maid? is available in the following formats: (which should I buy?)
Paperback - for those who love real books

PDF - for immediate download and enjoyment on your computer

EPUB - for most e-readers (including Apple and Nook)

Kindle

- for all Amazon devices
By buying a copy of this book, you do more than merely get yourself an arousing read! As well as encouraging the author, sales support the brassièred website, helping to promote the positive aspects of lingerie discipline, male chastity and men as maids in loving female led relationships.