sewing for sissy maids
how to make a maid's uniform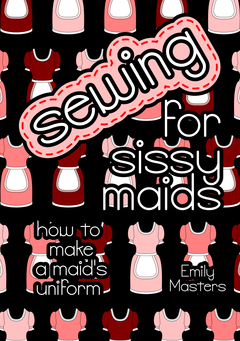 Buy your copy now!
Read online
Do you want to dress for domestic service, but have difficulty finding a maid's uniform that fits both your body and your budget? If you're tired of compromising when it comes to what to wear for the chores, then it's time to learn to sew! Making your own maid's outfits is more straightforward than you might think, such that you can have a whole wardrobe of frilly little numbers for the most modest of costs - but the rewards of dressmaking don't stop there! It's a satisfying hobby in its own right, immersing you in a womanly world as you work with material and machine in a manner becoming of a maid.
In sewing for sissy maids, you'll find everything you need to know to make a complete maid's uniform, from how to buy fabric and get started with a sewing machine to more advanced details of adapting a dress's design. With over five hundred photographs and diagrams illustrating the process step-by-step, it's the perfect introduction to a skill every maid should be proficient at.
The book starts with a discussion of why sewing your own uniform is superior to other options, going on to explore the equipment and materials required. You'll find a shopping list of everything you need to make your first maid's uniform, along with an explanation of why particular sorts of fabric and lace have been recommended - one that draws on the experience of the author's husband, a submissive man whose progress you'll follow as he makes himself a full maid's uniform over the course of subsequent chapters.
From there, you'll find out how to measure your body, using the resulting numbers to draft a pattern for a dress that will fit your figure - no matter how manly it might be! You'll learn how to transfer these shapes onto fabric, producing all the pieces needed for the first part of your maid's uniform - a frilly apron, which will introduce you to the basic skills of sewing. With illustrated instructions guiding you every step of the way, you'll not only learn the difference between basting and regular stitches, but also discover the magic of hiding raw edges as you make an apron as well-finished as any you can buy.
Three whole chapters are devoted to how to make a maid's dress, building on the confidence you've gained with your apron to walk you through the process of making a fitted bodice, puffy sleeves and gathered skirt. You'll learn about darts, overlocking and fitting zippers, discovering the purpose of different presser feet as you put all the pieces together. By the time you finish, you'll have a maid's dress that you can be prevented from taking off thanks to some ingenious loops of ribbon, full details of how to make it lockable being included.
Don't think that we've finished the maid's uniform just yet, however! In the following two chapters, you'll find out how to make a lockable maid's choker and matching headpiece, essential sissy accessories which will complement your apron and dress perfectly. After that, you'll learn how to put together a ruffled petticoat, discovering first-hand just how much fabric goes into such a garment. You'll have plenty of opportunity to practice your skills, but you won't be going it alone - a fellow maid will show you exactly how it's all done!
The last chapter of the book looks at how to do something different, showing you don't have to limit yourself to the traditional satin and lace. As well as discovering what you can do with gingham and broderie anglaise, you'll see how to work with sheerer fabrics such as chiffon, then learn how to draft longer sleeves and skirts. After providing full instructions on how to make a more modest maid's uniform, the book finishes with a skimpy little number that's sure to set any sissy's heart aflutter with its layered petticoat and ruffles galore.
If you're a submissive maid looking to learn the most fascinating and feminine of skills, sewing for sissy maids is a book you won't want to miss!
Buy your copy now!
sewing for sissy maids is available in the following formats: (which should I buy?)
Paperback - for those who love real books

PDF - for immediate download and enjoyment on your computer

EPUB - for most e-readers (including Apple and Nook)

Kindle

- for all Amazon devices
Because we believe that every submissive man should know how to sew, we've made this book available to
read on the brassièred website
, completely free of charge. If even one reader discovers the delights of this rewarding hobby as a result of having access to a book they might otherwise never buy, the lost sale is a small price to pay! Of course, you should still consider purchasing your own copy of
sewing for sissy maids
- doing so supports the
brassièred
website, helping to promote the positive aspects of lingerie discipline, male chastity and men as maids in loving female led relationships.