sissy maid contract
spell out exactly how you expect him to serve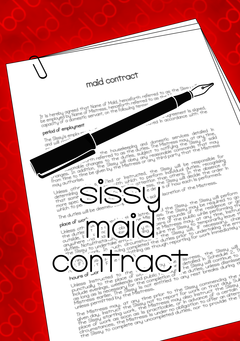 Whether you're considering employing a submissive man to do your cleaning, or are thinking about formalising the domestic arrangements in a female-led relationship, it's useful to put what you want into words. Our sissy maid contract provides ready-made text that you can customise to your requirements, allowing you to spell out exactly how you expect him to serve. The structured agreement covers rights in addition to responsibilities, reassuring both maid and mistress with its practical considerations.
As well as being invaluable for setting boundaries with a would-be servant who has yet to earn your trust, a formal maid's contract is great for couples wanting to take their role-play to the next level, allowing a housemaid husband to make a real commitment to the chores. With a choice of realistic, no-nonsense options, this easy-to-use online tool lets you quickly create a contract to suit your situation, no matter what kind of man will be working for you.
The contract is deliberately rather one-sided, putting the emphasis on a mistress's concerns rather than burdening her with obligations - especially not the sort of sexually-charged silliness that appeals to men more interested in their own pleasure than doing the cleaning. You don't have to be a mistress to benefit from a practical maid's contract, however - if you're a sissy already in a relationship or even a submissive man seeking someone to serve, a formal agreement can help show that you're serious about putting her first.
how to create a contract
Start by considering the relationship, if any, that you have with your maid, and choose one of the three options below. If you want nothing more than someone to take care of your chores, select the no-nonsense cleaning contract, which is written with relative strangers in mind and forbids any inappropriate intimacy - ideal for women who don't really care who does the housework so long as it's not themselves! If you're already living with someone whom you want to take more responsibility around the house, opt for the marital maid contract, which allows you to choose how comfortable you are about sexual activities, crossdressing and discipline - suitable not only for wives and husbands, but also for girlfriends and boyfriends, regardless of which of you is more enthusiastic about him becoming your maid! Finally, if you'd like to have some adult fun with someone who comes round to do your cleaning, choose the sissy maid contract, which assumes you live separately, but otherwise shares many of the provisions of the previous option. Your choice will change the contract accordingly, removing clauses that are irrelevant to your circumstances and rewriting others to be more appropriate.
Next, choose how each party will be referred to. Do you see yourself as "the Mistress" who'll be served by "the Maid", or would you rather simply be "the Employer" who benefits from the services of "the Cleaner", so that the latter understands that your arrangement is purely practical? If you'd prefer your maid's contract to be more personal, why not have him sign something written in the first person, or else reduce your sissy to being "you" while you take centre stage throughout? You don't have to limit yourself to the presented options, but can experiment with whatever takes your fancy, with the text updating as soon as you make a change. You might have your husband commit himself to cleaning for "my wife" in addition to being a first person "I" himself, have the contract refer to you as "you" and "your humble maid", or even use pet names should that please you more.
You can choose between various options for certain sections using the buttons that appear in them - for instance, to add a probationary period or require your maid to give you notice should he want to terminate the agreement. As well as editing any part of the text, you can also make complete sections of the contract disappear simply by clicking on their headings, so if you don't want any mention of chastity or discipline, for example, you can easily remove such subjects entirely. When you're happy with the contract, use the "printable version" button at the bottom of the page to leave only the text that you want. You can then print this out for your maid to sign, or copy and paste it into a word processor as you prefer.
disclaimer
No lawyers were harmed in the writing of this contract, nor were any involved in any way. Nothing here should be construed as legal advice or the provision of legal services. We can accept no responsibility for how anyone may choose to use any contract, or for anything else they may do.