en français, Fifi!
essential French for sissy maids and secretaries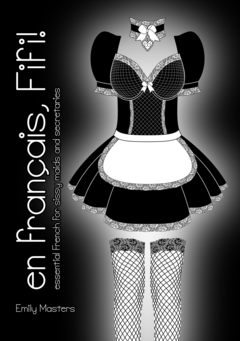 Buy your copy now!
Read online
en français, Fifi! is a course in basic French for the submissive crossdresser. It is intended to give the student an understanding of the language sufficient to permit him to perform the functions of a maid or secretary without any need to resort to English. Putting a solid emphasis on grammar, this textbook for sissies teaches all the vocabulary that a feminized servant or subordinate should know, using exaggerated examples that will prove as memorable as they are provocative. The would-be speaker will find himself immersed in a world where men wear bras and chastity belts as they seek to please their female superiors with selfless submission, forever fearing shameful punishment.
Ideal for adult role-play, this book can be used as a serious course of study, requiring the reader to make a real effort to master it. Each of the forty nine lessons includes exercises to test the understanding, swiftly separating those willing to put in the work from those who think they can shirk!
Starting with the simplest of ways to show submission, en français, Fifi! builds upon the basic elements of the language, developing concepts such as nouns and adjectives through the bras, panties and stockings that make sissies so weak. After learning to introduce himself as a maid or secretary, the reader is taught how to conjugate verbs in the context of choosing what to wear to complete his chores, compelled to acknowledge his mistress's authority as he speaks of making himself useful in the most unmanly of attire.
By the time he comes to the end of the book, the reader will understand the difference between past participles and the imperfect tense, knowing which to use to describe what he has done - or else to confess to his failings! As well as being able to make promises for the future, he'll have learned how to ask questions with the politeness expected of a maid or secretary, not needing to be told something twice when he's capable of comprehending instructions. He will not only know how to conjugate irregular and reflexive verbs, but also when to use the subjunctive, coming to terms with such grammatical challenges via a tour that includes cosmetics, chastity devices and household chores!
If you're looking to add realism to a scene, you'll find en français, Fifi! much more fun than a regular textbook. A sissy can't help but become submissive when he must memorise emasculating phrases in a desperate attempt to avoid discipline, especially if you insist that he dresses the part! With the slightest mistake capable of providing a pretext for punishment, it's easy to set him up to suffer, but that won't spare him from having to make an effort first! Alternatively, you can use this book as a means of keeping a submissive man occupied, it being impossible for him to daydream if he's to demonstrate results. After setting a lesson, you need do nothing more than sit back and relax as he studies, knowing that he'll have to wrap his head around words that encourage deeper submission as he struggles to make the grade.
Despite its provocative themes, en français, Fifi! will help the reader develop a skill that is useful beyond the world of mistress and maid. Over the course of a couple of months, an hour's study a day will yield a reasonable knowledge of French, rewarding any man willing to put in the work. With a degree of self-discipline, even a sissy without a mistress can learn the basics of this most romantic of languages, making himself more attractive to an employer regardless of whether he wants to work in an office or wearing an apron! No matter where a man might speak French, however, he'll never forget how his first words were those of submission, nor the very special vocabulary he learned along the way!
Buy your copy now!
en français, Fifi! is available in the following formats: (which should I buy?)
Because we believe that every submissive man should know how to speak French, we've made this book available to
read on the brassièred website
, completely free of charge. If even one reader discovers the joys of this romantic language as a result of having access to a book they might otherwise never buy, the lost sale is a small price to pay! Of course, you should still consider purchasing your own copy of
en français, Fifi!
- doing so supports the
brassièred
website, helping to promote the positive aspects of lingerie discipline, male chastity and men as maids in loving female led relationships.