hired out for housework
sissies working for women to pay their way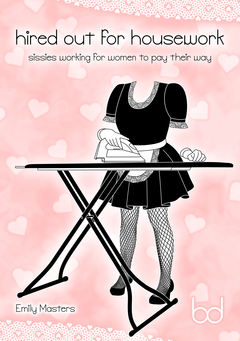 Buy your copy now!
Being a maid means more than flouncing around with a feather duster, requiring a man to really sweat if he's to satisfy the woman he works for. It's even more emasculating when he's paid a pittance for his efforts, reducing him to the role of hired help for the pleasure of his mistress. His only reward will be to give her his meagre income in exchange for the privilege of serving, otherwise looking forward to long hours of thankless chores as he tries to pay his way.
In these erotic stories about men working as maids, submissive sissies are required to take on second jobs, doing other women's cleaning because that's what their mistresses have decided. Ensnared by their own desires, they have little choice but to accept the most humble of positions, locked in chastity to ensure they remain focused on what they're employed to do. Wearing lingerie even when not in aprons and dresses, all will learn that hard work and humiliation go hand in hand when a man is hired out for housework.
Frank has to do the ironing - not only for his wife, but also the women she rents his services to. Having to collect bags of laundry while trying to keep his bra hidden is only the start of an evening's work for this submissive husband, but Ms Sadler isn't going to make things easy for him, with the busty blonde carelessly tormenting him as he picks up her clothes. Frank's wife is far more deliberate in her teasing, requiring him to beg for a brief break with his head between her legs, but his chastity device keeps him denied even when he goes to see Ms Sadler again. What will this male maid say when she asks whether he knows anyone who could do her cleaning? Find out in More Than Just Ironing.

Jason is helplessly in thrall to his boss, expected to wear all the lingerie that a woman would as part of being Ms Corwin's personal assistant - a poorly paid position that sees him having to spend a lot of time on his knees! When this submissive male secretary receives a letter telling him that his rent is going up, he can only hope that his boss will be able to help, finding himself begging for extra work. A humiliating interview with Human Resources reminds him of his very limited career prospects, leaving him having to accept the only offer on the table - becoming a scrubber in his spare time, swapping his suit and tie for apron and dress after hours. Follow his fortunes in Making the Rent.

Daniel's mistress loves to humiliate him, making him wear the most shameful of outfits as he performs for her and her friend, but she's setting him up for more than just a provocative punishment when she tells him to write an essay about wanting to be a maid. Before he knows it, they're shopping for everything a sissy maid could ever dream of - not only luxurious lingerie and wonderful dresses, but also corsets, false breasts and even a chastity belt! There's only one catch - Daniel will need to pay for it all, his mistress offering him credit on the condition that he signs a contract that will commit him to working long hours in his new clothes. Discover the consequences in Contracted to Serve.

Sean is used to letting himself into Ms Chandler's apartment, preferring not to have company as he changes into the maid's uniform in which he's expected to work. Even with no-one there to see him, he doesn't dare shirk his apron and dress, it not being worth the risk of his wife discovering him cutting corners. If only the woman he has to pick up after could be as conscientious, instead of taunting him with her discarded underwear! The bra, panties and stockings that she's left strewn on the floor are nothing compared to the dildo Ms Chandler walks in on him cleaning, with Sean's blushes deepening when she wants help choosing a dress for a date. He's not a man in her eyes, merely a maid - as you'll read in Letting Himself In.
There's no reason for a maid to be paid very much, especially not when that maid is a man, but even the smallest amount of money changing hands makes it clear that he's employed solely to clean. The submissive men in these sissy maid stories have no sooner been paid for their labours than they're having to hand over their hard-earned income to their mistresses, leaving them feeling even more humbled by how they work for women. Not only locked in devilish devices that deny them any sexual pleasure, but expected to dress the part, they'll have to devote themselves to the chores when hired out for housework.
Buy your copy now!
hired out for housework is available in the following formats: (which should I buy?)
By buying a copy of this book, you do more than merely get yourself an arousing read! As well as encouraging the author, sales support the brassièred website, helping to promote the positive aspects of lingerie discipline, male chastity and men as maids in loving female led relationships.