punished for her pleasure
this maid's mistress is impossible to please!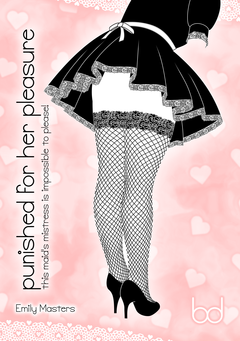 Buy your copy now!
It's not easy being the maid of a demanding mistress - especially when a man is expected to wear an emasculating uniform to show his submission to his superior. For one sissy maid, however, a frilly apron and dress are only the start of his troubles, with even the simplest of chores being fraught with difficulty. Is it because the woman he works for is impossible to please, or because his mistress takes a wicked delight in disciplining him? Either way, it seems that this sissy can do nothing right, forever finding himself in trouble no matter how hard he tries! If only his mistress weren't so cruelly inventive!
In these erotic stories about a male maid struggling to satisfy his mistress, the lady of the house wastes no opportunity to oppress her domestic servant, making his already menial work all the more demeaning for him. It doesn't take much to put a man in his place when he's dressed as a maid, but he'll feel humbled and humiliated when he's punished for her pleasure.
Just because Carl has too much to do doesn't mean he can forget about respect! Having to bring his mistress's bras and panties back in when it starts raining is the last straw for this hassled sissy maid, but it's still no excuse for speaking back to the woman he serves. Susan makes him suffer the consequences of not watching his tongue, deciding that her disrespectful domestic servant needs to wash his mouth out. She teaches him the error of his ways by dunking his head in a bowl of water before moving on to using a bar of soap, insisting that Carl shows her how sorry he is by sucking it! Will that be the end of his humiliating punishment? Find out in A Dirty Mouthed Maid Must Be Nice and Clean.

Carl thought he had swept the floor, but when his mistress confronts him with a grain of rice, he has little choice but to get down on his knees again - albeit not before pulling down his panties for a painful encounter with her cane. That's only a warm-up for what will be in store for him should he miss any more, however, Susan putting her maid in a provocative predicament as he tries to make amends with his dustpan and brush. He'll suffer a thorough thrashing before being presented with an even more demeaning task - one that's as humbling as it is pointless. Will it come as a relief when he's finally able to take a break? Read for yourself in A Clumsy Maid Must Pick Up Rice.

Scurrying upstairs for something he's forgotten, Carl inadvertently earns the ire of his mistress, Susan not taking kindly to the clatter of his heels - or perhaps she merely wants an excuse to make him wear a very special maid's uniform. He'll find himself dashing back and forth several more times before she's satisfied with the way he's dressed, albeit increasingly hampered by the restrictive clothes she imposes. A punishingly tight panty girdle and longline brassière are just the beginning, Carl having to surrender to a hobble dress and impossibly high heels before being sent away to do the ironing - if he can! Follow his misfortunes in A Hasty Maid Must Think About Where He's Going.

When his mistress tells Carl her friend will be visiting, he can't help but feel nervous, the male maid knowing that every aspect of his appearance must be perfect if he's to avoid punishment. After serving the two women tea, he finds himself being dismissively sent away, his presence no longer required even though he fears they'll be talking about him. Driven to listen at the door when he's supposed to be catching up on chores, Carl falls straight into Susan's trap, soon having to stand in front of her again - on a stool, with his petticoats pegged up to show off his panties! That won't be the only way his mistress humiliates him, as you'll discover in An Eavesdropping Maid Must Wear Pegs.
There are many ways that a mistress can chastise her maid, but the dominant woman who dishes out discipline in these erotically charged stories always makes sure that her submissive sissy pays a high price for the slightest mistake. It sometimes seems that this male maid suffers through no fault of his own, but that's the lot of a man who knows he must always obey the lady of the house, however humiliating that may be! Surrendering to her wicked whims will see him having to endure both physical and psychological indignities, but that's par for the course when he's punished for her pleasure.
Buy your copy now!
punished for her pleasure is available in the following formats: (which should I buy?)
By buying a copy of this book, you do more than merely get yourself an arousing read! As well as encouraging the author, sales support the brassièred website, helping to promote the positive aspects of lingerie discipline, male chastity and men as maids in loving female led relationships.