pretty maids put to work
housemaid husbands all dressed up and doing the cleaning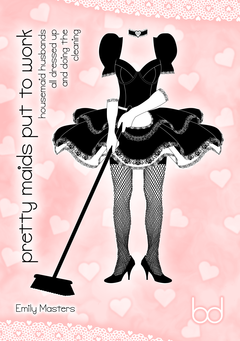 Buy your copy now!
Sissy maids dream of domestic duty all dressed up in satin and lace, but what a mistress really wants is a submissive servant who'll scrub her floors and sort out her laundry while she sits back and relaxes. A frilly French maid's uniform may be fine for fantasies, but when a man has to take care of the chores wearing such an outfit in reality, he soon discovers how difficult it is to stay looking his best without compromising on the cleaning!
Sheer stockings, bulging bras and puffed out petticoats are just some of the challenges that these male maids have to contend with as they set about their duties around the house, knowing they mustn't let mistress down when it comes to their domestic service. The husbands and boyfriends in these stories about men as maids have more on their minds than merely mincing about in the most delicious of dresses, expected to look as immaculate as the houses they clean for their wives and girlfriends - after all, they're pretty maids put to work!
In Cooking for Two, Martin finds himself taking on the duties of a kitchen maid, doing everything that's necessary to prepare a delicious meal for his girlfriend - right down to shopping for ingredients! Thankfully Emma doesn't expect him to go to the supermarket in his maid's uniform, only making him wear panties in public, but once he's back in the safety of her apartment, it isn't long before her boyfriend's donning rather more in the way of satin and lace. Slaving away over a hot stove as he cooks up a feast fit for a princess, Martin can't help being aware of his ever increasing feminization, but will his mistress be satisfied with the fruits of his labour or will she want more from her maid in exchange for him moving in with her as her live-in servant?

Joe has fantasies about becoming a fully fledged maid, dreaming of donning a frilly uniform as he worships his wife, but Anne remains unconvinced, knowing how easily her husband can get distracted when dressing up. He'll have to earn his uniform one garment at a time, taking on the chores she hates in the hope of proving his worth as a humble housemaid. Cleaning the toilet and defrosting the refrigerator are all in a day's work for this would-be sissy maid being paid by the hour, coming to terms with the realities of dirty dishes in just his wife's apron and a pair of rubber gloves. Can he show her that he deserves a more feminine outfit for his domestic service? Find out for yourself in Earning His Uniform.

The eponymous hero of Introducing Mabel is perfectly at home on his hands and knees around the house, but when his wife wants to extend her maid's duties to include entertaining her friends, his practical cotton uniform is no longer deemed appropriate. Even his underwear gets upgraded when he swaps scrubbing floors for serving tea, with Cheryl teaching her husband about the finer points of feminine frillies as she puts him in petticoats and pads his bra in order for her domestic servant to look his very best. Practice makes perfect for a man anxiously awaiting his début as a feminized maid in front of another woman, but will his training pay off when the doorbell finally rings?

Nick leaves the bed as his wife's lover and returns as her laundry maid, spending the start of Sunday tidying up after the night before. Dutifully donning corset and bra, he sets about transforming himself from man into maid, stepping into a pretty pink uniform that puts him in no doubt as to his new role even before he's had breakfast! All dolled up in satin and lace, this feminized man encounters ample reminders of his macho alter ego as he makes the bed and washes the sheets, but however passionately he might have pleasured his wife the previous evening, Alison now wants her husband to serve as her maid! Follow the adventures of a man with two sides to his love in Sunday Morning Maid.
If you're going to have your man work as your maid, it's important that he dresses the part - nothing puts a housemaid husband more firmly in his place than an exquisitely feminine uniform, complete with frilly apron and high heels. A submissive crossdresser is sure to give his domestic duties the devotion they deserve when he's all dolled up as a dainty sissy maid, naturally finding himself seeking to please in a pretty little outfit. This collection of exciting erotic fiction about male maids features the best of both worlds, with men getting dressed up and doing the cleaning as part of loving female led relationships - they're pretty maids put to work!
Buy your copy now!
pretty maids put to work is available in the following formats: (which should I buy?)
Paperback - for those who love real books

PDF - for immediate download and enjoyment on your computer

EPUB - for most e-readers (including Apple and Nook)

Kindle

- for all Amazon devices
By buying a copy of this book, you do more than merely get yourself an arousing read! As well as encouraging the author, sales support the brassièred website, helping to promote the positive aspects of lingerie discipline, male chastity and men as maids in loving female led relationships.