when mistress knows best
four male maids put in their place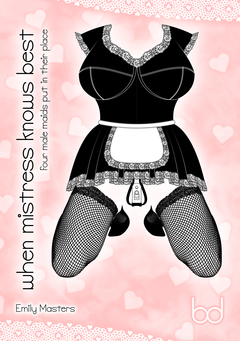 Buy your copy now!
Every woman deserves to have the housework done for her, but maids, especially male maids, can be all too unreliable sometimes. It's easy for a submissive crossdresser to get lost in the satin and lace of his maid's uniform and forget that the foremost duty of a domestic servant is to attend to his mistress's needs - not pleasure himself or otherwise let her down. Sometimes sissy maids get above their station and need to be reminded of their position, which is where an appropriate correction is called for - when mistress knows best.
Whether they impose discipline by means of physical discomfort or prefer more psychological punishment, the ladies in these stories know exactly how to put a man in his place, leaving him in no doubt as to who's the maid and who's the mistress! With tools such as chastity belts, corsets, buttplugs and strap-ons at their wives' disposal, these housemaid husbands are about to learn a lesson in submission they'll never forget!
Matt shows himself up in front of his wife's friend and so finds himself being tasked with writing a thousand words on how a maid should behave in front of his mistress's guests. It's a challenge made all the more difficult by the presence of a dildo locked deep inside him, but worse is to come when he discovers he'll have to read his words out in front of the woman he's wronged. Will this feminized maid be able to keep his cool under pressure or will having to perform his regular duties as well prove too much for a man under threat of further punishment? Read for yourself in The Writing Assignment.

Maria is furious to find her husband has fallen asleep on the job, curled up in bed when he should be cleaning the bathroom - still wearing his maid's outfit! Will soon finds himself prostrate in a far less comfortable position, quite literally being reminded that a maid's place is at his mistress's feet, but kissing her toes isn't the only way he's made to make amends. Rendered helpless by unyielding steel, this emasculated man finds his panties offer precious little protection as he takes on a new role as a human footstool, forced to submit to a buttplug along the way. Discover what's in store for this humiliated husband in The Disgraced Domestic.

Steve's skimpy little maid's uniform is so sexy that he can't help being turned on by it, but that doesn't mean he can afford to be distracted by his feminized body - as he learns to his cost when his wife catches him pleasuring himself on the sly! An over the knee spanking isn't all that's in store for this maid caught masturbating, finding himself having plenty of time to reflect on the virtues of chastity when Donna imposes a very special kind of discipline upon her badly behaved husband. Find out why this humbled housemaid will never touch himself on the job again in Reflecting Upon His Service.

Ryan has good reason to be anxious about his wife's monthly appraisal of his performance, knowing that the lady of the house wields a strap-on and isn't afraid to use it on her maid! Amanda takes the opportunity to train her husband in his domestic duties while he's bent over, ensuring that he knows his place as she makes him take it all the way. There's no doubt as to who's in charge when this dominant woman takes control of her man in such an intimate fashion, but will his efforts to keep the house spotless live up to her exacting standards or has he made enough mistakes to merit further discipline? Follow Ryan's fortunes in Staff Appraisal.
Sometimes a mistress has to be cruel to be kind, knowing that a maid must be appropriately trained if he is to serve his best. In the loving relationships depicted in this book, both parties understand that a harsh punishment is occasionally necessary to ensure a submissive husband doesn't fall into bad habits, however reluctant he may be about suffering such indignities at the time! Whether you read these punishment stories as cautionary tales of what might happen to you should you disappoint your mistress or as a source of inspiration for when you next need to chastise your maid, you're sure to find when mistress knows best an erotic read!
Buy your copy now!
when mistress knows best is available in the following formats: (which should I buy?)
Paperback - for those who love real books

PDF - for immediate download and enjoyment on your computer

EPUB - for most e-readers (including Apple and Nook)

Kindle

- for all Amazon devices
By buying a copy of this book, you do more than merely get yourself an arousing read! As well as encouraging the author, sales support the brassièred website, helping to promote the positive aspects of lingerie discipline, male chastity and men as maids in loving female led relationships.