padlocked until playtime
submissive women frustrated by female chastity belts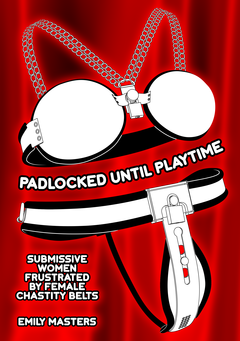 Buy your copy now!
When a woman is stopped from having sex, she wants it all the more! It's hard for a girl in heat to think of anything else when she's hot to trot, with her predicament made all the more agonising when she's prevented even from playing with herself. No matter how hungry she might be for something stiff inside her, however, a chastity belt will make sure she stays unsatisfied, saving even the most promiscuous of women's passions solely for the man who keeps her key.
Whether aroused at the office or feeling horny at home, there's no doubt that the four heroines in these stories about female chastity will remain denied and deprived, each becoming desperate for dick because of the device locked around her body. Forced to endure the frustration of steel after being made to wear a chastity belt by her husband, a submissive wife learns that a good girl does as she is told and lets her master take the lead, having no choice but to stay chaste when her pussy is padlocked until playtime.
Laura can't concentrate on anything other than the chastity belt beneath her skirt, something which proves a problem when she's supposed to be working as a secretary. It's no wonder that she can think only of sex when she's stuck in the office with a pair of metal plugs locked inside her, the slightest movement driving her to distraction as she suffers silently in steel. Touching her tits in the toilet only makes her troubles worse, with Laura leaving work flushed with frustration, longing for her husband to free her from her torment. She'll have to tie herself to the bed first, waiting helplessly for David to come home and have his wicked way with her. Follow her adventures in Hot and Bothered.

Merely the thought of surrendering to her master arouses Amy as she eagerly awaits his attentions, but John has a surprise in store for his submissive girlfriend. With her hands cuffed above her head, Amy is powerless to prevent herself being fitted for a chastity belt, but her boyfriend doesn't stop there. Soon he's making her wear a stainless steel bra and matching thigh bands too, taking away her ability to touch herself before locking away her other clothes. Her sex slave's outfit isn't complete even when he adds a collar, however, with John insisting that his girlfriend should get her coat so that he can show off her submission less privately. Find out how she gets on in Locking Lingerie.

Home alone housewife Rachael is so horny that she can't wait for her husband to come home, instead taking matters into her own hands as she seeks to slake her craving for cock. When her dildo doesn't do the business, desperation drives her to ring Steve at work, but he's too busy to be disturbed by his wife begging for sex. Instructed to belt herself, Rachael still struggles to behave, forsaking her toys as she attempts to improvise with other parts of her body only to realise that it takes a man to make her happy. Steve can be sure of the warmest of welcomes when he returns, but how will his wife feel when he has her wear a bra that matches her metal panties? Read for yourself in Playing Up.

Since things started getting serious with Simon, it's rare for Clare to wake up in a different bed from her boyfriend, but he isn't going to let her forget him simply because they're far apart. Starting the day with steel surrounding her sex, this sleeping beauty soon discovers she can't even masturbate without her man's permission, prevented from pleasuring herself by the padlock to which he alone holds the key. That marks only the start of her submission, with the day seeing Clare dressing up for a date where she'll show her absolute devotion to Simon. No matter who else might try to hit on her, she'll be going home with only one man's sperm on her face - as you'll discover when you read Saturday Night.
However lustful these ladies may be, their chastity belts ensure that they'll save their inner sluts for the men they love, preserving their virtue against even the most powerful of passions until they're finally let out to play. Kept under lock and key by dominant men who are as stern as the steel they command, the submissive women in these female chastity stories are powerless prisoners of impenetrable metal. Forced to suffer sexual frustration for what feels like forever, they know there's no hope of pleasure until their master permits it, unable to satisfy unbearable urges thanks to being padlocked until playtime.
Buy your copy now!
padlocked until playtime is available in the following formats: (which should I buy?)
Paperback - for those who love real books

PDF - for immediate download and enjoyment on your computer

EPUB - for most e-readers

iTunes - for iPads, iPods and iPhones

nook - for Barnes & Noble e-readers

Kindle

- for all Amazon devices
By buying a copy of this book, you do more than merely get yourself an arousing read! As well as encouraging the author, sales support the brassièred website, helping to promote the positive aspects of lingerie discipline, male chastity and men as maids in loving female led relationships.