enchasté
an introduction to modern female chastity belts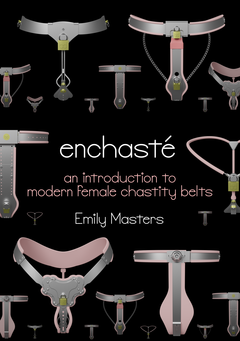 Read online
Have you ever wondered what it would be like to wear a chastity belt? If the idea of padlocked panties appeals, you'll be pleased to know they're more than just a medieval myth, with modern designs capable of making your dreams come true. Whether you delight in submission and denial, want to show commitment to someone special, or are simply looking to spice things up between the sheets, surrendering your body to steel needn't be difficult - however sexy it may be!
enchasté is a comprehensive guide to modern female chastity belts, in which you'll find everything you need to know about these fascinating instruments of frustration - from the reasons why so many women are attracted to them to the practicalities of wearing one for real. As well as learning what to look for when buying, you'll find a host of tips on how to make a chastity belt work for you and your relationship - no matter whether you're longing to stay locked or want to inflame passions so much as to dash for the keys!
The book begins with a discussion of what a chastity belt does for its wearer psychologically as well as physically, showing how locked steel can make you feel sexy, secure, submissive and special. After exploring the varied reasons why women are drawn to such means of preventing sexual intercourse, the first chapter moves on to dispel the misconceptions that abound about chastity belts. If you're still picturing clunky contraptions from the Middle Ages, you'll see just how different a modern belt can be, as well as learning some of its limitations - not least that one can only be worn if you want to.
The design of modern female chastity belts is then considered in detail, giving you the information you need to choose one that's right for you. As well as exploring the differences between mass-produced and custom-made belts, the various styles of waist, front and rear are also looked at from the perspective of comfort and security. Smaller, but no less critical details such as locks, linings and the need for adjustability are also given attention in this fully illustrated section, which closes with advice about where to buy.
The following chapter is devoted to how to start wearing a chastity belt, beginning with measuring yourself to make sure you get a good fit. There's no shirking the realities of steel underwear, with a frank discussion of cleaning and hygiene - and how that, along with often overlooked issues such as sleeping in metal, may affect how you fulfil your fantasies. The necessary compromise between safety and security is also explored, with suggestions presented about how to keep your chastity belt both comfortable and concealed - a must if you're wanting to stay locked in metal while you and your partner are apart.
There's much more to wearing a chastity belt than such mundanities, as the last chapter of the book shows. Whether you're looking to make the metal more meaningful, or simply want to have fun with frustrating steel, there are plenty of ideas to play with, including games that are guaranteed to get you wet if sexual submission is your thing. From creating an "unchastity belt" that will keep you desperately on edge with its padlocked plugs, to enjoying even greater denial by surrendering to still more in the way of metal restraints, you'll learn how a chastity belt can form the basis of exciting bondage - as well as add an extra dimension to your bedroom roleplay, no matter what you like to be.
From start to finish, enchasté takes a realistic approach, forgoing the implausible, the ideological and the fantastic in favour of recognising that every woman is different. Your reasons for wanting to wear a chastity belt may be particular to you, but the information presented will prove just as useful whether you're looking for submission, self-discipline or simply a sexy time!
Buy your copy now!
enchasté is available in the following formats: (which should I buy?)
---
Because we believe you'll benefit from this book, we've made it available for you to read on the brassièred website, completely free of charge. If even one reader finds their relationship changed for the better as a result of having access to a book they might otherwise never buy, the lost sale is a small price to pay - that's my prerogative as an author! Nevertheless, there are a number of good reasons why you should purchase your own copy of enchasté:
it can be given to someone else
If you're unsure of how to broach these topics with your partner, a book can break the ice for you, answering many of the questions they're sure to have in a convenient format. Moreover, it's harder to dismiss something you've gone to the trouble of buying, a gift being far more than just another website.

it's more convenient to read
Whether you like to curl up under the covers or relax in your favourite chair, a book can be there wherever you like to read, picked up and put down at your leisure. Both a paperback and an e-reader are always accessible, easily thrown into a handbag or put in a pocket, no matter where you take them.

it supports brassièred
By buying a copy of this book, you do more than merely get yourself its benefits. As well as encouraging the author, sales support the brassièred website, helping to promote the positive aspects of female chastity in loving relationships.