frustratingly disgraceful
locked steel enforces a shameful loss of status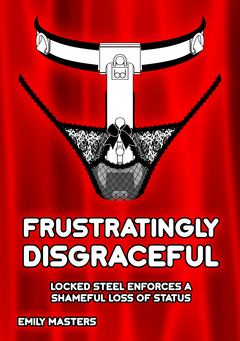 Buy your copy now!
What better way for a woman to enjoy an enforced change of pace than to lock herself in a chastity belt? In these erotic stories about female submission, sexual denial makes the shame of adopting a demeaning role even more exciting! For women aroused by shame and humiliation, surrendering to steel is only the start of abandoning their dignity, ensuring they can't back out no matter how much their degrading position requires them to disgrace themselves.
There are predicaments aplenty once these women are subject to strict metal, with embarrassment being as inescapable as the belts that impose such maddening frustration. To make matters more humbling, the people looking down on these belted women have no idea what makes them so desperate, merely regarding them with scorn and contempt, but that won't stop husbands and boyfriends having a lot of fun as they withhold the keys. The indignities these women must endure before being unlocked are guaranteed to be frustratingly disgraceful!
The demands of being in charge are nothing compared to the humbler duties that Sally takes on after work. This secretly submissive businesswoman has no sooner left the office than she's swapping her smart skirt suit for a much more modest uniform, making herself look as plain as possible as she prepares to moonlight as a maid. Beneath her drab apron and dress, the plug in her chastity belt will make even the simplest of tasks challenging, but Sally will need to do more than merely pick up after another woman. Her cruel employer loves to humiliate her, but who is taking advantage of whom when being made to feel inferior is exactly what Sally wants? Follow her adventures in Wednesday Evening Maid.

Lauren's suitcase contains nothing but sexy nightdresses and lingerie, because she's not expecting to leave her husband's hotel room. Even before she slips into something seductive, she can't forget whom she belongs to - her chastity belt makes sure of that, no matter how much she might fantasise about other men. No-one will be in any doubt about what sort of woman she is when her husband sends her down to the bar in a very provocative outfit, but the metal that Lauren can barely hide beneath means that Thomas doesn't need to worry about her leaving with anyone else - however frustrated she may be! Will he satisfy her needs by making her satisfy him? Find out in I Can Only Use My Mouth.

Despite it being her first day in a new temping position, Jessica isn't really thinking about going to work, instead dressing up as a sexy secretary in order to provoke her boyfriend. To her delight, Mark decides that she needs to wear a chastity belt beneath her tight skirt, making Jessica lock herself up before spanking her for disturbing his breakfast! This submissive girlfriend won't be leaving the house on an empty stomach herself, instead having to drop to her knees and show that she knows how to please! If only her female boss were as appreciative of her bright red lipstick and push-up bra, instead of making her take both off before setting her to work! Read how she fares in Dressing for Work.

When Julie accompanies her husband on a fishing trip, she isn't expecting to wear any clothes! Once they're in the middle of nowhere, she eagerly swaps her dress for a collar, but stripping down to her chastity belt is only the start of this submissive wife's exciting degradation. Whether she's fetching sticks from the woods or licking up disgusting slop from a bowl, she won't be able to hide the metal that keeps her maddeningly on edge even when she's locked in a cage. From nipple clamps to cuffs, her husband can always find new ways of humiliating her, but will any of them be enough to relieve her seemingly endless frustration? Discover for yourself in The Fishing Trip.
Abandoning one set of responsibilities only to face those of a far more disgraceful kind, the submissive women in these stories about chastity belts know that there's no going back once they're locked in steel. Instead, each must commit to an exciting new role, accepting all the consequences that come with becoming a very different woman - no matter how shameful that may be! The inevitability of humiliation adds to the appeal, even though these belted wives and girlfriends won't be able to get off from the provocative predicaments they end up in. Until they're unlocked, they'll just have to do their best to enjoy situations that are frustratingly disgraceful!
Buy your copy now!
frustratingly disgraceful is available in the following formats: (which should I buy?)
By buying a copy of this book, you do more than merely get yourself an arousing read! As well as encouraging the author, sales support the brassièred website, helping to promote the positive aspects of lingerie discipline, male chastity and men as maids in loving female led relationships.