hungry for him
submissive women showing off their surrender to steel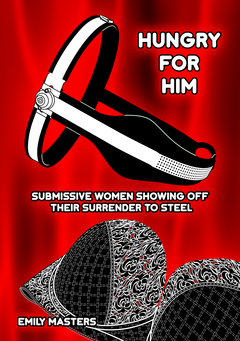 Buy your copy now!
Even when a woman stays locked in her chastity belt, she can still satisfy the man who holds the keys. In fact, being stuck in steel will make her all the more eager to please - not with the parts of her body that the metal puts so frustratingly out of reach, but with her mouth, her breasts and how she chooses to dress! It isn't just her lover that she'll do her utmost to delight, with a woman kept denied driven to slaking her own desperate arousal as best she can.
In these stories about female chastity belts, busty women shed their bras in lieu of the inescapable steel, the locked metal only encouraging them to bare their curves. In provocative outfits, you can be sure they'll catch men's eyes when they let the girls hang out, but there's only one man that matters to a woman longing to take off her panties too - a man who'll make good use of her mouth, then fill her stomach with his seed! Of course, she'll be happy to oblige - after all, her chastity belt makes her hungry for him.
Monica knows her boss likes her to dress to please, but that doesn't make it any easier for her when she has to do a shift at reception. In a low cut blouse and cupless bra, she has little choice but to show off her charms to all and sundry, yet her chastity belt prevents anyone other than the man in charge taking advantage. The steel beneath her tight skirt hardly helps this sluttily dressed secretary maintain her composure as she desperately tries to perform her duties, the two plugs it pushes inside her ensuring she's deliriously wet by the time she escorts a very important visitor up to see her superior. She'll need to demonstrate her oral skills, as you'll read in Mr Swinton's Secretary.

Jessica loves it when people look her way, deliberately taunting those who see her with her devastatingly sexy body. Making men's tongues hang out merely by walking by, she turns a trip to the gym into an opportunity to tease, holding even the women in the changing room transfixed as she strips off her seductive clothing to reveal her equally eye-catching chastity belt. Despite her bulging breasts, she shuns a bra, opting for only a clinging croptop and leggings that show off her assets as she sets out to get sweaty. It won't just be her heart that's racing by the time this steel wearing siren steps off the treadmill, but it's all for the benefit of one man. Follow her adventures in Working Out.

Crystal is worried about whether her boyfriend will be happy about her wanting to work at a topless restaurant, but he has only one condition - that she must stay in her padlocked panties even as she applies for the position. It isn't only him that she must convince before she'll be able to strut her stuff in a very suggestive waitress's uniform, however, with the restaurant's manager and two red-blooded cooks needing to see that she's got what it takes in advance of her serving any customers. For a woman turned on by making men turn their heads, waiting tables will still prove a challenge, especially when hers won't be the only hands getting under her shamelessly short skirt. Find out in Juggs.

Sabrina's suitcase not only contains plenty of sexy lingerie, but also the steel collar that her boyfriend wants her to wear for the competition. No sooner have they arrived at the hotel than he's locking it around her neck, with John also insisting that she shed her bra and unbutton her blouse before they go down for dinner! If only he would be so keen to remove her chastity belt, instead of keeping her desperately denied for the duration of the contest - a contest in which she'll find herself increasingly frustrated as she flaunts more and more of her body. Might she be able to earn extra points with her mouth? Join this busty, belted beauty as she seeks to prove she has the Best Breasts in Show.
A chastity belt might stop a woman having sex in the traditional way, but it won't do anything to reduce her arousal, especially when she's the sort whose passions are stirred by provoking men. Yet even the most flirtatious of girls can't get too full of herself when trapped in tight metal, her pleasure limited to relishing lustful looks until her lover avails himself of her eager lips. Of course, he'll expect her to be braless as he makes use of her mouth, but her exposed breasts will bring them both satisfaction when she's hungry for him.
Buy your copy now!
hungry for him is available in the following formats: (which should I buy?)
By buying a copy of this book, you do more than merely get yourself an arousing read! As well as encouraging the author, sales support the brassièred website, helping to promote the positive aspects of lingerie discipline, male chastity and men as maids in loving female led relationships.