at the mercy of metal
life for these maids is frustratingly unfair!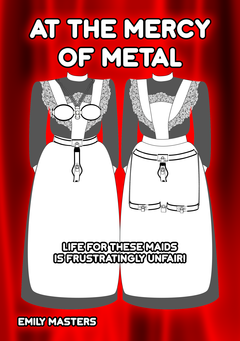 Buy your copy now!
Life for an old-fashioned maid is hard enough when she's locked in a chastity belt, the frustrating metal making no allowances for the demands of her duties even as it denies her any possibility of pleasure. In these stories about humble women, servants have to surrender more than just their sex to steel, subject to the capricious whims of their cruel superiors. Whether it's a fellow maid, young mistresses, or the lady of the house herself who decides to impose, things are sure to be very difficult for these dominated domestics!
Is it worse to be restricted by someone who supposedly has good intentions, or a tormentress who has only humiliation in mind when she takes advantage of her authority? A maid has little choice but to submit regardless, knowing that her position requires her to meekly accept punishment, no matter how unfair! Locked steel leaves these submissive women helpless under their aprons, but all must continue to serve despite being at the mercy of metal.
Dorothy can only daydream about the man who delivers the mail, her chastity belt preventing her from enjoying even the memory of their encounters. That doesn't stop her from sneaking a peek at the catalogue her mistress receives, Dorothy fantasising about wearing the latest fashions instead of her dreary maid's dress. If only Mrs Bannister wasn't so mean, instead of making her modify her uniform to teach her a lesson! Dorothy has to suffer the scorn of another maid, but worse is to come when her mistress orders something for her from the servant's section - steel thigh bands that will make sure she can't spread her legs, no matter how much she longs to slip a hand up her skirts. Follow her misfortunes in Pretty Dresses.

Bessie knows she should be grateful for her position, but being the maid in a house with three young mistresses is far from easy - especially when the ladies in question love to torment her about her chastity belt. Their cruel games see her having to perform with the vegetables she's supposed to be peeling, Bessie humiliating herself for the girls' amusement before being scolded by her mistress, but that's only the start of her shame. She'll have to beg for cock if she wants to do more than merely see the keys to the metal that holds her sex hostage, making the most disgraceful of confessions to be allowed to lock a dildo inside her. Will she be able to serve afterwards? Find out in A Substitute for Sailors.

Annie starts the day with a cruel reminder of how she has to share her room with another maid, rudely awakened by a jug of water being poured over her! Rita never wastes an opportunity to have fun at her expense, not caring how Annie has to suffer the consequences. Unable to find a bra because of how her tormentress has hidden them, Annie finds herself having to wear nipple clamps as a punishment, her mistress treating her to a sharp lecture while she stands naked save for her chastity belt. That provides Rita with a further chance to snitch on her, a seemingly innocent comment resulting in Annie's breasts being locked beneath more metal - as you'll read in A Maid's Bras.

Jane has to stop herself from sniggering at Miss Granville's corsets, wondering how any woman could ever wear anything so old-fashioned. An unexpected change of position sees her soon learning that tight-lacing is anything but amusing, however, with her new mistress proving as strict as the foundations that this maid must surrender to - not just a corset, but a chastity belt as well. Haunted by fears of succumbing to hysteria, Jane finds herself becoming more and more desperate, driving her mistress to employ even more severe methods to stave off such a dreadful disease. Locked in a collar, she'll beg to be let out of her belt, but will that bring the relief she needs? Find out in Hysteria.
In these stories about maids wearing chastity belts, life isn't fair for the servants who must submit to steel, but that only makes their predicaments more provocative! Wickedly one-sided situations are made still more maddening by locked metal, leaving submissive women desperate with denial as they seek to please their superiors. Whether you dream of finding yourself trapped in such an impossible position yourself, or fantasise about having a belted girl so completely in your thrall, you're sure to enjoy these tales of maids at the mercy of metal.
Buy your copy now!
at the mercy of metal is available in the following formats: (which should I buy?)
By buying a copy of this book, you do more than merely get yourself an arousing read! As well as encouraging the author, sales support the brassièred website, helping to promote the positive aspects of female chastity.