put him in panties
Chapter 11: Foundation Wear and Nightwear
So far, we've been looking at garments that you're sure to be familiar with. However unorthodox they might be for a man, a bra and panties are practically de rigueur for the modern woman, with hosiery not too far behind - everyday attire we're so accustomed to as to take it for granted. Lingerie is not limited to such commonplace basics, however, no matter how necessary they may be for a woman's wardrobe. There's a wealth of more obscure options, many of which were once just as popular as today's push-up bras and pantyhose but have long since fallen from fashion - vintage underwear such as longline brassières, girdles and corsets. Then there are garments that are generally reserved for special occasions rather than worn as everyday attire - sexy basques for bridal-wear or simply for dressing up in the bedroom and more mundane shapewear for when that dress just has to fit, no matter what.
All these items have one thing in common - they're designed to mould the wearer's body into a more pleasing shape, smoothing undesirable lumps and bumps whilst accentuating more feminine aspects, ultimately seeking to achieve an archetypal hourglass figure. In order to accomplish this, foundation wear imposes itself upon the wearer by means of constrictive or unyielding material, often enhanced with rigid boning to force the body into the desired shape. The degree of control exerted can range from light to severe depending on the design, but the fundamental principle remains the same whether a lightly elastic basque or a heavily boned corset is involved - unlike other underwear, it is the body that is shaped by foundation wear rather than the reverse.
Simply giving your husband a more feminine shape can be fun for fooling about, with the erotic connotations of a lacy black basque and stockings being sure to add to its potential in the bedroom. However, the real power of foundation wear makes itself known when such garments are used for lingerie discipline or lingerie punishment. The greater physical imposition foundation wear places upon the male wearer as it attempts to shape his body into its own contours makes it far harder to ignore than regular lingerie, not least because it covers more of him. A girdle goes much further than panties in shaping the buttocks, whereas the embrace of a longline brassière or basque reaches right down to the navel - far beyond the more modest grasp of a regular bra. Moreover, such garments offer unparallelled scope for intentional discomfort simply by having your husband wear one that's a size too small. As such, they are ideal for the purposes of punishment, providing a sharp contrast to ordinary underwear in order to deliver a strong message to the wearer.
Many women are put off wearing foundation wear themselves by a lack of familiarity with it, not to mention a fear of discomfort - the latter being something sadly often borne out of experience. Nevertheless, when correctly fitted, modern shapewear need not be unduly uncomfortable, yet works wonders for the larger lady - so much so that it's well worth the trouble of getting it right. You'll find the effect on your figure to be equalled, if not surpassed by your husband's reaction to seeing you so enhanced, especially if you opt for something sexy such as a satin basque or lacy corset - pulling your waist in and giving you a bust to die for, there's nothing quite like it! Don't dismiss the idea of trying vintage underwear yourself, either - even if your husband doesn't have a particular penchant for girdles, there's something supremely sexy about a shapely rear with attendant stockings and suspenders which he's sure to appreciate, quite apart from making you feel good too.
Distinguishing between different types of foundation wear can be difficult - the difference between a basque and a corset is rather more subtle than that between pantyhose and panties, such that they can be easily confused by the uninitiated. Even manufacturers sometimes get things wrong, let alone shop assistants, such that buying based on nothing but description can sadly prove something of a hit and miss affair. For the purposes of lingerie discipline and punishment, what matters is what a garment can do for your husband, not what it is called, which in turn depends on how rigid or elastic its material is, whether or not it has boning and if so, of what kind. Some so called basques are merely a bra attached to a loose, diaphanous waist that ends in suspender clips, whereas others are heavily boned affairs, stern enough to rival a proper lace-up corset - clearly different garments when it comes to their effects on the male wearer, the former better for play, the latter for punishment.
Basques, bustiers and longline bras
A bra that extends further down the body than the more regular band around the chest may be referred to as a bustier or a longline brassière, with the latter generally being longer than the former, often going as far as the hips rather than ending at the ribs or waist. Basques are similar but feature suspender clips which, along with the shoulder straps, are often detachable. Unlike a traditional corset, such garments generally have a hook and eye fastening running down the entire length of their back, often involving a dozen or more closures that can be fastened on one of two or three widths like a regular bra. Bustiers and basques tend to be available in sexier styles than longline bras, which have more of an old-fashioned image and are less readily available. High street stores may carry a limited range of basques, especially around the times of year when lingerie might be purchased as a gift, but online suppliers offer more options, not to mention often being cheaper, so long as you're sure of what you're getting - as mentioned earlier, not all basques are alike.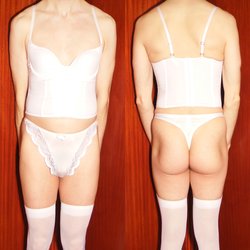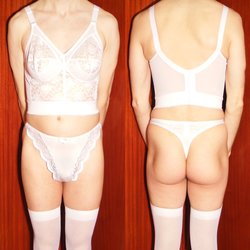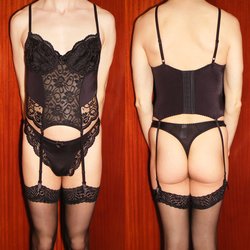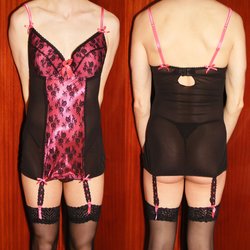 Regardless which you go for, such garments offer ample possibilities for disciplining your husband. Simply getting into one can prove quite an ordeal for him in itself - with an impossible number of hooks that must be lined up correctly, having to do up a basque or longline bra behind his back can be a real nightmare for a man, especially if he's expected to do so under your watchful gaze with even the slightest mistake or hesitation being grounds for further punishment. Alternatively, you can make a point of fastening him in yourself, a process that can be surprisingly intimate but also gives you time to remind your husband of why he's wearing what he is. The length of such garments lends them to being secured with one or more locks if you so desire, but even if you don't, getting out of a tight longline bra can be something of a challenge if your husband can't or isn't allowed to spin it around first.
When worn with stockings, a basque resolves two problems that might otherwise affect a man wearing the equivalent in separate lingerie. Unlike a suspender belt, your husband's basque won't slip down no matter how much his stockings might pull on it. Conversely, it won't ride up like a bra might, nor are its shoulder straps as prone to slipping - when correctly adjusted, the suspenders and straps serve to keep each other in check, even without the added grip of the basque around the body. Longline bras and bustiers are also better than shorter ones in this regard, so long as they are suitably tight. As such, foundation wear may be presented as an alternative to more conventional underwear if your husband has difficulty managing it - whether as a genuine option, or merely as a means of motivating him to try harder with his ordinary attire.
Much of what was mentioned in the previous chapter about bras applies to these longer variants too, regardless of whether or not they incorporate suspenders for stockings. The cups of longline brassières, bustiers and basques can all be padded in exactly the same way, although similar considerations apply to choosing a style that will keep any padding in place. Vintage style longline bras tend to have fuller cups in the sense that they cover more of the breast, making them ideal for men, but racier basques and bustiers can be problematic if they're designed to boost the cleavage - just like a push-up bra, this can lead to larger false breasts simply collapsing messily in the middle. Designs featuring detachable straps are often better in this respect, as the ability to be worn strapless generally mandates a balconette style to the cups. If the straps are fixed, look for styles in which the ends of the underwires form a horizontal line when worn rather than dipping at the centre. Choose a size that makes the cups at least as tight as they would be with a regular bra to avoid their contents slipping below the underwires. In general such garments use traditional bra sizes, so your husband's usual band measurement is a good place to start.
A man who can successfully wear a bra in public without it being noticed should have no trouble adapting to any of these garments - their longer length poses little in the way of additional challenge so long as their outline does not make itself known through outer clothing. Indeed, because a longline brassière or basque embraces much more of the body than just a band around the chest, its profile may paradoxically be a little less obvious under inadequate camouflage, a situation helped by the general public's unfamiliarity with such garments, no matter how much more aware your husband may be of its presence. As such, if he's used to wearing a regular bra for the purposes of lingerie discipline when he's out and about, making him wear a longer one makes an ideal punishment - still perfectly possible to keep hidden under a suit, but far less comfortable.
Of course, basques are more commonly regarded as bedroom attire - a sexy, naughty item of lingerie that sends a clear message that the wearer wants to play, generally reserved for dressing up on special occasions. You can be sure that your husband will notice the trouble you've gone to should you don one yourself, complete with matching panties and lace topped stockings, but that's only half the fun. If you've previously been fooling around in bras and panties together, presenting him with a basque is a great way of taking things further, especially if you're already wearing yours - they're luxury lingerie that simply abounds with erotic connotations. Here, flimsier garments are in their element, festooned with lace, ribbons and other feminine embellishments to make your husband feel ever so sexy yet submissive at the same time - the perfect recipe for gentle, loving foreplay before the main event. Even dressing him up in a basque is a perfect opportunity for extended intimacy if you so desire.
Girdles
A girdle does to the bottom half of the body what a longline brassière does to the top, providing support and shaping the buttocks and waist. Panty girdles resemble very tight, figure hugging shorts, whereas open bottom girdles are, as their name suggests, open at the bottom - not dissimilar to a very deep suspender belt in some ways, albeit one that covers the bottom if not extending well below the hips. Both kinds feature unyielding fabric that retains a distinct femininity despite being stern enough to shape the body, generally fastened with a rather complicated combination of a zip together with a set of hooks and eyes, if not more. Coming from an era where women wore stockings as a matter of course, they invariably feature numerous suspender clips to support them - often six, but sometimes as many as twelve or more.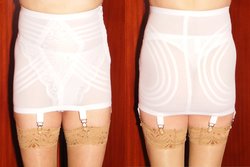 You would be far from alone if you have never encountered a girdle prior to reading this book - once considered essential attire, they've long since fallen out of fashion and are now only available from specialist suppliers catering to a niche market. Nevertheless, they retain a certain vintage charm, symbolising the submissive femininity of a demure 1950s housewife in the minds of many men. As such, they are surprisingly popular amongst submissive crossdressers, proving a perennial theme in forced feminization fantasies alongside longline bras and fully fashioned stockings. In donning such attire, such men seek to step back in time in order to recreate the halcyon days when a woman knew her place was to look pretty and do as she was told - a far cry from the challenges of the modern world that the submissive crossdresser wishes to escape from.
Quite apart from their psychological associations, the physical imposition of wearing a girdle makes it an ideal way to step up your husband's lingerie discipline or punishment. Its constant, unyielding embrace of his buttocks together with its fierce grip around his hips makes its presence felt much more than even control panties, the girdle's modern day equivalent. Moreover, having to unfasten his girdle before going to the toilet can be complicated and time consuming for your husband. Even an open bottom girdle makes it difficult for him to get at his panties underneath thanks to how far it extends down his legs, exacerbated by the panoply of suspenders that must be undone first, not to mention its sheer tightness. It's no wonder that girdles were often regarded as unofficial chastity belts by the women who wore them, but you can use this to your advantage - making your husband wear an impenetrable girdle on top of a thong that pulls mercilessly between his buttocks is sure to torment him.
A tight open bottom girdle will push the insides of the wearer's thighs together, which can prove uncomfortable for the male wearer, whereas a panty girdle must have sufficient room around the crotch if it is not to squash his genitalia - generally requiring it to be longer and worn lower than a woman would. Of course, such factors can be actively disregarded should your husband be girdled as a punishment, and mean that all is not lost if a purchase isn't quite right - a garment that's unsuitable for everyday discipline can simply be reserved as a punishment girdle. Because girdles are designed for a woman's body, there's a necessary trade-off between hip and waist measurements when purchasing one for your husband - a good starting place is one that's a size smaller around the waist than his natural measurements would suggest.
With the exception of suspender clips that can be rather more prominent than those on more modern garter belts, the smooth outline of a girdle is easily hidden beneath a man's trousers. Indeed, such foundation wear may actually make your husband's rear look more attractive, controlling any unwanted flabbiness in order to present a pert posterior to the world at large. That, after all, was the reason why women used to wear girdles despite the discomfort, and thus there's no reason why you shouldn't take advantage of their physical as well as psychological effects on your husband. You needn't worry that other women will find his shapely rear equally appealing - even if they do, there's no way your husband will want to admit to them that his behind is the way it is because his wife makes him wear a girdle. If the results are to your liking, you might even want to have your husband wear one as a dieting aid to encourage him to develop buttocks that are naturally well-toned without the need for such support.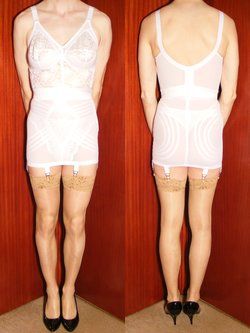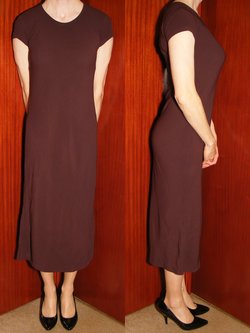 Most traditional girdles are intended to be worn with stockings, not least to prevent them from rolling up, but doing so should not prove too onerous - the girdle itself will be the most noticeable aspect of the arrangement. Adding a longline brassière completes such vintage underpinnings to give the wearer a distinctly feminine foundation, whether worn under regular male clothing or as the basis for further feminization. A figure hugging dress will demonstrate the effects of such underwear in moulding your husband's body, even if the garments in question remain completely covered as befits the modesty of a bygone age. Even under a shirt and trousers, having to wear a longline bra and girdle will leave your husband in no doubt as to his position - with his entire torso in its grip, it's impossible for a man to be unaware of such foundation wear. If the combination appeals, you may also wish to consider a corselette for him - essentially a single garment that combines both a girdle and a longline bra.
Corsets and cinchers
Corsets shape the wearer's torso by means of stiff material and boning, pulled to the desired tightness by means of lacing at the back. A traditional corset is generally a sterner garment than a basque or bustier, designed to make the body conform to a more feminine shape. By pulling in the waist and pushing the bust out and up, a corset emphasises the wearer's womanly curves in addition to providing support - often to a dramatic degree! Shorter corsets that cover just the waist are known as cinchers or waspies and vaguely resemble a very wide belt. Longer ones tend to reach up from around the hips to the breasts, either stopping just below them in the case of the underbust variety or covering at least part of them as with the overbust kind. Corsets range from those intended to be worn over clothing as a fashion statement to more serious steel boned garments designed to take several inches off the wearer's waistline.
Proper corsets are a world apart from anything you're likely to encounter on the high street, no matter what might be passed off under their name. Some tops may lace up with ribbons as a decorative feature, but unless they're capable of being pulled tight enough to affect the wearer's figure without damaging the garment, they're not really corsets. Similarly, some basques and bustiers can blur the line, adopting aspects of a corset's appearance without the associated physical imposition - perhaps with a hook and eye fastening at the front and ribbons that criss-cross behind, yet lacking substantial boning. Such garments may be very sexy, and indeed, perfectly suitable for either your husband or yourself to wear in the bedroom or beyond, but they're not what we're looking at here.
Nevertheless, even genuine corsets range in severity. At the lighter end of the spectrum, there are fashion corsets that are comparable to a stern basque, featuring similar plastic boning but lacing up with ribbon at the back - enough to make them known to their wearer, yet unlikely to reduce his or her waistline by any significant degree. More traditional corsets feature heavier fabric with steel boning, closing with a metal busk at the front and laced with stronger cord, allowing the waist to be brought in by a couple of inches. Finally, there are corsets intended for more severe waist training, substantial enough to allow them to be fastened so tightly that the wearer can barely breathe. By employing sturdier materials and additional steel boning, they permit up to six inches to be taken off the wearer's waist. All kinds come in a range of lengths, styles and colours, such that there's a corset available for every occasion.
Corsets are popular among certain subcultures both as a fetish and a fashion statement, as well as having a wider appeal as bridal wear. As such, they're readily available from online suppliers, ranging from cheaper mass-produced numbers to rather more expensive custom tailored ones. Don't let the price of the latter put you off the idea of corseting your husband, however - while corset purists may disagree, more modest off the shelf corsets are perfectly adequate for the purposes we have in mind. Admittedly, even these aren't cheap in comparison to other lingerie, especially in the case of the waist training variety, but if you're looking for a way to develop your husband's lingerie discipline or punishment further, a proper corset is well worth the investment.
It's worth noting that even waist training corsets won't permanently alter your husband's body unless he spends a significant proportion of his life wearing one - a practice known as tightlacing, which we're not advocating here. You can rest assured that the occasional period in a corset, however tight it may be, won't result in him developing an hourglass waist or cause undue medical complications. The bad reputation that corsets have in this regard stems from the days when Victorian women wore ever tighter stays on a full-time basis, day in and day out. Like anything else, waist training can be taken to unhealthy extremes, but the extent to which you might want to have your husband wear a corset as a punishment or for discipline is nowhere near such excesses. Even spending a whole day in an excruciatingly tight punishment corset that takes his waist in by several inches won't have any long-term physical effects on your husband, however much it may disconcert him at the time!
The physical imposition of a corset manifests itself upon the male wearer in a number of ways. For starters, there is the ever present pressure on his body, a crushing embrace that's impossible to ignore, extending over his entire torso. Unlike more flexible basques, the sterner boning of a traditional corset makes a man's upper body as rigid as its unyielding steel, holding him firmly in its prescribed posture. Bending down must be performed with the knees rather than the back, whereas bending forwards acquires the added challenge of maintaining his balance - something that can prove surprisingly difficult if he's wearing high heels as well. With his waist pulled in, he'll find himself forced to take shallower breaths, aware of the constriction around his abdomen every time he inhales, let alone when eating or drinking. Finally, the inches that are displaced from his waistline will migrate elsewhere, boosting his bust and hips to give his body a more feminine shape that he'll have to adapt to - both psychologically and in terms of unfamiliar and awkward encumbrance.
Given their unrivalled impact upon the wearer, it should be clear that corsets are ideally suited for use as a punishment - something we'll be looking at in more detail shortly. Nevertheless, less severe corsetry can also be used to good effect for the purposes of lingerie discipline, reminding your husband in no uncertain terms of its presence but also forcing him to adopt good habits no matter how much he might otherwise be tempted to let things slide. A corseted husband isn't able to slouch or slump - the unyielding boning of his stays imposes the correct posture upon him, making him stand and sit up straight. Moreover, wearing a corset will make his stomach feel fuller sooner, causing eating or drinking more than modestly to become prohibitively uncomfortable. As such, it naturally encourages adherence to a dieting regime without any need for additional chastisement - failure to comply is its own punishment. Once formed, the beneficial habits that wearing a corset encourages can often stick around even in the absence of stays, but if they don't, the idea of having to go back to the physical discomfort of wearing corsetry can often be enough to motivate a man to do without its psychological support.
Compared to a basque, the more imposing structure of a corset can be harder to hide under clothing. The ease with which one may be hidden depends very much on its design, with shorter, lighter corsetry being more practical for wearing in public. While a modest waist cincher may be worn out and about in the same way that a girdle or a basque might, longer and more severe corsets require much greater care to avoid discovery, and are best reserved for around the house. Such garments form an ideal basis for more feminine outfits that benefit from the narrower waist and more pronounced bust and hips that a corset brings, as well as the sense of submission they engender in their wearer. For instance, when used as the foundation of a maid's uniform, a corset not only helps a man to look the part, it also encourages him to act it too, shaping his behaviour and attitude as much as it does his body.
Although it's possible for a man to lace up his corset single-handedly, it can be difficult for him to achieve the desired tightness by himself, especially in the case of a waist training corset where some effort is required to close the final inch. While your husband can reasonably be expected to don most other lingerie by himself, putting him in a corset really benefits from a little assistance on your part, not least because that gives you the final say as to just how tight he is laced. You can have him do his best before presenting himself for the finishing touches, or simply take control from the beginning, having him stand motionless while you put the corset around him and inexorably cinch his waist in. Either way, lacing him up provides ample opportunity to give your husband a good talking to - letting him know what you expect of him, either in terms of what he should have done differently to avoid his corset punishment or simply what you're planning on having him do next. Moreover, you'll find the effort involved in cinching him tightly to be a great way of working off any frustration you may feel towards your husband, quite apart from how the resulting waistline will affect him directly.
Once your husband's corset is as tight as you desire, you can knot the cord behind his back to make it difficult for him to loosen his stays, let alone remove them, without seeking your assistance. Whether you're making him wear a corset as a punishment or simply for lingerie discipline, you can then sit back and relax while your husband's corset does the work of correcting his attitude and behaviour. Of course, that doesn't mean that his feminization need stop there. An interesting punishment is to expect your husband to dress himself in other feminine attire after you've put him in a corset. Even putting on stockings can prove quite an ordeal for a man trapped in such a restrictive embrace, let alone donning strappy heels when it's impossible to bend over to fasten them. To really drive the message home, make your husband wear a heavily padded bra too - the combination of tightly corseted waist and infeasibly large bust will not only be disagreeably uncomfortable, it will also make things more awkward for him, getting in the way of even the simplest of tasks. Add stiletto heels but not a lot else, and you have the ultimate punishment outfit - one that leaves your husband vulnerable, restricted and chastised.
Because corsets come in a range of severities and may be laced accordingly, they lend themselves to graduated discipline, allowing you to reflect the degree to which your husband warrants punishment as opposed to merely being feminized. A good maid might find himself in a lighter fashion corset simply to encourage the right frame of mind for doing the chores in, whereas one who had performed poorly might warrant a heavier training corset until he had learnt his lesson. Because of their appeal to the fetish community, there are even bondage corsets, also known as discipline corsets, specifically intended to make life difficult for the wearer. These extend as far down as the knees and severely restrict movement, being rigid and designed to be laced very tightly. Needless to say, a man wearing such a punishment corset won't be going anywhere fast, nor will he have a particularly pleasant time of things.
If you don't see yourself as a dominatrix, please don't let the idea of bondage corsets put you off from trying a more modest variety - whether for yourself or for your husband. Just as the availability of raunchy peephole bras and crotchless panties in sex shops need not impinge on the everyday underwear of the average woman, coexisting happily with pretty feminine and practical plain options, so too do corsets come in a wide range of styles to suit all needs. While there are stern punishment corsets in studded black leather available for those who desire such things, there are also soft pink satin and white lace ones too, intended to bring out the wearer's feminine charms to their full potential, but just as good for making a man softer and gentler too.
Nightwear
Although not strictly foundation wear, now is as good a time as any to discuss nightwear, by which we mean the sexy, feminine kind typified by the negligée or the babydoll, not flannelette pyjamas or anything else that might be dubbed a passion killer. Such overtly erotic nightwear carries overwhelmingly strong sexual connotations, such that a man who is invited to "come to bed" by his wife when she's so attired can be sure that she has more than a short nap in mind. Often cut from loose, diaphanous material and liberally adorned with lace, bows and ribbons, such garments serve to amplify the wearer's femininity, strongly hinting at what little they leave to the imagination. While negligées are usually longer, babydolls generally stop well above the knee, being short enough to display the presence or otherwise of panties underneath. They often incorporate bra cups or a bralette, but there are also more explicit styles that leave the breasts completely exposed. Even if the wearer's bust is not openly displayed, it's often quite apparent through semi-transparent material.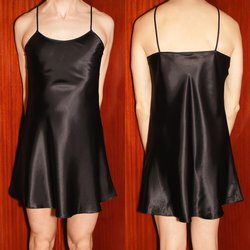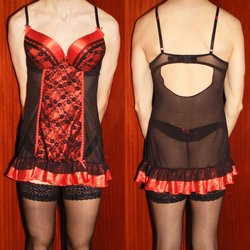 However an unlikely choice such nightwear might be for actually sleeping in, it's nevertheless very popular when it comes to dressing up in the bedroom. As such, babydolls are readily available from high street retailers in a wealth of styles, ranging from those that are pretty yet reasonably practical to the more explicitly erotic. Because of the ease with which they expose the wearer's underwear, they're often sold as a set with matching panties, often of the thong variety, cut from similarly diaphanous material. Those that come with inbuilt bra cups generally use those for sizing, but otherwise they follow traditional women's clothes sizes. Either way, the combination of loose, floaty material and stretchy elastic makes them much more forgiving when it comes to fitting than many of the other garments we've looked at in this chapter.
Obviously, a babydoll nightdress or negligée isn't something your husband can wear in public - such garments simply aren't intended to be worn underneath others, nor do they impose themselves physically upon the wearer in the same way as, say, a bra might when not openly displayed. Instead, the power of feminine nightwear relies on it being worn with nothing else, stemming from the sense of exposure and vulnerability that being so scantily attired engenders in a man. Whether in the bedroom or around the house, wearing only a flimsy babydoll is as good as being naked as far as his modesty is concerned, leaving his body just as available for his wife's attentions, yet making him feel infinitely more feminine than wearing nothing at all - ideal for both erotic feminization, lingerie discipline and even lingerie punishment.
Having your husband change into such nightwear prior to going to bed is a great way of getting him in the right frame of mind, perhaps snuggling on the sofa together watching a romantic movie before retreating to the bedroom. A luscious lace trimmed or satin babydoll provides ample opportunity for playing with your husband, caressing his body through its soft material or running your hands up inside its floaty fabric. Those that feature cups and straps have all the potential of a bra to boot, and the invariably sexy matching panties should need no suggestions here. Whilst the latter may be discarded as your foreplay intensifies, the babydoll itself need merely be pulled up a little, allowing your husband to remain in it throughout, and indeed, left to sleep in it afterwards if you so desire. Waking up in such sexy lingerie is a profound experience for a man, starting the new day with an intimate reminder of the night before.
Making your husband wear an embarrassingly short nightdress around the house when there's no prospect of any sex on offer is an entirely different matter, something that's sure to engender a submissive state of mind in him. You can have him wear a babydoll or negligée by itself, or add stockings and heels to the mix, feminizing him further without detracting from the vulnerability that such skimpy attire brings. Nightwear that lacks integral support can be worn on top of a separate bra, padded as appropriate, with matching panties and garter belt too. A short, strappy babydoll may be used to draw attention to such lingerie, allowing you to easily snap your husband's bra straps or fondle his panties. It can also act as an accompaniment for sterner forms of correction - more than suitable attire for a punishment spanking or time in a male chastity device, where keeping his reddened buttocks or imprisoned manhood on display serves to amplify the punishment not least by allowing you to easily access the relevant parts of his body in order to remind him of his chastisement.
Keeping your husband in just a babydoll, stockings and heels is sure to have a profound effect upon him, no matter what you have in mind for him whilst so dressed, but such an erotic combination of clothing is far from the only outfit that can be used to your advantage. In the next chapter, we'll see how dressing your husband as a maid, a bimbo or even a schoolgirl can be supremely effective both in the bedroom and around the house. We'll see how having him adopt such stereotypical roles can teach your husband things he could never begin to imagine as a man, but more importantly, how making him wear such unlikely attire has a surprising range of benefits for yourself too.