put him in panties
everything you need to know about erotic feminization and lingerie discipline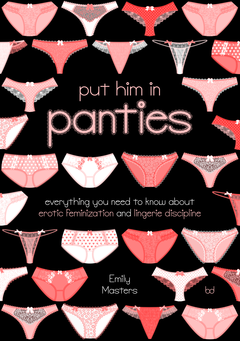 Buy your copy now!
Read online
There's no denying the power of lingerie when a woman wears sexy underwear to seduce her man, but what happens when the tables are turned and he wears such intimate attire for her? You'll look at lingerie in a new light after reading this book, discovering just how much feminine frillies can do for you and your man - when he's the one wearing them!
From the fun that can be had with women's underwear in the bedroom to the benefits of having him wear it more regularly, put him in panties explores every aspect of lingerie for men, showing how a little satin and lace can not only liven up your love life, but strengthen your relationship and even improve your man's attitude and behaviour too! Containing everything you need to know about erotic feminization and lingerie discipline, it's packed with advice about the practicalities of particular garments for men as well as including more general tips and tricks to help keep him on his toes - for you!
After looking at why lingerie is so special, put him in panties explores its effects on a man, considering the benefits for both you and your husband of having him wear women's underwear and countering popular misconceptions about crossdressing along the way. It shows how erotic feminization encourages a softer side to a man in the bedroom, providing help on how to persuade your husband to put on his first pair of panties as well as highlighting the fun that can be had fooling around in frillies together between the sheets. If you've ever wanted more in the way of foreplay from your man, you'll find a surprising answer here!
The submissive state of mind that wearing such intimate attire engenders in a man lends itself to other aspects of life, allowing you to train your husband to pay more attention to your needs - whether by means of lingerie discipline, in which he wears feminine garments as a symbol of submission, or lingerie punishment, where uncomfortable women's underwear is used to atone for letting you down, both of which are discussed in detail. There's also plenty of practical advice on how to go shopping for lingerie for your husband, as well as a chapter devoted to why some men choose to wear such clothes of their own volition and how a sissy husband can be a blessing in disguise for a woman prepared to put her prejudices to one side.
The second half of the book turns its attention to particular garments, showing how each can be employed to good effect in the bedroom and beyond. Looking at which styles are best suited to particular purposes, it considers the differing needs of men and women when it comes to lingerie, including tried and tested advice on how a man can wear women's underwear in public without being found out. Whether you want your husband to feel sexy or are looking for ways to make his lingerie more difficult for him, you'll find plenty of inspiration here. From more familiar panties, stockings and bras to vintage foundation wear such as girdles and corsets, there's a wealth of tips and tricks on every item of intimate attire. There's even a chapter on dressing your husband up as a woman more completely, showing how having him adopt stereotypical roles such as a maid, secretary, schoolgirl or bimbo can be used for pleasure, punishment or simply to put him in his place.
Buy your copy now!
put him in panties is available in the following formats: (which should I buy?)
Paperback - for those who love real books

PDF - for immediate download and enjoyment on your computer

EPUB - for most e-readers (including Apple and Nook)

Kindle

- for all Amazon devices
---
Because we believe you'll benefit from this book, we've made it available for you to read on the brassièred website, completely free of charge. If even one reader finds their relationship changed for the better as a result of having access to a book they might otherwise never buy, the lost sale is a small price to pay - that's my prerogative as an author! Nevertheless, there are a number of good reasons why you should purchase your own copy of put him in panties:
it can be given to someone else
If you're unsure of how to broach these topics with your partner, a book can break the ice for you, answering many of the questions they're sure to have in a convenient format. Moreover, it's harder to dismiss something you've gone to the trouble of buying, a gift being far more than just another website.

it's more convenient to read
Whether you like to curl up under the covers or relax in your favourite chair, a book can be there wherever you like to read, picked up and put down at your leisure. Both a paperback and an e-reader are always accessible, easily thrown into a handbag or put in a pocket, no matter where you take them.

it supports brassièred
By buying a copy of this book, you do more than merely get yourself its benefits. As well as encouraging the author, sales support the brassièred website, helping to promote the positive aspects of lingerie discipline, male chastity and men as maids in loving female led relationships.