sewing for sissy maids
Chapter 1: How to get started
As I head upstairs, the happy chatter of the sewing machine tells me my husband is still hard at work. I don't need to pop into the spare room to know he's profitably occupied making a petticoat, transforming the pile of fabric I last saw him with into ruffles that will in due course flare out his skirt. To think that only a few months ago, he knew nothing about dressmaking, yet now he's wearing one of several maid's uniforms that he made all by himself - not just petticoat, apron and dress, but matching choker and headpiece too! He'll stay locked in the satin and lace until I decide he's done enough for the day, but secretly, I'm very pleased with his progress - no longer does my maid merely stand around, tempted by mischief as he waits for me to call, instead occupying otherwise idle moments with a productive pastime that's filling his wardrobe as well! Perhaps I'll reward him when he presents the finished petticoat, but in truth, I won't have to - he'll feel a sense of accomplishment simply from seeing the fruits of his labours, hardly needing to be told to start on the next little project I happen to have in mind for him.
Who this book is for?
The maid is a popular role among submissive crossdressers or sissies, with many men finding satisfaction in dressing up to do the cleaning - perhaps even being ordered to don a daft little outfit by the lady of the house! As you'll see in subsequent photographs, my husband is just such a man, delighting in domestic service, but that doesn't mean you have to be male to make your own maid's uniform. The process we'll be walking you through in this book works just as well for a woman, with the dress we'll be making one that'll fit your figure no matter how feminine or otherwise it may be. You merely need to be a submissive maid seeking to dress to impress, with whoever you serve sure to be delighted when they see you in a maid's dress you've made yourself!
Why you should sew your own uniforms
Do you already have a maid's uniform? If so, the chances are that you had to compromise when choosing it. Perhaps you purchased one of the skimpy little things intended for playing around in the bedroom, soon finding that the short skirts and flimsy fabric that make for sexy role-play aren't best suited for scrubbing floors. Or maybe you opted for a more substantial outfit, only to discover that it doesn't quite fit your figure. It's possible to pay to get something tailor-made, but that can cost a pretty penny - as can shopping at the specialist sites that seduce many sissies with their sumptuous dreams of satin and lace, only to disappoint when something very different arrives many days later.
If you don't have the body of the average woman, and don't want to break the bank, thoughts of dressing for domestic service might make you despair. There is, however, another option if you're prepared to spend time rather than money, one which will not only produce a maid's uniform that's sure to please your mistress, but will see you develop the most feminine of skills in the process. With appropriate devotion, you can have a whole wardrobe of maid's dresses for a fraction of the price - maid's dresses that you can be sure will fit your body, in whatever colours and fabrics take the fancy of your mistress.
There was a time when most women made their own clothes as a matter of course, using their trusty sewing machine to make garments that looked as good as any you could buy. Many still do, enjoying a rewarding hobby that offers far more than merely a better fit - not least a amazing sense of accomplishment. Imagine wearing a dress you've made yourself from no more than a length of material, a dress that not only lets you express your style but shows off your abilities at the same time! It's no wonder that sewing is such a popular pastime, yet it's sadly one that few men consider, let alone become proficient at - even men who wear the most feminine of dresses to demonstrate their domestic submission.
If you don't know where to start, it's easy to be daunted by the details of dressmaking, with the wealth of information one can find online in danger of being overwhelming. That was certainly the case for my husband, whom I tasked with making himself a maid's uniform for my amusement - there being few things more emasculating for a man than to have to immerse himself in such a womanly world. In truth, however, sewing is surprisingly straightforward, such that you need only need follow a series of simple steps to do the same - steps that my husband has tried and tested for this book, ironing out all the wrinkles so that you too can delight your mistress with the maid's dress and apron you've made.
Let's take a brief look at what sewing will do for you as a sissy maid:
maid's uniforms that fit both your body and your budget

Crossdressers often have to make compromises when it comes to choosing women's clothing, but conflicting measurements become a thing of the past when you're working with your own. There's no need to trade off between broad shoulders and narrow hips with a dress that's designed to accommodate both, the particular pattern that we'll be drafting one that will follow your figure no matter how manly it may be. Unlike having a maid's dress custom-made for you, however, it won't cost an arm and a leg - the materials required are likely to come out less than even the cheapest of off-the-peg offerings, as inferior in fit as that would be.

maid's uniforms in a much wider choice of colours and materials

It's rare to see maid's uniforms that aren't either black or some shade of pink, but when you're making your own, there's no reason to limit yourself to such conventional colours. Nor need you stick to satin, especially not the cheap, flimsy kind that offers so little protection while doing the chores. Whether it amuses your mistress to have you serve her in the same green gingham as the kitchen curtains, or else she prefers to see you work in a practical purple polyester, you can nevertheless satisfy her whim, perhaps spending a little more for a superior fabric. With the whole rainbow to choose from, you can co-ordinate your uniform with your underwear, or simply surprise her with something different each time - as my husband does in every chapter of this book.

maid's uniforms that you appreciate the value of

How many hours do you need to work in order to pay for a new maid's uniform? Even with the most expensive of outfits, it's unlikely you'll ask that question in quite those terms, it being all too easy for the cost to become no more than yet another line on your credit card bill. Not so with a maid's outfit you've made yourself! When you know exactly how much effort went into your apron and dress, you'll treat such garments with the respect they deserve. To carelessly splash bleach on black satin, as a certain maid featured in these pages once did, means spending hours at the sewing machine rather than simply pulling out the plastic - encouraging greater care when it comes to the chores.

maid's uniforms that you don't have to make ethical compromises about

Cheap maid's outfits are no different from other mass-produced clothing, invariably put together in sweatshops where women are paid peanuts for slaving away at a sewing machine. The irony of them working to satisfy submissive men is surely lost on such women, who never see more than a fraction of the markup added by middlemen. Purchasing from specialist sites often poses other moral problems too, with the kind of online shops that seek to sucker sissies through their sexual desires tending to promoting a far from positive image of men who want to be maids. If you prefer not to be associated with words such as "slut" and "whore", let alone be subject to tired racial stereotypes, there's no need to encourage such enterprises by giving them your money - not when making your maid's uniform yourself sees you the one sweating behind a sewing machine.

maid's uniforms that demonstrate a devotion to duty

It takes no more than a minute to don a maid's dress, but sewing one from scratch is a whole different matter - so much so that a man who merely wants a moment of pleasure would never think of going to such trouble. What better way to show you are serious than to have made the uniforms in which you serve? If you're still searching for a mistress, being proficient in sewing is a great way to stand out from the crowd, such a skill helping to prove that you're not just looking for selfish satisfaction. As a talking point over tea, a handmade maid's uniform takes some beating, being sure to amuse any woman who hears of it as you offer her cake. Even if you only wear it for your wife while you do the washing, you'll still feel pride - as will she, knowing that there's only one maid in the world with such a dress.

maid's uniforms that keep you gainfully employed

Sewing is the perfect hobby for a sissy maid, cultivating qualities such as patience and attention to detail that are transferable to all other aspects of domestic service. Positive and productive, it will reward you for your efforts as automatically as it will punish you for cutting corners, requiring a focus on the feminine that's pleasingly free from the kind of unwholesomeness so often associated with submissive activities. Making a dress can keep a maid usefully occupied for many hours, but a work in progress can be put down at a moment's notice, making it ideal as a means of filling time while waiting for the lady of the house to call. Nor need you stop at just maid's dresses - all manner of other garments are but a step away! You can spend years sewing and still only scratch the surface of this fascinating pastime - yet your wardrobe will have far more to show for it than if you simply stood around!
The maid's uniform we'll be making
Take a moment to think about what makes a maid's uniform of the kind so beloved by sissies. There's an apron, of course - most likely a lacy affair, tied in a big bow behind the back - but that's not all. There's a dress too, invariably figure-hugging with a skirt that's flared out by frilly petticoats, perhaps with short, puffy sleeves that share the same lace trim as its suggestive neckline. One mustn't forget a matching choker, nor a ruffled headpiece, each strengthening the stereotype of the sexualised servant. Throw in stockings and some sexy lingerie underneath, and it's a intoxicating confection - enough to make a submissive man weak simply thinking about wearing it, let alone making it from scratch.
When you consider such an outfit in dressmaking terms, however, it really isn't that complicated. Reduced to their component parts, a half-apron is just a bib and waistband, a maid's dress merely a fitted bodice, puffy sleeves and a gathered skirt. A choker is little more than a band of fabric with some fastenings, a headpiece simply a ruffle attached to a headband. Even a petticoat starts off as a length of material, albeit one given many folds by means of gathering and elastic. There's nothing so magical about any of it that you can't make it all yourself, so long as you know what you're doing.
In Figure 1.1, my submissive husband shows off the fruits of his labours, modelling the maid's uniform that he'll be making over the course of this book. Breaking it down one bit at a time:
apron

A double-sided half-apron, trimmed with lace (Chapters 4 and 5).

dress

A lockable dress with a lined bodice, puffy sleeves and gathered skirt, trimmed with lace (Chapters 6, 7 and 8).

choker

A lockable choker, trimmed with ribbon and lace (Chapter 9).

headpiece

A ruffled headpiece, trimmed with ribbon, lace and bows (Chapter 10).

petticoat

An elasticated petticoat, trimmed with a satin ruffle (Chapter 11).
Everything will be made to measure (Chapter 2), with the dress based on a pattern drafted for your particular figure (Chapter 3). We'll finish the book with a look at how you can adapt this design to make a range of different uniforms (Chapter 12). There's a lot of work involved, but the end result is well worth the trouble!
Buying a sewing machine
Although it is possible to sew a maid's uniform with nothing more than a needle, even a professional seamstress would struggle to match the neatness of stitches made by a machine - quite apart from the tedious and time-consuming nature of hand stitching even the shortest of seams. For a man learning to sew, therefore, a sewing machine is essential, but the initial investment in an unfamiliar piece of equipment can prove daunting. With so many models on the market, and an equally wide range of prices, it can be hard to know which to choose - especially when the decision must be made without prior experience.
In truth, the sewing machine is a well-established technology, with the actual mechanics of making automatic stitches having been perfected long before the digital age. Indeed, the machine my husband uses is over thirty years old, yet its basic function is very similar to one you might buy today. As such, pretty much any model you might pick will serve your purpose, with the differences between cheaper and more expensive offerings unlikely to be noticeable to begin with. The most basic of sewing machines will still allow you to make your own maid's uniform, even if it's unlikely to last the decades that my husband's has.
You'll want a machine that can do forward and reverse sewing, with the ability to adjust the stitch length and tension as well as type - at the very least, a zigzag stitch in addition to the regular straight stitch, although most models offer many more. A bobbin winder is another essential feature, as is a foot pedal for control. Don't confuse the latter with the presser foot, the part near the needle which holds the fabric down as you sew. Ideally, the latter should not only be removable, but the machine should come with several rather than merely offering them as optional extras - a separate zipper foot being the minimum. A free arm is also useful to have, allowing sleeves to be slipped around where you sew. Finally, a metal chassis is a mark of a superior product when compared to the plastic used on cheaper models, with a manufacturer's guarantee also speaking favourably about a machine.
Even eschewing the bottom of the market, prices are such that there's little saved by buying second-hand, but you may sometimes find old sewing machines at garage sales and the like. Here, there's an important distinction to be made between those that are electric, that is, powered from a wall socket, and those that are electronic, having a computer or circuit board inside them. Sadly, the latter don't stand the test of time anywhere near as well as the former, with their electronic brains generally failing long before their mechanical bodies. It's best to avoid anything with buttons and screens unless you can be sure it works, but a sturdy electric machine that's still in good condition may have more life left in it than the all-plastic contraptions you can buy new - such is the disposal nature of consumer goods these days.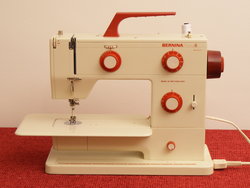 Beginner's equipment
If you've never sewn before, you'll also want to purchase the following:
dressmakers scissors

It's best to have a pair of scissors you reserve solely for your sewing, as using them for other things will blunt the blades, making cutting fabric more difficult. A basic pair is perfectly adequate to begin with, but it's worth considering the comfort of the handle - the ones my husband uses are perhaps a little too austere! Have a regular pair on hand as well for cutting out your patterns.
small scissors / seam ripper

A fine pointed pair can not only be used to cut thread, but unpick seams as well. You can also purchase a separate seam ripper for this purpose - a small tool with a specially shaped head that breaks stitches with ease. If your sewing machine isn't a budget model, it may come with one of these as an accessory.

tape measure

Made of plastic so that it won't stretch, ideally marked with both inches and centimetres.

pins

You may wish to buy, or indeed, make, a cushion to hold them while sewing.

needles

Although most of your sewing will be done with a machine, there'll be a small amount of hand stitching too, for which you'll want a packet of regular needles.

yardstick / ruler

A long straight edge for measuring fabric, and ideally a shorter one too.

lighter

A regular lighter, whose flame we'll use to stop the ends of ribbon fraying.

washable pens / tailor's chalk

You can buy all sorts of fancy things to make marks on fabric, but a pack of children's washable pens is as good as any for lighter coloured materials, it only needing you to put your finished dress through the machine to remove any trace of them. For darker fabrics, consider tailor's chalk instead - a special kind of chalk that's easily rubbed off, usually triangular in shape for making precise marks.

iron and ironing board

As a maid, you should need no introduction to these!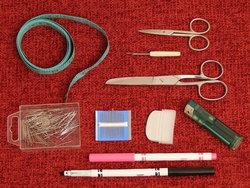 Haberdashery
In British English, haberdashery is a wonderful word, used to describe not only to the sort of shop where one buys sewing supplies, but also the small articles sold there as well. By one of those bizarre quirks of language that writers sadly have to beware of, the same word means something surprisingly different in American English, referring to a men's outfitters - hardly the kind of place one would go to purchase notions, another word for lace, zippers and the like, albeit not a term that Englishwomen are familiar with. Perhaps it is safer to simply speak of the fabric store, but whatever you call the shops in question, there's quite a choice of them - whether you brave one in person, or simply look online.
To make a maid's uniform, you'll need the following:
fabric

Fabric is generally sold by the metre or the yard from rolls that come in certain widths, 150cm / 60" and 112cm / 44" being common. Doing so online can be something of a hit-and-miss affair, as Figure 1.4 illustrates - it's difficult to determine the texture, weight or transparency of a fabric without seeing it in front of you. Most online stores sell small samples of material for a token amount, too small to sew anything with, but enough to decide whether it's right for your purposes.

Sissy maids are naturally drawn to satin, but the word "satin" merely means a material that has a shiny surface, such that there are several sorts. Costume satin is cheap and cheerful, whereas the more expensive Duchess satin is a stiffer, heavier fabric suitable for making ballgowns. If you're just starting to sew, go with the cheapest kind you can find, but be cautious about other words in the description - my husband once bought several metres of "satin jersey" because it was on offer, only to discover that "jersey" meant it had a noticeable ribbing, making it a nightmare for him to work with.

Another option to consider is gingham, a checked material made by alternating the colour of the thread. If you fancy yourself as a fifties housewife, gingham is a great choice, offering a nostalgic femininity that you'll be hard-pressed to find in off-the-shelf maid's outfits. Its conspicuous weave isn't just pleasing to the eye, however, making matters of alignment and marking much easier too.

Bi-stretch polyester is a heavier fabric, sold as being suitable for smart skirts and trousers. It also works well for a more formal maid's uniform, being a hard-wearing material that doesn't easily crease. If you're wanting something warmer for working in the winter, you can't go wrong with this as a choice - but again, be careful not to confuse it with other kinds of polyester. Silky polyester is more suited to lining a skirt, albeit clingy and prone to static charges, whereas polyester chiffon is an even flimsier fabric - think a blouse sheer enough to show your bra beneath, rather than anything you'd want to wear while pegging out the washing! It's also much harder to work with, so save this until you're more sure of your skills.

Although black is a traditional colour for a sissy maid's uniform, it's best to choose something a little lighter for the first outfit you make - the method we'll be using relies on using washable pens that simply don't show on black! While you can use tailor's chalk in their place, that's an additional difficulty you don't need while you're still getting to grips with what you're doing. Fabrics come in a whole range of colours, so be daring and choose something different!
interfacing / fusible

Interfacing is a special kind of fabric used to make other material stiffer or stronger, applied as a lining to the inside of those parts of a garment that need extra structure or support - think shirt collars and cuffs. It comes in two different types, depending on how it is attached - sew-in, which, as the name suggests, requires stitching in place, and iron-on or fusible interfacing, which has one side covered with tiny beads of heat-activated adhesive. The latter is far easier to work with, merely needing a quick press with a hot iron in order to stick, so that's what we'll be using.

Although we'll only need a short strip for the waistband of the maid's apron, interfacing is sold by the metre or yard from rolls in a similar manner to regular fabric. It's available in a variety of weights, but a limited choice of colours - since the interfacing won't be seen, this isn't an issue. Choose a weight that's similar or lighter to the material you'll be using, in white.
thread

You might not have thought there would be much to choose beyond colour when it comes to buying thread, but the range of premium brands, decorative and special-purpose threads can make matters more complicated than they need to be. A budget polyester is quite sufficient for our purposes, however, with a thousand metre spool being enough for more maid's uniforms than you're ever likely to make in a particular colour. It's also possible to buy thread in five thousand yard cones, which a thrifty maid might be temped by in order to save a few pennies, but these are intended primarily for special sewing machines known as sergers or overlockers rather than the regular kind, and are more trouble than they are worth.
lace

Where would a maid's uniform be without any lace? The feminine frills that sissies adore can be divided into two categories, gathered and flat, depending on whether it forms wavy ruffles when laid out on a table. Held together by a thin band on one side, these ruffles allow gathered lace, also known as frilled lace, to follow curves in a way that flat lace simply cannot - something that's vital for both your maid's dress and apron.

Next comes the matter of colour, with lace generally available in white, black and ivory - an off-white that's easily confused with the real thing, especially when making a decision between a series of small and very similar pictures on screen. If you don't want to be reminded of the difference every time you look down at your apron, make sure your lace matches your satin.

Last, but by no means least, is the width of the lace, which can range from less than 12mm / ½" to 100mm / 4" or more! Resist the urge to choose the widest lace you can find, as the trim for the neckline of your dress needs to have enough stiffness to stand up rather than flopping down - the latter something that can be a problem with wide, insubstantial frills. Moreover, the choker and headpiece we'll be making require their lace to be narrower than their material, making 25mm / 1" a suitable compromise between practicality and prettiness.

As we'll see shortly, a maid's uniform with all its associated accessories requires a surprising amount of lace. Although you can buy it by the metre or yard, if you're planning on making several outfits, it's worth sourcing a roll. This not only works out significantly cheaper, but saves wasting the inevitable odds and ends you end up with otherwise, not to mention the trouble of trying to match what you've already got when you need more. As my husband found to his cost, some stores don't keep much lace in stock - those offering a discount for bulk buys are far more likely to be able to deliver by the roll.
If you'll be making your maid's uniform out of gingham, you may wish to consider using broderie anglaise in place of lace - a more substantial trim whose embroidered embellishments nevertheless conveys an undeniable femininity. Again, this comes in both gathered and flat varieties, being sold in a similar range of colours and widths, by the metre or yard and by the roll. The same considerations apply as for lace - be sure to buy the white, gathered kind, which is also a great choice for a more formal or heavier winter's uniform too.
ribbon

We'll be embellishing the maid's choker and headpiece further with ribbon, tying pretty bows with it, as well as using it to make the maid's dress and choker lockable. Ribbon comes in a wide range of styles, colours and widths, with double satin meaning that it is shiny on both sides. For our purposes, two lengths of 10mm / ½" ribbon are required - one in white, and one in a colour that matches your material.
zips

Zip fasteners, also known as zips or zippers, come in many different kinds too. For the maid's dress we'll be making, you'll want one with a closed end, meaning that the two rows of teeth can never be completely separated - contrast this with a zipper with an open end, as you might find on a coat.

An invisible or concealed zipper has its teeth hidden when it is closed, intended for garments where you don't want the fastener to be seen. Such zips are more expensive than the regular kind, and while you could use one for the back of your maid's dress, there's little benefit in doing so - indeed, their smaller pullers tend to lack the holes necessary for them to be locked. There's also no need to spend more for metal rather than plastic teeth.

Zips come in a range of colours and lengths. You may not be able to match the former to your material perfectly, even when the colours share the same name - as we'll see when my husband comes to make a petticoat, one manufacturer's idea of turquoise can be very different from another! As for length, it is better for a zipper to be a little too long than a little too short - 56cm / 22" zips are readily available, providing enough length to fasten most maid's dresses.
elastic

Available in a variety of widths, elastic is often sold as having a certain number of cords - stretchy threads that are woven together to produce the final strip. Without having it in your hand, it's hard to tell how strong a particular type of elastic will be, which poses a problem for the maid who must pick one to support his petticoat. In practice, however, a double length of 10mm / ½" is likely to be adequate.
hook and loop tape

You're sure to be familiar with hook and loop fasteners, even if you don't know them by that name - two strips, one covered with countless tiny hooks, the other having a forest of fur for them to cling to, making the most distinctive of ripping sounds when separated. It's sold by the metre or yard in a variety of widths, either as sew-on or stick-on tapes. We'll be using a very short amount of the sew-on kind to fasten the maid's choker, with 20mm / ¾" in white being suitable.

Be careful not to confuse hook and loop tape with hook and eye tape, the latter being a series of bra-style metal fasteners sewn into strips of fabric.
Alice band

An Alice band is a horseshoe shaped piece of plastic that girls with long hair sometimes choose to wear to keep it out their face, generally having small teeth like a comb to hold it in place on the head. They're more likely to be available at a craft supply shop than a traditional haberdashery, but you can also find them in a variety of styles in accessory shops, pharmacists and similar on the high street - often grossly overpriced for what they actually are! Choose a plain one in a colour that will complement either your uniform or your hair, preferably with a band that is not too wide.
A sissy maid's shopping list
Having to make so many decisions when you don't really know what you're doing can be daunting, but don't let your unfamiliarity with fabrics and notions stop you before you've even started. To make matters simpler, here's a shopping list of everything you'll need for your first maid's uniform:
2 metres or yards of coloured 150cm / 60" wide costume satin

2 metres or yards of white 150cm / 60" wide costume satin

1 metre or yard of white lightweight fusible interfacing

1 1000m spool of coloured all-purpose thread

1 1000m spool of white all-purpose thread

6 metres or yards of white 25mm / 1" gathered lace

2 metres or yards of white 10mm / ½" double satin ribbon

1 metre or yard of coloured 10mm / ½" double satin ribbon

1 56cm / 22" coloured closed-end zip

2 metres or yards of white 10mm / ½" elastic

1 metre or yard of white 20mm / ¾" hook and loop tape

1 Alice band
Although metres and yards are different measurements, they're close enough that we can use them interchangeably here, especially since haberdasheries always give you a little more than you ordered (perhaps 10cm / 4") so as avoid being accused of short-changing their customers.
The hook and loop tape, thread and interfacing will be enough for many uniforms. You can buy multiples of everything else if you wish to make more, remembering to buy extra colours of thread to match your fabric if necessary. Placing an order is as straightforward as purchasing anything else online, with most haberdasheries delivering in a few days, generally in anonymous plastic bags.
Getting the hang of things
If you haven't used a sewing machine before, it's worth taking some time to explore its features, reading the manual and familiarising yourself with its controls. You'll need to learn how to wind a bobbin, which means transferring thread from a regular spool onto a special one that sits inside the machine, as well as threading the machine - guiding the thread along what may initially seem like a complicated path to bring it to the needle. The precise details of doing so will depend on your particular model, such that we'll defer to your instruction manual here, but you'll soon come to know it by heart.
It's then time to actually start sewing. You can practice on scraps of fabric, of which you'll have plenty once you've cut the pieces for your maid's dress, sewing them together along lines and curves with different kinds of stitches until you have a feel for how your machine handles. If the thread tangles, its mostly likely that you've not routed it through the machine properly, so simply take it out and start again, paying particular attention to the take-up lever - a mistake that my husband frequently found himself making, especially after forgetting to keep hold of the ends of the thread when starting to stitch!
Speaking of starting to stitch, it's worth getting into the habit of securing the starts and ends of a seam. Also known as locking, this involves sewing forward a few stitches, then running your sewing machine in reverse in order to stitch back over them before sewing forward again. Although that may sound complicated, there should be a control on your machine that makes it a cinch, merely requiring a button to be pressed to take care of business. Doing so stops the ends of the thread becoming loose after they've been trimmed, and is sufficiently important that a picky mistress might insist on inspecting all of her maid's seams to start with to ensure that he gets into good habits from the very beginning!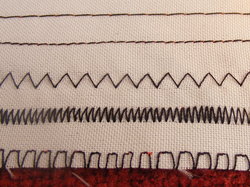 Figure 1.14 illustrates many of the stitches we'll be using throughout this book. From the top, we start with a basting stitch - a straight stitch with a long stitch length that's used to temporarily hold two pieces of fabric together. Beneath that, there's a regular stitch - still straight, but having a shorter stitch length for greater strength. The difference that stitch length makes can be seen more clearly with the two zigzag stitches, whereas at the bottom, an overlocking stitch is used to stop the edge of the fabric from fraying - its slight irregularity hinting at the age of the machine. Don't worry too much about the latter ones for now - we'll be explaining them all in more detail in due course. Incidentally, if you're wondering why a hint of red shows through in places, that's because my husband threaded his bobbin with a different colour to the spool, illustrating how the machine brings the two almost magically together in the middle of the material. On the other side of this sampler, the visible thread is red with a hint of black.
We'll come back to sewing in a couple of chapters, but first we'll take a detour via measuring your body, going on to use the resulting figures to draft a pattern for your maid's dress.