perfect English, Peaches!
a grammar course for sissy secretaries and other submissive men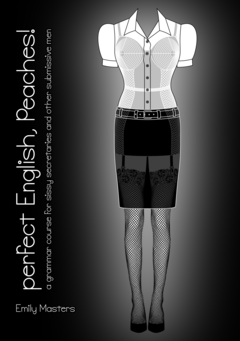 Buy your copy now!
Read online
perfect English, Peaches! is a grammar course written specifically for the submissive crossdresser. The aim of this textbook for sissies is to give the student a greater understanding of the words he uses, thus helping him to avoid the mistakes that so often mar even the simplest pieces of writing. Employing exaggerated examples that are sure to appeal to any man with a weakness for women's things, the course not only encourages higher standards of language, but also emphasises respect for female authority throughout. The intentionally titillating scenarios do not detract from the text's purpose, however, with the misadventures of a submissive male secretary making the material more memorable.
Intended as a serious course of study, but also ideal for adult role-play, this book challenges the reader to really think about how he writes and speaks. Each of the twenty-five lessons concludes with exercises to check comprehension, as well as suggestions for additional work.
After an introduction about the importance of rules, the book examines the most basic components of a sentence, having the reader consider the purpose of nouns and verbs in the context of secretaries obeying their bosses. The difference between adjectives and adverbs is discussed in a similar manner, with the reader being introduced to Ms Crusher, a strict businesswoman who loves nothing more than to make life hard for her sissy secretary, the preposterously named Peaches Sweetcheeks. The following lessons explore pronouns and possessives, prepositions and conjunctions, simultaneously putting this emasculated assistant in a series of embarrassing predicaments. While the reader considers grammatical concepts including dummy subjects and copular verbs, Peaches must contend with the difficulties of working in a blouse and skirt, suffering further humiliation at the hands of his female colleagues. The other secretaries don't go easy on the sissy, any more than the text spares the student as it considers how to correctly use comparatives and superlatives.
English's range of tenses offer no respite, either for Peaches or the reader learning about grammar by following the sissy's plight. The male secretary's desperate attempts to please his boss fail to keep him from being subject to shameful punishments as the book discusses past and present participles in an excitingly erotic way. Gerunds and infinitives are accompanied by girdles and bras, with Peaches going on to illustrate the use of phrasal verbs and the passive voice as he is told off and laughed at. Humiliating meetings with Human Resources are just one of the challenges that this feminized man has to face, with the intricacies of relative clauses and the subjunctive mood explained while he worries about snagging his stockings and having to wear a chastity belt! From the office girls shutting him in the stationery cupboard to his boss expecting him to bring his corsets on a business trip, there are plenty of opportunities for the hapless sissy to demonstrate the pitfalls of confusing similar sounding words. There's nothing professional about how Peaches has to show his frilly pink panties for all to see, let alone the humiliating outfit that the other secretaries make him wear, but that doesn't mean his disgrace can't be instructive! The book concludes by analysing the differences between formal and informal language, showing why the latter isn't appropriate for job applications - even for sissies hoping to work in a skirt.
By the time the reader finishes the final lesson, he'll know better than to misplace his apostrophes or use "who" in place of "whom", having developed a solid grounding in English grammar that will stand him in good stead no matter how he is employed! Whether you're looking to liven up a scene with a suggestively themed textbook, or want a productive way of keeping a submissive man busy, perfect English, Peaches! offers plenty of frustrating fun, rewarding the reader for his efforts while stressing the consequences of carelessness. With the exercises at the end of each lesson requiring plenty of writing, you can simply send your sissy away to study, knowing that he can't afford to be too distracted even as he considers what it would be like to work in a female-led office. Don't be deterred if you're a sissy without a mistress, however - this book is ideal for self-study, and may even help you impress a potential boss!
Buy your copy now!
perfect English, Peaches! is available in the following formats: (which should I buy?)
Because we believe that every submissive man should know how to speak and write correctly, we've made this book available to
read on the brassièred website
, completely free of charge. If even one reader discovers tbe benefits of proper grammar as a result of having access to a book they might otherwise never buy, the lost sale is a small price to pay! Of course, you should still consider purchasing your own copy of
perfect English, Peaches!
- doing so supports the
brassièred
website, helping to promote the positive aspects of lingerie discipline, male chastity and men as maids in loving female led relationships.