up to his thighs in nylon
losing manly leg hair for ladies' legwear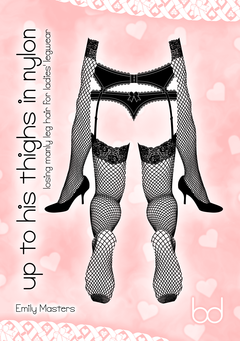 Buy your copy now!
From the top of his lace trimmed thighs to the tip of his stocking clad toes, there's nothing quite like nylons to make a man feel feminine. When a husband submits to wearing sheer hosiery to satisfy his wife, there's no doubt that he'll find himself falling under its spell, as the heroes in these stories about men wearing stockings discover when they don ladies' legwear for the women they love.
Sharing bathroom beauty secrets in addition to sexy stockings and suspenders, there's no turning back once these submissive husbands get shaved, plucked and waxed, surrendering hair for hose as they get feminized from the waist down. Whether they're made to wear stockings under their trousers in secret or find themselves in nothing but hosiery and heels, you can be sure they won't escape the electrifying effects of having legs like a lady. No matter how he ends up wearing stockings for the first time, a husband in hosiery finds submission comes naturally when he's up to his thighs in nylon!
Cathy loves to play dress-up with her husband, but his hairy legs have simply got to go before she'll be satisfied with his new stockings. With Jeff already wearing panties and a bra as he prepares to be shaved, there's no question of his submission even before Cathy brings out the women's razor that will see him stripped of the last vestiges of masculinity. Forced to watch helplessly while his wife shaves his legs, Jeff can't help getting hard as his hair disappears, but far more is in store for him when Cathy brings out a black satin suspender belt. How will this feminized man fare when he's finally wearing all the lingerie a woman would? Discover for yourself in His First Hosiery.

We catch up with Jeff and Cathy again in our second story, with the hosiery wearing husband having found that shaving his legs isn't something that can be skimped on. Expected to do so every day, he soon discovers the difficulties that women face staying smooth, learning first-hand why his female colleagues wear pantyhose to work along the way. Cutting corners has consequences when his wife catches him with unseemly stubble, however, giving Cathy the perfect excuse to use an epilator on her misbehaving man. Finding himself in nothing but skimpy lingerie once more, Jeff has no choice but to suffer his hairs being pulled out by the root, his wife sitting on him to make sure he stays put for an apposite punishment. Follow his fortunes in Plucked for Pantyhose.

Kurt nags his wife about wearing stockings and suspenders for him once too often, only to find himself following Jodie's lead as she exploits his fondness for fishnets and lacy lingerie. First, however, he finds himself slathered in hair remover, its feminine fragrance only a foretaste of what's to come for a husband who'll end up in far more than just hosiery before the evening is out. Helpless once he's lost his leg hair, Kurt gets dressed like a blushing bride on her big night, donning a bra and babydoll in addition to sheer stockings as his wife shares with him a woman's secret world of satin and lace. See what this couple get up to when they frolic in frillies in Silky Smooth.

Damon makes light of what a lady has to do to look after her legs, dismissing the difficulties that women have waxing until his wife takes it upon herself to show him just what girls get up to in the bathroom. Sharing a shower together certainly gets things hot and steamy, but Kerry doesn't stop at simply exfoliating her husband's skin, insisting on taking him every step of the way until his legs are as hairless as hers! Making him wax his legs is only the start of Kerry's plans to put her husband in hosiery, however, keeping her stocking clad spouse happy by treating him to her intimate attentions even as she teaches him how to walk in high heels. Will Damon going to work stop their naughty nylon games? Find out for yourself in Waxed By His Wife.
The clinging embrace of nylon is nothing compared to the hold these women have over their husbands once they make them wear hosiery, using girly garter belts and sexy sheer stockings to bring out a softer, more submissive side to their men. Indeed, helping him lose his leg hair in favour of feminine legwear is only the first step towards further feminization for these loving couples as they get horny in hosiery together. If you're a sucker for stockings, you'll love these stories about what happens when a man gets up to his thighs in nylon!
Buy your copy now!
up to his thighs in nylon is available in the following formats: (which should I buy?)
Paperback - for those who love real books

PDF - for immediate download and enjoyment on your computer

EPUB - for most e-readers (including Apple and Nook)

Kindle

- for all Amazon devices
By buying a copy of this book, you do more than merely get yourself an arousing read! As well as encouraging the author, sales support the brassièred website, helping to promote the positive aspects of lingerie discipline, male chastity and men as maids in loving female led relationships.