trapped in its straps
these bra-wearing men are locked in their lingerie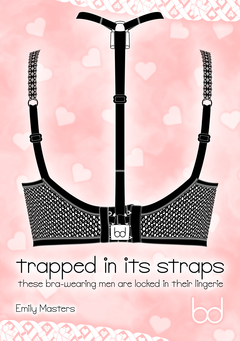 Buy your copy now!
Making your husband wear a bra works wonders when you want better behaviour, but if he can't be trusted not to take it off, something more is called for! The wives in these stories about lingerie punishment have found the perfect solution, making sure their men wear what they should by padlocking it in place! As soon as they click the clasps closed, their helpless husbands are condemned to having straps on their shoulders and cups on their chests, staying locked in a bra for as long as it takes for them to learn their lesson.
There's no escape from the embrace of satin and lace for these emasculated men, each forced to endure the most feminine of garments whether he likes it or not. Being stuck in a bra soon brings out his submissive side, teaching him a new respect for women's underwear - even before his wife gives him breasts! However uncomfortable or humiliating being locked in a punishment bra may be, it's something a man has to face when he finds himself trapped in its straps.
The bigger, the better - that's James's belief about women's breasts, or as he likes to call them, their boobies! His puerile habit of pointing out pleasingly plump protrusions finally pushes his wife too far, seeing Camilla punishing him with a pair of his own! Being locked in a big black bra is only the beginning of his problems, however, with this feminized husband forced to contend with a bulging, bouncing bust. Weighed down by water balloons, James discovers that a curvaceous chest even affects his choice of clothes, but his wife doesn't see why it should stop him bringing in the shopping, not sparing her husband's blushes when her friend visits. Read how he fares in Boobies!

Torn between the demands of his wife and his fear of being caught, Ian slips out of the bra he should be wearing at work, hiding it in his briefcase as he goes about his business. He can't cheat when he comes home, however, unable to lie when Diane confronts him about the unworn white lace. The penance he has to pay is a practical one - sewing locks into his lingerie to make sure he won't let her down again. Wearing only women's underwear as he works under his wife's watchful eye, Ian knows what he's condemning himself to with every stitch he makes, but he's spurred on by the prospect of having more of an audience - one he'll have to model for! Follow his fortunes in Sewing Lesson.

Beth has a straightforward approach to keeping her husband on the straight and narrow - every time he disappoints her during the week, he surrenders more of his weekend to one of his punishment bras. To make sure he serves his sentence in whichever uncomfortable garment she chooses, Philip's wife has fitted each with a lockable bra clasp, using a collar to keep him in its clutches no matter how much he might want otherwise! Having earned himself eight hours in the tight embrace of burgundy lace, Philip's in for a long day even before Beth decides to take him shopping, but his predicament gets worse when his wife buys a fitted blouse - for him! Join this couple in the changing room in Eight Hours Earned.

Adam has a weakness for his wife's worn bras, bothering her about them when she wants to do the washing. Surely it isn't too much to ask that Jill models the seductive garments for him before soaking them in the sink? Instead, he finds himself having to fasten satin around his own body before his wife will do the same, but the fun doesn't stop there. Soon Jill's putting her husband into a very special bra of his own, one whose extra strap will ensure he wears it for far longer than he wants. Left alone at home in a locked bra, he has no choice but to come to terms with the consequences of his actions. Find out how this feminized man gets on in The Third Strap.
Sometimes it's necessary to enforce the wearing of a bra in order to bring the benefits of doing so to a reluctant husband. Thankfully, as these stories about men being locked in lingerie show, it only takes a spot of sewing to ensure he stays securely strapped in. Whether padlocked in a padded bra as a punishment or fastened in such feminine attire simply to stop him slipping out of it, you can be sure that a submissive husband won't forget what he's forced to wear - not when his wife decides to impose discipline by keeping him trapped in its straps.
Buy your copy now!
trapped in its straps is available in the following formats: (which should I buy?)
Paperback - for those who love real books

PDF - for immediate download and enjoyment on your computer

EPUB - for most e-readers

iTunes - for iPads, iPods and iPhones

nook - for Barnes & Noble e-readers

Kindle

- for all Amazon devices
By buying a copy of this book, you do more than merely get yourself an arousing read! As well as encouraging the author, sales support the brassièred website, helping to promote the positive aspects of lingerie discipline, male chastity and men as maids in loving female led relationships.