tales from his lingerie drawer
in these stories, it's the men who wear the panties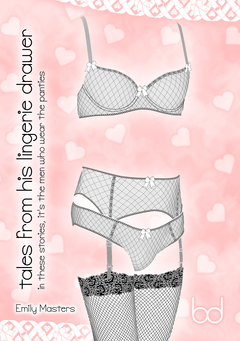 Buy your copy now!
What happens when a woman takes charge of what her man wears underneath? That's what tales from his lingerie drawer sets out to explore, following four couples for whom lingerie is not just for the ladies - both in the bedroom and beyond! Whether the men in question like it or not, they can't help but be affected by the feminine frillies they find themselves in, wearing women's underwear at the whim of their wives for both punishment and pleasure. From panties and bras to stockings and suspenders, the garments may vary but the effects are the same, reminding them of their place in a loving relationship led by their woman.
As these boyfriends don bras and husbands put on hosiery, they soon discover a different side to women's underwear - one that's just as sexy, but far more submissive! These stories show that there's nothing like a little lingerie to keep a man on his toes, helping him become the perfect partner that every woman deserves as well as being a whole lot of fun to boot!
An intimate inspection reveals that Rob has snagged his nylons, which means he has to buy new ones. Ever since nagging his wife to wear sexy stockings and suspenders backfired, he's found himself in women's hosiery - Lisa expects nothing less of him in exchange for donning such sexy legwear herself, even if hers are restricted to the bedroom whereas he wears his to work! From his very first fishnets to the trials and tribulations of shopping for stockings after being made to wear a girdle, Rob's nylons keep him on his toes - as you'll read for yourself in Her Husband's Hosiery.

Little Miss Busty is in a far more pressing predicament - one that takes the shape of an enormous bra, punishing the eponymous hero of this story for his wandering eye. If only James had taken his punishment like a man, he wouldn't have found himself serving time in the corner so attired, utterly helpless when his wife's friend comes to visit. He'll find himself feminized with more than just lingerie when there are cosmetics at hand, but will he learn his lesson when the tables are turned and it's his chest being ogled by women?

Nicola has always insisted her boyfriends wear women's underwear - if a man isn't prepared to put on panties for her, he isn't worth her dating. Scott passed that test with flying colours, but now she wants to take things further with her submissive husband - it's time he was brassièred as well as pantied! A winter holiday provides the perfect opportunity to help her man overcome his reluctance to wear a bra all the time, not just when he's between her legs, but that doesn't mean she's going to make things easy for him - his holiday bras are going to be padded! Find out how Scott gets on with an ambiguous bust in The Princess and Her Pantied Prince.

Working at a lingerie shop has its perks for Annabel - not least when it comes to buying things for herself and her boyfriend Simon. Whether he's wearing a bra and panties or a babydoll nightdress, this couple know just how much sexy underwear can liven up their love life, but Annabel has something more in store for her feminized boyfriend - a trip shopping, all dolled up in his dainties! Will Simon be man enough to wear women's underwear out of the bedroom for her? Read what happens when our favourite shop assistant and her boyfriend become customers themselves in The Competing Establishment.
Whether it's spicing things up between the sheets or saying sorry for letting her down, there's no denying the power of women's underwear to bring a couple closer together, as you'll discover in this collection of sexy stories about lingerie for men. Intimate and inspirational, tales from his lingerie drawer is a must for anyone who loves female led relationships, feminization and frillies!
Buy your copy now!
tales from his lingerie drawer is available in the following formats: (which should I buy?)
Paperback - for those who love real books

PDF - for immediate download and enjoyment on your computer

EPUB - for most e-readers

iTunes - for iPads, iPods and iPhones

nook - for Barnes & Noble e-readers

Kindle

- for all Amazon devices
By buying a copy of this book, you do more than merely get yourself an arousing read! As well as encouraging the author, sales support the brassièred website, helping to promote the positive aspects of lingerie discipline, male chastity and men as maids in loving female led relationships.