set to work in a skirt
for these sissy secretaries, a blouse means business!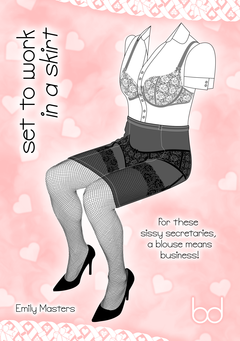 Buy your copy now!
Skirt and stockings, blouse and bra - how swiftly a man's status changes when he swaps suit and tie for the attire of an assistant! Throw in a strict female boss, and a crossdressing secretary must do more than merely dress up, having to work as a woman as well as wearing her clothes. Whether typing, filing or attending to his employer's more intimate needs, you can be sure a male temp will do exactly as he's told, forced to adopt a subordinate role to his female colleagues thanks to how he's feminized at the office.
The submissive men in these stories about sissy secretaries soon discover that a personal assistant has a lot to worry her pretty little head about, expected to satisfy the stringent demands of their female superiors while simultaneously having to pass as one of the girls. Working for women who mean business when it comes to taking charge, each of these crossdressers has no choice but to step into the shoes of a secretary, finding themselves set to work in a skirt.
The husband of a high-flying businesswoman discovers that working for his wife is no holiday when she has him accompany her on a business trip - one he'll be spending as her secretary! Waking up in a hotel room with nothing but women's clothing in his suitcase, Donald has to dress the part, blearily rolling out of bed only to have to put on a skirt and blouse. Learning what it's like for a woman rushing to get ready for work, this feminized secretary has no time for breakfast, but a six o'clock start isn't early enough for his wife. Donald has barely started the day before he's being spanked for slipping up, but will he will be able to satisfy Susan when it really matters? Find out in The Business Trip.

When a man's orgasms depend on his keyboard proficiency, he soon learns to type! David has been trained by his wife to work as her secretary, developing his skills in the most frustrating of ways. When one of her clients calls with a pressing problem, however, this male secretary finds himself put to the test like never before, being sent out to earn money in his skirt and blouse! With his chastity belt giving him no choice but to do as he is told, David soon has a new boss to obey - a strict businesswoman who won't let him stop until the job is done. Dressed as a woman while he works, he'll discover that a sissy secretary must do whatever it takes, even if that means More Than Just Typing.

Sam finds himself dressed as a sexy secretary while fooling around with his girlfriend, ending up under his boss's desk wearing her clothes! As he brings her to climax, Tanya accidentally submits an application that will see him become an actual administrative assistant - a position requiring a whole new wardrobe! Employed by the same company that rejected him as a man, Sam has his work cut out if he's to overcome the challenges of new colleagues and new clothes, learning that life's not easy for the New Girl. Bossed about by an office full of unforgiving women, his submission is sealed by his skirt and blouse - but how far will this feminized man have to go to keep his secret?

No-one likes doing their taxes, but Claire has the perfect way to persuade her husband to fill in his forms, transforming him into a sissy secretary before setting him to work. The oversexed outfit she makes him wear is enough to drive Tim to distraction, with his bulging satin blouse and shamefully short skirt making his job more difficult even before his wife interrupts him - with a strap-on! Bent over his desk, there's no doubt she's the boss, but no sooner has Claire had her way with him than he's straight back to work! Even when Tim is finished, his feminization is far from over, with a trip into town causing new troubles for this transvestite temp - as you'll discover in A Taxing Time.
Facing hard work in heels and hosiery, these sissy secretaries have no time to sit around, getting down to business in blouses and bras! Whether working for their wives or assisting other women in the office, they must do more than look pretty to please their female employers, having to prove their professional skills in the most subordinate of positions. With their crossdressing careers commanded by women who don't just dominate them at their desks, feminization is all in a day's work for these pantied personal assistants - male secretaries for whom submission becomes second nature when they're set to work in a skirt.
Buy your copy now!
set to work in a skirt is available in the following formats: (which should I buy?)
Paperback - for those who love real books

PDF - for immediate download and enjoyment on your computer

EPUB - for most e-readers (including Apple and Nook)

Kindle

- for all Amazon devices
By buying a copy of this book, you do more than merely get yourself an arousing read! As well as encouraging the author, sales support the brassièred website, helping to promote the positive aspects of lingerie discipline, male chastity and men as maids in loving female led relationships.