penance in panties
misbehaving men finding forgiveness in feminine frillies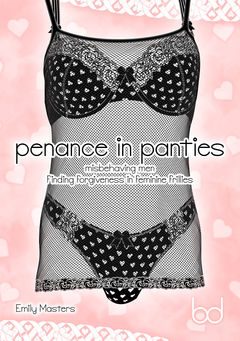 Buy your copy now!
Being made to wear uncomfortable women's underwear is the perfect punishment for a man who misbehaves, however much he might otherwise love sexy lingerie. Whether it's the physical discomfort of being trapped in a tight thong all day or simply the psychological stress of knowing he's wearing knickers in public, there's nothing like being stuck in a little satin and lace to teach naughty boys a new respect for all things feminine.
When a wife expects more from her man, panty punishment is only the start of having him apologise with intimate attire! From making him wear a bra for bad behaviour to using a corset to correct his carelessness, the ladies in these stories have more than a few tricks up their sleeves to have their husbands show they're sorry. Whether made helpless by hosiery or powerless in panties, submission comes naturally to men forced to make amends in frillies, having no choice but to learn their lesson in lingerie as they pay a penance in panties.
John has difficulty showing any sympathy for his wife's friend when she's suffering with women's problems, but his callous attitude is about to change. Although it's impossible for a man to experience period pains properly, Karen sets about showing her husband a little of what it's like, starting by putting him in an uncomfortably tight thong! Pantyhose and a plug play their part in persuading him of the error of his ways, with John discovering to his dismay that he's still expected to go to work despite the discomfort of cramps and sweats. Will the sore breasts that result from having to wear a bra be enough to finally allow him to call in sick? Find out in His Time of the Month.

Despite being surrounded by students in strappy tops and short skirts, Josh only has eyes for one girl in his class, having high hopes when Ashley says yes to coming around for more than just coffee. Their dinner date ends in disaster, however, when his new girlfriend discovers his panty drawer, assuming the worst about his secret stash unless Josh can demonstrate differently. There's only way to prove that he's not a panty thief, but that means this reluctant man must wear women's underwear in public, finding his skimpies subject to daily inspection as Ashley makes him model them for her one pair at a time. Follow the beginnings of this female led relationship in Proving His Innocence.

Bewitched by bikinis under the scorching summer sun, Ralph makes one too many comments about what women should wear, finding himself taken shopping for some very special swimwear when his wife decides to teach him a thing or two about tan lines. Wendy turns up the temperature still further by slipping into something hotter herself, telling her husband that he'll have to follow suit if he's to make things up to her. Forced to sunbathe in a bra and panties, Ralph soon finds himself longing for looser clothing, discovering the dangers of lounging around in lingerie when it becomes burned into his body. See how this man shows he's sorry by soaking up the rays in Tan Line Troubles.

In his hurry to buy himself hosiery, Vince doesn't check the colour too closely, making the mistake of assuming the stockings must match those he's already wearing under his trousers. Brenda, however, is swift to notice that her husband's new nylons are nude, insisting that Vince has to go shopping again - this time, with her! To teach him to pay more attention to his intimate attire, she makes him wear a corset and a bra beneath his clothes, but that's not all that the feminized man ends up in when the couple come home with even more in the way of womenswear. Will dressing her husband as a secretary win Brenda over to seeing his legs in a subtler shade? Read for yourself in The Wrong Stockings.
Even the softest and silkiest of women's underwear is exquisitely effective at encouraging more respect from a man, let alone some of the sterner garments employed by these women to train their husbands and boyfriends. There's no question as to who's in control in these sexy stories about lingerie punishment, with better behaviour being just a bra and panties away when these wives and girlfriends decide that their disrespectful men are in need of some discipline. Combining a firm hand with feminization, there's nevertheless fondness in the four female led relationships whose tales you'll find in penance in panties.
Buy your copy now!
penance in panties is available in the following formats: (which should I buy?)
Paperback - for those who love real books

PDF - for immediate download and enjoyment on your computer

EPUB - for most e-readers (including Apple and Nook)

Kindle

- for all Amazon devices
By buying a copy of this book, you do more than merely get yourself an arousing read! As well as encouraging the author, sales support the brassièred website, helping to promote the positive aspects of lingerie discipline, male chastity and men as maids in loving female led relationships.