peeing his panties and other predicaments
humiliated husbands wetting themselves in women's underwear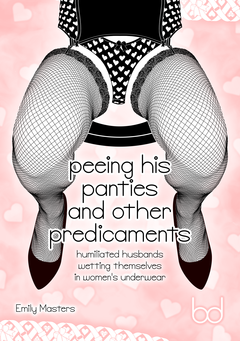 Buy your copy now!
Having to wear women's underwear can be humiliating enough for a man, but that's only the start of the shame for the husbands in these stories, who soon regret being punished when their wives deny them a basic bodily need! Not allowed to use the toilet, their desperation is matched only by their disgrace when they finally succumb to the inevitable, having no choice but to endure the most embarrassing of fates as they soak the lingerie they're locked inside.
Whether frantically trying to finish chores before disaster strikes or forced to watch the seconds tick by while stuck in the most dreadful of dilemmas, there's only so long a man can hold back a bursting bladder - especially when he's being mocked by his wife and her friends, his soon to be wet panties exposed for their entertainment. Giving in to the growing demands of his body can only come at the cost of giving up what little is left of his dignity, as he suffers the humiliation of peeing his panties and other predicaments.
When Denise suggests Doug stops drinking to join her in taking a bath, he doesn't need to be asked twice, but his wife has something different in mind - handcuffing her husband to the toilet so as to leave him powerless to pull down his shorts! Despite performing a sensual striptease in front of him, she doesn't deign to help Doug undress, instead adding to his indignity with her own underwear. He'll need to keep his wife's bra balanced on his head if he's not to wear one himself, but it isn't long before an even larger threat looms over this helpless man - Denise's deliberate splashing about is making him desperate to pee! Will he give her an excuse to humiliate him further? Find out in The Bathroom Bra Stand.

Cameras can cut both ways, as Steve discovers when his wife catches him watching footage of a woman's chest. Soon he's learning what it's like to be looked at lasciviously, his skimpy clothing encouraging eager eyes as Tina punishes him - online! Presenting a provocative picture in bulging bra and clingy croptop, this humiliated husband can only watch while strangers get off on seeing him dressed as a girl, but soon he has an even more embarrassing audience. As his shame spreads like wildfire among his wife's friends, Steve's anxiety about being centre of attention becomes more than his body can bear, but wetting himself won't be the end of his disgrace thanks to the dildo he's sitting on. Follow his misfortune in Caught on Camera.

John has nothing kind to say about the widow next door, but he's forced to learn a new respect for his neighbour when his wife locks him in a pillory on the patio. Lisa is swift to exploit her power over her husband, delivering a spanking that only stops when John begs to wear her panties. The bra his wife makes him wear leaves him still more at her mercy, with Lisa taking advantage of his helplessness by tickling him until he can take it no more. Having peed himself, he's left in a sorry plight - made to stand in the sun while his wet underwear dries, he can only listen as his neighbour shares her thoughts on male submission. Read about his disgrace in Neighbourly Advice.

Locked in a long leg panty girdle that keeps him from answering the call of nature, Peter can only dream about using the toilet he's expected to clean. Made to drink water whenever he displeases his mistress, this male maid is soon struggling to hold it in, but the arrival of visitors makes his predicament even more punishing! Even talk of going to the toilet sees him twinge when he has to serve women who want to make him wet himself, with their teasing too much for a man already frantically pressing his thighs together. He'll be hung out to dry before his ignominy is over, but not before receiving a thorough hosing down - as you'll read in The Troubles of a Toilet Maid.
When a woman forbids her husband from going to the toilet, it's only a matter of time before his body betrays him, with the prospect of peeing himself soon becoming as unavoidable as it is unthinkable! Wearing panties won't prevent him from passing water, but they will ensure he suffers excruciating embarrassment should he surrender to the siren call of his bladder - something the dominant women in these stories about erotic wetting avail themselves of as they employ peeing punishments in the most mortifying of ways! Disgrace is a powerful deterrent, as each of these humiliated husbands learns when he's unable to avoid peeing his panties and other predicaments.
Buy your copy now!
peeing his panties and other predicaments is available in the following formats: (which should I buy?)
Paperback - for those who love real books

PDF - for immediate download and enjoyment on your computer

EPUB - for most e-readers

iTunes - for iPads, iPods and iPhones

nook - for Barnes & Noble e-readers

Kindle

- for all Amazon devices
By buying a copy of this book, you do more than merely get yourself an arousing read! As well as encouraging the author, sales support the brassièred website, helping to promote the positive aspects of lingerie discipline, male chastity and men as maids in loving female led relationships.