panties are not enough
he has to wear a bra to make her happy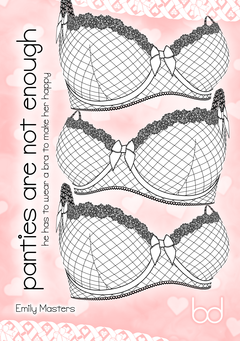 Buy your copy now!
Men who wear panties must also wear bras. That's the decision of the dominant women in these stories about lingerie submission, for whom nothing short of a full set of women's underwear will do! It doesn't matter how difficult it might be for their husbands and boyfriends to hide these most unmanly of garments - indeed, the more humbling it is for a man to have to conceal lacy cups, the more satisfying it is for the woman wanting to see them beneath his shirt.
Uncomfortable underwires conspire with tight straps and firmly fastened clasps to put these men in the most provocative of predicaments as they try to go about their business, but they have to endure the emasculating embrace - not just once, but day after day! Each knows that he's expected to wear a bra like a woman, having to come to terms with the awkward presence if he's to please his wife, girlfriend or mistress. When she tells him that he has to wear a bra, that's exactly what he'll do, because panties are not enough.
Wednesday nights mean washing for Justin - hand-washing his panties and bras! Wearing women's underwear is the price that Natalie insists he pays for the privilege of seeing her, with his feminine frillies ensuring that he can't forget his submission even when they're apart. That doesn't stop his dominant girlfriend from calling to check up on him, however, Natalie wanting to know that Justin is wearing everything he should. From now on, that includes a bra not only when they're together, but also when he's at home - the next step towards him accepting cups and straps all the time! Satisfying her whims will see plenty of embarrassment for this submissive boyfriend, as you'll read in Calling to Check.

Peter knows he has to wear a bra to work, but an important presentation sees him pleading with his wife to spare him having to suffer its slipping straps. His protests fall on deaf ears however, with Brenda determined that her husband should dress the same way a woman would beneath his shirt and tie. Having little choice but to spend the day in stockings as well, this submissive man has plenty of time to consider the challenges that his female colleagues face, but he'll learn even more about lingerie when he finally comes home - his wife wants to measure him for a better fitting bra! Will wearing the right size make a difference to Peter's difficulties? Find out in A Better Fit.

Terry's wife spared him having to wear a bra over the summer, but now that the weather is getting colder, she wants to see him submitting to them again. A wet weekend provides the perfect opportunity to remind him of what's required, with Jodie showing her husband just how shamefully a black bra can show through a thin white shirt. When he complains that he can't go to work wearing something so humiliating, she allows him to change it for an easier colour, but that comes at the cost of padded cups! Things only get worse for this feminized man as he surrenders to false breasts and a blouse, leaving him longing to wear the bra with which his wife started. Follow this couple's fun in Back in His Bras.

Luke's arrangement with his mistress sees him wearing a bra whenever he's doing her cleaning, albeit as no more than part of his frilly maid's uniform. When Tara's friend wickedly wonders why he doesn't wear one more often, he finds himself having to show the two women how hard it is to hide a bra under his shirt, but his humiliation only fuels their eagerness to emasculate him. If he wants to keep his position, he'll have to satisfy their shameful whims, not only having to demonstrate his submission on Tara's doorstep, but going shopping with her and Mia for the bras they tell him to wear to work. Will he be able to please them? Discover how he fares in Keeping His Position.
Women wear bras as well as panties, so why shouldn't a submissive man do the same? There's no reason why he can't slip his arms into straps as a matter of course every morning, soon learning to fasten a bra's clasp behind his back if he has to do so each and every day. Day in, day out, day after day - it's only what a woman would do, leaving a submissive husband few excuses when his wife wants him to follow her example! At home, at work, on a date or while doing the cleaning - bras and panties go together so perfectly that a man should wear both, with these erotic stories leaving no doubt that panties are not enough.
Buy your copy now!
panties are not enough is available in the following formats: (which should I buy?)
By buying a copy of this book, you do more than merely get yourself an arousing read! As well as encouraging the author, sales support the brassièred website, helping to promote the positive aspects of lingerie discipline, male chastity and men as maids in loving female led relationships.