office obedience
when women are in charge, men do as they are told!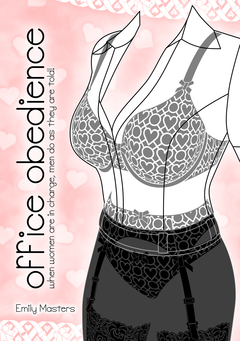 Buy your copy now!
When those at the top of a company are commanding women, it's only natural that those at the very bottom should be men, in so far as any man who has to work as a feminized secretary can still be considered such. The busy businesswomen in these stories about female-led offices have far more important things to do than deal with the mundanities of the workplace, but their demands on their male subordinates don't stop at merely expecting copying, typing and filing!
All love to make the duties of their underlings as difficult and demeaning as possible, employing punishment and humiliation to prevent the men who work for them from ever forgetting their place. There can be no doubt who's in charge when a man has to wear a bra beneath his blouse to please his boss, but that's only the start of what these submissive male secretaries must suffer for the amusement of their female superiors. Each will have to accept embarrassment and emasculation in order to demonstrate his office obedience.
Edwin's boss never leaves him short of work, Ms Abbott setting him lines to type even though he has minutes still to finish, but he knows his position could be worse. She only needs to take him out of the office to remind him of that, a trip to the basement seeing Edwin having to confront not only his own submission, but that of an even more emasculated secretary along the way. Her plans will require him to put in plenty of unpaid overtime, but despite Ms Abbott giving him so much to do, Edwin isn't allowed to get started, instead having to suffer a shameful wait with his trousers around his ankles! What will passersby think about his panties? Find out in Disproportionately Humiliating.

Justin can't assert himself even when having to fend off an unwanted caller, needing to remain obsequiously polite as he answers the phone on behalf of his boss. If only the woman he works for really wasn't there, instead of toying with his bra straps as he desperately stammers! Ms Winfield wants still more from this submissive male secretary once he puts the receiver down, no sooner having told Justin that he has to attend a meeting with human resources than she's subjecting him to an impromptu stocking inspection. That won't be the last that this submissive man will have to show of his lingerie, his bra having attracted official attention. Discover what happens when he faces The Dress Code Committee.

Hugh has suffered a humiliating spanking at the hands of his female superior, but his punishment isn't over even though Ms Wheeler has sent him away. Now he has to report how he was disciplined, filling in the necessary form in the hope that she might sign it off. Instead, his boss demands that he duplicate a file, leaving this beskirted man having to scurry to the copier despite his make-up still being a mess. Hugh's troubles won't end there, however - his blouse may be overlooked by the next woman wanting to make work for him, but his incorrect time sheets certainly won't be! Will his desk offer a refuge from such uncaring bureaucracy when he's able to return to it? Read for yourself in Paperwork.

Patrick knows what his role as a secretary requires him to do, Ms Witherspoon employing him to distract her counterpart during negotiations. From the bullet brassière that stretches his satin blouse into provocative points to the hobble skirt that leaves him almost helpless in his stiletto heels, everything that he wears has been chosen to catch the eye, but this feminized man must do more if his boss is to seal the deal. Ms Witherspoon always gets what she wants, and that includes a massage afterwards, Patrick having to treat her stockinged toes to his devotions as she taunts him about his submission. Learn the part he'll have to play in her next meeting when you read Full Fifties.
Do you dream of working at a company where men must do what they're told by the women in charge? In these stories about men working as secretaries, it's not just the women who wear skirts and stockings, blouses and bras - their male subordinates must do so too, showing that they know their place by surrendering to such emasculating attire. Some of the male secretaries find themselves being punished for their superiors' pleasure, others go entirely disregarded as they seek to complete duties that are often as demeaning as they are demanding, but none can forget their inferior position, all expected to show office obedience.
Buy your copy now!
office obedience is available in the following formats: (which should I buy?)
By buying a copy of this book, you do more than merely get yourself an arousing read! As well as encouraging the author, sales support the brassièred website, helping to promote the positive aspects of lingerie discipline, male chastity and men as maids in loving female led relationships.