now be a good girl!
submissive men learning a lesson in pleated skirts and panties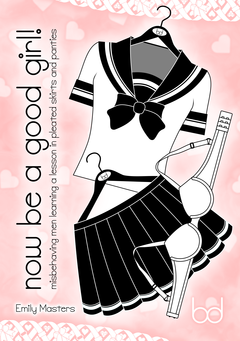 Buy your copy now!
It's difficult for a man to be disobedient when he's dressed as a schoolgirl, as the husbands in these stories about erotic discipline soon discover when their wives decide to take charge. You can be sure each will learn his lesson when he has to wear a pleated skirt and panties, but such emasculating attire is only the start of his shame! There's plenty of punishment in store for these feminized men, with enforced chastity adding to deliciously frustrating ordeals.
From sitting the most trying of tests to being taught what it's like to be a girl, each finds himself at the mercy of the strictest of women. Whether he must suffer the humiliation of wearing a training bra beneath his sailor top as he bends over to be spanked, or else endures a blouse bulging with breasts as he entertains his wife's friends, his schoolgirl uniform will leave no doubt about his disgrace. Featuring adult role-play, these sissy schoolgirl stories show how a man must behave when told "now be a good girl!".
Luke knows he's in for a long weekend, with his wife insisting that he wears a schoolgirl outfit as he devotes himself to her dildos. Pleading with her only sees him being sent back to his room, where his teasing video tutors continue to teach him how to please a penis. Even when his wife comes up to supervise his studies, however, his own remains locked in a chastity device, his shameful efforts rewarded with no more than a previously frozen load. The threat of a spanking sees him having to swallow, but not with the smile Michelle expects, leaving him having to write humiliating lines before he has another opportunity to show his skills. Follow his misfortunes in Lucy Lovecock Sucks and Swallows.

Nathan has no sooner dressed as a schoolgirl than he finds himself in trouble, with his wife swift to take issue with how his black bra shows through his blouse. Only when he's changed into an equally emasculating garment is he permitted to take the test she has set for him, its result determining whether he must endure a further week of sexual frustration. Nathan's desperate need for a little squirt sees him having to tackle a series of impossibly tough sums, the cost of failure being a painful caning. He'll receive far more than six of the best before Kelly's finished, but can he make things up by reciting a poem in front of her friends? Find out in Nancy Knickerbockers Takes a Test.

Caught trying to look up skirts once too often, Patrick soon regrets his wandering eye, having to make amends to his wife by surrendering to his punishment hood. Locked around his head, its pastel pink leather prevents him from seeing everything else she wants him to wear, but that doesn't make a bra and panties any less shameful for this misbehaving husband. Forced to crawl around in the dark in order to get dressed, Patrick goes on to don a full schoolgirl's uniform, locking himself in chastity in an attempt to say sorry, but Jody still isn't satisfied. He'll have to perform for her friends before she forgives him, as you'll read in Pansy Pantypeeper is Seen But Not Heard.

When his wife wants to play dress-up, Tim's feminization doesn't stop at the slightly padded bra she makes him wear beneath his baby blue sailor top, nor the soft cotton panties that accompany his pleated skirt. Encouraged to experiment with cosmetics, he succumbs to the lure of lipstick and eyeshadow, Anita overlooking his ludicrous appearance as she eggs him on. At the critical moment, however, her attitude changes, Tim barely having climaxed before he's being spanked, then having to exercise - like a girl! Doing the splits is embarrassing enough for a man now locked in chastity, but worse is to come when another woman calls. Discover what happens in Tammy Twinkletoes Misbehaves With Make-up.
A schoolgirl's outfit is just the thing to put a man in his place, with a perilously short pleated skirt offering precious little protection even before his panties are pulled down! Having no choice but to accept the authority of their wives, the men in these stories about sissy schoolgirls find themselves disciplined in the most humiliating of ways, yet no matter how painful or shameful their punishment, it's sure to be exactly what they need. After all, playing the role of a schoolgirl provides a much needed break from the demands of being a man, something the women turned schoolmistresses and governesses fully understand when they say "now be a good girl!".
Buy your copy now!
now be a good girl! is available in the following formats: (which should I buy?)
Paperback - for those who love real books

PDF - for immediate download and enjoyment on your computer

EPUB - for most e-readers (including Apple and Nook)

Kindle

- for all Amazon devices
By buying a copy of this book, you do more than merely get yourself an arousing read! As well as encouraging the author, sales support the brassièred website, helping to promote the positive aspects of lingerie discipline, male chastity and men as maids in loving female led relationships.