mistress expects makeup
these sissies need to look pretty to please!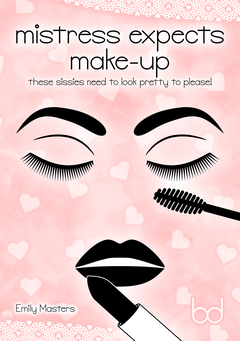 Buy your copy now!
What sort of sissy wears make-up? A sissy who must amuse his mistress, perhaps wearing only lingerie as he shows her how eager he is to please! Locked in a chastity device as he applies lipstick, mascara and eye-shadow, he can hardly be thought of as much of a man, even before she has him entertain her friends with yet more shameful submission! Only by trying to make his face look feminine can he hope to escape otherwise endless frustration, but he's more likely to earn women's laughter as he desperately tries to emulate them.
In these stories about sissies wearing make-up, submissive men must accompany their bras and panties with cosmetics, leaving no doubt about their disgrace. Lips, nails and eyes all need emasculating treatment, with the humiliating results being impossible to hide - especially when these men are sent shopping for more! Foundation, eyeliner and female deodorant add to the fun, but a sissy has little choice about what he wears when his mistress expects make-up.
David not only needs to buy lipstick, but also matching nail polish if he doesn't want to endure another frustrating week. If only he knew which of the pinks and reds might persuade his girlfriend to unlock him, rather than having to choose between so many womanly shades! His ordeal doesn't get easier when he returns home, because Kelly has invited one of her friends to see what he knows about make-up. Despite her presence, this humiliated boyfriend still has to change into a skimpy babydoll, unable to hide his shame as he explains his purchases. Erica is eager to help, but she won't be sparing David his blushes! Will his submission be rewarded? Discover what happens in His New Make-up.

Trying to make his thong more comfortable as he accompanies his girlfriend and her friend shopping, Josh is caught with his hand in his trousers, resulting in an impromptu punishment. The two women don't care who might be watching as they paint his nails a provocative red, but that isn't the only way he must make amends - before a second coat is dry, he's being sent away to buy lingerie that matches it! After the humiliation of showing his fingers to a sales assistant so he can buy a bright red bra, panties and garter belt, Josh must abandon still more of his pride - despite being unable to touch himself, he'll have to give one of his tormentresses a handjob! Follow the fun in The Nail Polish Punishment.

Keith knows his mistress is going to make his mascara run, but his eyes nevertheless need to look pretty as he prepares for his training. Looking forward to a humiliating evening sucking her strap-on, this submissive sissy finds himself wearing only a bra and panties as he applies eye-shadow, with his chastity device ensuring that he can never rival the stiffness that's going to fill his mouth. His predicament is made still more provocative because of how Monica has company, but before she and her friend take turns with him, they'll expect some very emasculating confessions! Fluttering his eyelashes won't stop the two women having their way with him - as you'll read in Pretty Eyes.

Serving his mistress's friend tea, Philip is troubled to be told that she can see stubble, with the male maid knowing that his whole body has to be hairless if he's to avoid a painful encounter with her tweezers. Only by taking off his apron and dress can he show that he has shaved everywhere that he should, but baring his armpits brings its own disgrace - a demand that he apply plenty of women's deodorant! Worse is to come for this very fragrant sissy maid when it's proposed that he should start wearing foundation, with a visit from a cosmetics representative seeing him being sold more make-up than a man should ever have! What will he need to do in exchange for being taught how to use it? Find out in Visitors.
Is it more humiliating for a frustrated man to have laughing women apply make-up to his face for their amusement, or for him to have to use feminine cosmetics himself as he desperately seeks to please? Regardless of whether he's expected to wear lipstick, nail polish or mascara, there can be no denying his disgrace, even before the women having fun with him want more! In these sissy make-up stories, men must show their submission by wearing whatever they are told, with panties and bras needing to be accompanied by powder and paint - no matter how conspicuous the results may be! Some of these sissies must choose their own make-up, whereas others have to accept what is chosen for them, but each will wear cosmetics like a woman, because his mistress expects make-up.
Buy your copy now!
mistress expects makeup is available in the following formats: (which should I buy?)
By buying a copy of this book, you do more than merely get yourself an arousing read! As well as encouraging the author, sales support the brassièred website, helping to promote the positive aspects of lingerie discipline, male chastity and men as maids in loving female led relationships.