men behind the modesty panel
sissy secretaries struggling to work as women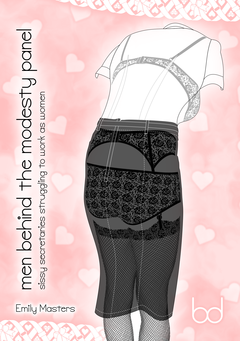 Buy your copy now!
Working as an office assistant is no walk in the park, as the men in these stories about sissy secretaries know full well, having to wear high heels as they run around after their superiors. Their administrative duties are made all the more difficult thanks to how they are dressed, with tight skirts and blouses turning even the simplest of tasks into a struggle. Stuck in stockings and burdened by bras, they must accept a woman's wardrobe along with the most junior of roles, their clothing conspiring to stress their subordinate status.
Whether the women in charge want them to copy documents or collect deliveries, these submissive male secretaries have no choice but to take on the challenge, having to contend with office politics as well as paperwork in order to please their female bosses. A punishing workload puts them in plenty of predicaments, but no matter how frustrating they find working in feminine attire, it's just another day at the office for men behind the modesty panel.
Who would have thought that fetching a delivery could be so difficult? Tasked with bringing a barrowload of boxes back to his boss's office, Lawrence discovers that he is far from suitably dressed for such an assignment, his impractical outfit making physical work a real problem. As he struggles to overcome the emasculating effects of a corset and stilettos, he can't help but be conscious of how his provocative clothing attracts attention. Thanks to having his hands full, he's powerless to prevent those around him from ogling his chest, with the knowledge that a woman is waiting for him adding to his worries. Will he ever make it back to the office? Find out in The Secretary and the Sack Barrow.

Dennis was supposed to step into his wife's shoes as a senior secretary, but the skirt and blouse she makes him wear to work leave no doubt as to his place in the office pecking order. The two young women he was meant to be supervising have him wrapped around their fingers, taking advantage of how he's trapped in old-fashioned foundation garments to have him do their work as well as his own. How could modern girls take a man seriously when his secretarial outfit is underpinned by not one, but two girdles? With an imposing array of intimate attire enforcing not only his chastity, but his submission as well, it's unlikely he'll ever be treated as an equal. Follow his fortunes in Chocolate.

Bored in his previous position, Chris wanted a change of pace - something that he certainly gets as a crossdressing temp. As an office girl, he finds himself always on the go, with even getting dressed for work proving a job in itself. Adopting breasts, bra and blouse becomes part of his everyday routine now that he's employed as a woman, with this male secretary having surrendered his body to both corset and chastity belt by the time he's shredding files for his female superior. Still more change is in store for Chris, however, when he's assigned to work for another woman - but how will he balance the demands of his new boss and her office with those of his wife? Read for yourself in On Time.

A shift at reception sees Steve forced to act as the face of the company, but this feminized man must contend with far more than staffing the desk dressed as a woman. Having to juggle the conflicting demands of incoming calls, irascible colleagues and important visitors, he knows that the slightest slip-up is sure to be reported to his superiors, seeing him saddled with the impossible task of satisfying everyone while still maintaining his appearance. Unable to assert himself because of what he has to wear, this sissy secretary must still fulfil his responsibilities even as he suffers humiliation at the hands of the women he works for - as you'll discover when you read The Reluctant Receptionist.
The everyday duties of these feminized secretaries are a far cry from fantasies of being bent over the boss's desk, but the obligations of an office girl still prove gruelling for men who must work as women. The tasks their superiors set them leave little time to long for the manhood they've left behind, instead confronting them with the frustrations of crossdressing while contractually employed. Struggling to work in skirt and blouse, stockings and bra, each of these sissy assistants finds himself in a very professional plight - but that's exactly what they're being paid to handle, as men behind the modesty panel.
Buy your copy now!
men behind the modesty panel is available in the following formats: (which should I buy?)
Paperback - for those who love real books

PDF - for immediate download and enjoyment on your computer

EPUB - for most e-readers (including Apple and Nook)

Kindle

- for all Amazon devices
By buying a copy of this book, you do more than merely get yourself an arousing read! As well as encouraging the author, sales support the brassièred website, helping to promote the positive aspects of lingerie discipline, male chastity and men as maids in loving female led relationships.